Forecast: 2012-13 West standings
Originally Published:
August 21, 2012
ESPN.com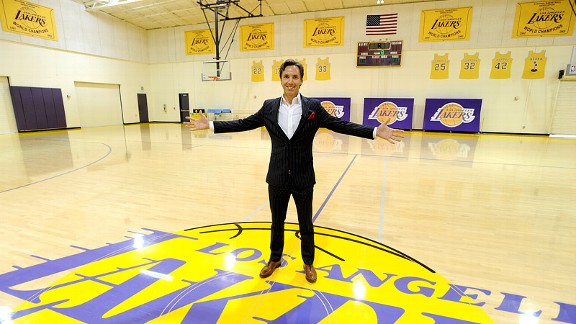 Andrew D. Bernstein/Getty ImagesWelcome to the West. Can Steve Nash guide the new-look Lakers to the top spot in the conference?
The fifth annual Summer Forecast series rolls on with a look at the Western Conference from top to bottom. (Here's our East forecast.)
For foresight, we surveyed 100 of ESPN's best basketball minds, including contributors from ESPN.com, the TrueHoop Network, TrueHoop TV, Daily Dime Live, ESPN TV, ESPN Radio, ESPN Deportes, espnW, ESPN The Magazine, ESPN Insider, ESPN Fantasy, ESPN Games, ESPN Dallas, ESPN Los Angeles, ESPN Boston, ESPN Chicago, ESPN New York, ESPN Stats & Information, ESPN Topics and ESPN Analytics.
To participate in the discussion and perhaps get your opinion published on this page, #NBApicks is the Twitter hashtag to use. Or you can just follow along @NBAonESPN.
Who will be best in the West? Here's what we think …


Forecast: 2012-13 Western Conference Standings
CONF
TEAM
W
L
PCT
'12 W
'12 L
'12 PCT



1



Okla. City Thunder*
59
23
.720
47
19
.712
@BeckleyMason: Prediction: Thunder are going to win 62+. Can't imagine any coasting from them after the Finals. Same reason Durant will be MVP. #NBApicks

@lperry1989: I think the Thunder will challenge for the top seed overall. Initiate: Beastmode





2



Los Angeles Lakers*
59
23
.720
41
25
.621
@mtg_law_etc: The Lakers are unlikely, due to growing pains and age, to grab the 1-seed in the West, but that isn't their goal. #NBAPicks

@AceOfTheWhole: LAL starters will bring out best in each other. Expect All-Star play and finals w/Miami in 2013 #NBApicks





3



San Antonio Spurs
54
28
.659
50
16
.758
@BeckleyMason: Spurs expected to have the 3rd biggest drop in winning % in the West despite retaining their entire roster. Don't buy it. #NBApicks

@brotherpreacher: Spurs predicted to finish 3rd in West. But don't be surprised to see same outcome from past 2 years. Team chemistry still matters.





4



Los Angeles Clippers*
50
32
.610
40
26
.606
@charliewiddoes: I like that the bar has been set at 50 wins for the #Clippers. Was their pace last year, is a good test for 2nd year improvement. #NBApicks

@BigK0012: Clippers at 4th is no longer impossible. @CP3 will be an MVP candidate for sure. #NBAPicks






5



Denver Nuggets*
50
32
.610
38
28
.576
@fosterdj: Denver was 19th in defensive efficiency last year. Andre Iguodala and Wilson Chandler will change that. 50 wins might be too low. #NBApicks

@milehigh_11: A full year of Chandler, Iggy, McGee, Faried, a healthy Gallo with a dash of Lawson = Explosive. #denvernuggets #NBApicks





6



Memphis Grizzlies
48
34
.586
41
25
.621
@BigL_17: #NBAPicks Grizzlies with another year of chemistry and an improving Mike Conley will be better than a 6th seed.

@TheNoLookPass: Memphis at #6? They could be the most dangerous sixth seed ever since Houston won it all in '95. I wouldn't sleep on them.





7



Dallas Mavericks
46
36
.561
36
30
.545
@derekabutler: The Mavs seed is generous. The additions of an inconsistent Mayo and aging Kaman and Brand will not be enough to make the playoffs. #NBApicks

@DABOIZ1: Everyone is writing off the Mavs, however even though they won't win a title they improved at starting pg, sg and C.





8



Utah Jazz*
41
41
.500
36
30
.545
@Lordoflions: The Jazz acquired solid talent and have a growing core. I have a hard time believing they aren't getting 47 wins or more. #NBApicks

@davidjsmith1232: With a blend of solid vets, a rising young core, increased outside shooting & defense, I think the Jazz will surprise many. #NBApicks





9



Minn. Timberwolves*
41
41
.500
26
40
.394
@PDWolves: I'd love to complain about ESPN predicting 41-41 for the Wolves, but that'd be their best record (by 8 wins) since 2005. #NBApicks

@GraemeRoberts14: Minnesota should make the playoffs this season. They've added Russia's two best players in Shved & Kirilenko, plus Brandon Roy! #NBAPicks





10



G.S. Warriors
38
44
.463
23
43
.348
@fosterdj: Golden State has the firepower, but playoff hopes hinge almost fully on Andrew Bogut's health. Gutless defensive team without him. #NBApicks

@TZollz3: The Warriors will surprise everyone. Curry/Thompson/Barnes/Lee/Bogut is one of the best starting rotations. Just stay healthy.





11



Portland Trail Blazers
35
47
.427
28
38
.424
@chosenray: A 35-47 prediction for the Blazers. Sadly, I fear that might be too generous. Already praying for a miracle in the 2013 lottery. #NBApicks

@JowardHoward: As bad as 35-47 looks for the Blazers in 2013, it's a whole lot better than what they did last year. #NBApicks





12



Houston Rockets
33
49
.402
34
32
.515
@James_Mao35: Ahhh the Rockets finally have a losing record and don't get the 14th pick again... much needed relief. #NBApicks

@Tobi_OrNotTobi: The Rockets are banking on the second coming of Linsanity, with all young guys its gonna be a long season #NBApicks #HoustonWeHaveAProblem





13



New Orleans Hornets
31
51
.383
21
45
.318
@pmeredith77: With the additions of Ryan Anderson, Austin Rivers, Anthony Davis, and locking up Monty Williams, 31 wins might be too low. #NBApicks

@EJ10Hornets: I have gone over the Hornets 12-13 schedule many times, and I keep coming up with 37 to 42 wins. They will finish between 8th-10th.





14



Phoenix Suns
30
52
.366
33
33
.500
@SherwoodStrauss: Suns have 30 wins in #NBAPicks. My question: Where are the extra 15 wins coming from?

@nstapes14: Suns are going to have way more then 30 wins, #NBAPicks, young team with lots of talent. Should at least be .500.





15



Sacramento Kings
29
53
.354
22
44
.333
@JohannPaddl: ESPN has Kings dead last. Still 7 more Ws than last year. Can't believe I managed to put a positive spin to that... #HowBadAreWe #NBApicks

Join the discussion »


* -- Teams tied in win totals ordered by decimal rankings from our experts' predictions.
SPONSORED HEADLINES
MORE NBA HEADLINES
MOST SENT STORIES ON ESPN.COM
2012 NBA Summer Forecast

Follow the NBA on ESPN:
Twitter / Facebook / Google+
Our early NBA predictions for 2012-13:
NBARumorCentral

ESPN


Why #Nets are leery to deal Brook Lopez http://t.co/eIxJRwjF8z
about an hour ago

mcten

Dave McMenamin


New column up in the blog: Kevin Love ready for a better return http://t.co/J2gx7eDvfv
about 8 hours ago

ESPNNBA

NBA on ESPN


Eric Bledsoe is dropping dimes and taking names. http://t.co/vIPmpDGBt9
about 9 hours ago

ESPNNBA

NBA on ESPN


Bulls fall to Suns, 99-93. Chicago loses consecutive games for 4th time this month. Pau Gasol earns NBA-high 30th double-double of season.
about 9 hours ago

kpelton

Kevin Pelton


Klay Thompson scored 3 more points in the 3rd quarter last Friday (37) than Oregon State had in a loss to Arizona tonight (34).
about 10 hours ago

ESPNNBA

NBA on ESPN


Chris Bosh & D-Wade are 1st teammates named All-Stars in 5 straight seasons since Shaq & Kobe.(via @EliasSports) http://t.co/lHlGoacD5r
about 10 hours ago

ESPNSteinLine

Marc Stein


Denver, I'm told, has been pushing an offer of J.J. Hickson/JaVale McGee for B-Lopez. Nets have so far been firm in their refusal to take it
about 10 hours ago

ESPNSteinLine

Marc Stein


Tonight's Brook Lopez performance helps explain why Nets, even though they've seriously discussed trading him, feel they can't give him away
about 10 hours ago

ESPNNBA

NBA on ESPN


"Bright side for Bulls is that they're on pace to score lower than Tiger did in Phoenix." - @DougESPN
about 10 hours ago

ESPNNBA

NBA on ESPN


Jazz pull the upset! Utah beats Golden State, 110-100. Hayward records 26 points in win. Warriors drop 2nd in a row. http://t.co/1DaFptF6ft
about 11 hours ago

mcten

Dave McMenamin


Cleveland Cavaliers coach David Blatt in the Atlanta Hawks' 18-game win streak: http://t.co/RlFVBWz1Tq
about 11 hours ago

ESPNNBA

NBA on ESPN


This is the first time the Hawks have had the NBA's best record this late into a season since they moved to Atlanta for the 1968-69 season.
about 11 hours ago

ESPNSteinLine

Marc Stein


RT @NBATV: This date in 1996 @MagicJohnson came out of retirement with 19/10/8 http://t.co/nQDcCe2TKs (WILL NEVER FORGET COVERING THIS ONE)
about 11 hours ago

ESPNNBA

NBA on ESPN


Hey, @JalenRose...Happy birthday! Seems like only yesterday... http://t.co/6bwYB17BvT
about 11 hours ago

ESPNNBA

NBA on ESPN


Clippers fall to The Brow-less Pelicans, 108-103. Eric Gordon leads the way w/ season-high 28 Pts as Pels snap LAC 6-game win streak.
about 11 hours ago

ESPNNBA

NBA on ESPN


Mavs snap 7-game losing streak vs Heat, 93-72. Dallas outscores Miami by 33 points in 2nd half (23-0 run between 3rd & 4th quarters).
about 11 hours ago

DougESPN

Doug Kezirian


#Warriors down 17 pts in 2nd half. If they lose, the @ATLHawks will own the best record in @NBA
about 11 hours ago

ESPNNBA

NBA on ESPN


Despite a combined 70 point night from Jarrett Jack & Brook Lopez, Nets fall to Raptors in OT, 127-122. Raptors win 5th straight.
about 11 hours ago

ESPNNBA

NBA on ESPN


Kings might have lost, but Rudy Gay won with this RIDICULOUS 360 slam... http://t.co/rePbNTKXi0
about 11 hours ago

ESPNNBA

NBA on ESPN


Hawks are only 5th team in NBA history to win 18 straight before All-Star Break. 3 of previous 4 won the NBA title. http://t.co/8uKWKEiQC6
about 11 hours ago