Forecast: '12-13 Most Valuable Player
Originally Published:
August 23, 2012
ESPN.com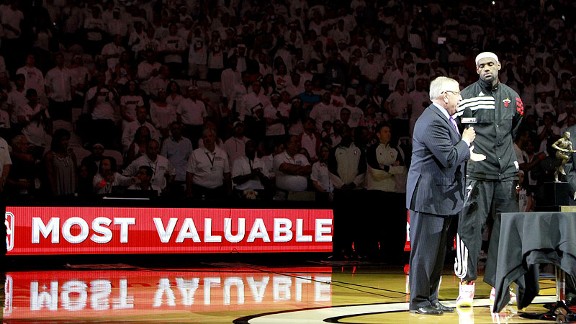 Marc Serota/Getty ImagesWill three-time MVP and one-time Finals MVP LeBron James add

another

MVP trophy to his collection?
LeBron James. Kevin Durant. Kobe Bryant. Who will be the league MVP in 2012-13?
For foresight, we surveyed 100 of ESPN's best basketball minds, including contributors from ESPN.com, the TrueHoop Network, TrueHoop TV, Daily Dime Live, ESPN TV, ESPN Radio, ESPN Deportes, espnW, ESPN The Magazine, ESPN Insider, ESPN Fantasy, ESPN Games, ESPNDallas.com, ESPNLos Angeles.com, ESPNBoston.com, ESPNChicago.com, ESPNNewYork.com, ESPN Stats & Information, ESPN Topics and ESPN Analytics.
To participate in the discussion and perhaps get your opinion published on this page, #NBApicks is the Twitter hashtag to use. Or you can just follow along @NBAonESPN.
Here's the voting breakdown:


Forecast: 2012-13 Most Valuable Player
RANK
PLAYER
VOTES



1


LeBron James
Miami Heat
Small forward

Last season
1st in MVP voting
27.1 ppg, 7.9 rpg, 6.2 apg



63

@nbaonespn #NBAPicks unless @kingjames forgets how to play the game he's automatic for MVP. The man does everything you need him to do.

— Ragib Miah (@__HOOPSTAR__) August 23, 2012

@nbaonespn: #NBApicks With the added depth of his team and with a championship ring, LeBron will have less pressure. The King will play BIG!

— Rian Chester Tan (@RianChester) August 23, 2012

@nbaonespn : Just give @kingjames the MVP award every year. Right now he is destroying any opponent in his path. #FACT #NBArank #NBApicks

— Adolfo Ospina (@Adolfo_Ospina) August 23, 2012


Join the discussion »








2


Kevin Durant
Oklahoma City Thunder
Small forward

Last season
2nd in MVP voting
28.0 ppg, 8.0 rpg, 3.5 apg



32

Kevin Durant will dominate this season. He is ready after the devastating Finals loss and the great Olympic experience. MVP. #NBApicks

— Logan Reardon (@LoganReardon20) August 23, 2012

Durant was a few PER points and a little polishing on defense away from an MVP last season. He won't let the next one slip by. #NBApicks

— Ali Ahmed (@CDNBallJunkie) August 23, 2012


Join the discussion »








3


Chris Paul
Los Angeles Clippers
Point guard

Last season
3rd in MVP voting
19.8 ppg, 3.6 rpg, 9.1 apg



3

There are prerequisites for CP3 that could put him ahead of LBJ and KD for MVP: 60 wins and a top 2 seed out West might do it. #NBAPicks

— Eric Patten (@EricPatten) August 23, 2012


Join the discussion »








4
(tie)


Kobe Bryant
Los Angeles Lakers
Shooting guard

Last season
4th in MVP voting
27.9 ppg, 5.4 rpg, 4.6 apg



1

@nbaonespn #NBApicks Kobe Bryant flourishes with the best big man in basketball. #Lakers finish 1st in West. Kobe wins MVP

— Jarred Belman (@JarredBelman) August 23, 2012


Join the discussion »








4
(tie)


Rajon Rondo
Boston Celtics
Point guard

Last season
8th in MVP voting
11.9 ppg, 4.8 rpg, 11.7 apg



1

@nbaonespn #NBApicks LeBron is in another universe right now. All you saying Rondo doesn't deserve a single vote should tune in Oct. 30

— Jim Clark (@jimmyclark33) August 23, 2012


Join the discussion »




•
Click here for the complete list of voters »
SPONSORED HEADLINES
MORE NBA HEADLINES
MOST SENT STORIES ON ESPN.COM
2012 NBA Summer Forecast

Follow the NBA on ESPN:
Twitter / Facebook / Google+
Our early NBA predictions for 2012-13: