Forecast: 2012-13 Rookie of the Year
Originally Published:
August 22, 2012
ESPN.com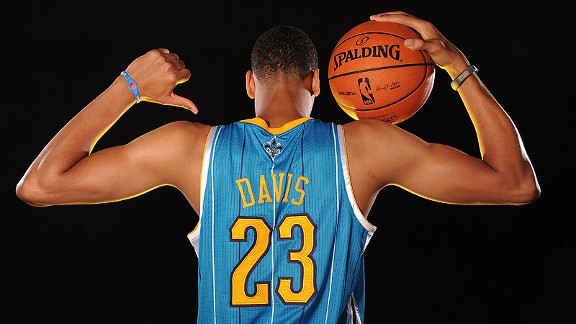 Brian Babineau/NBAE/Getty ImagesHis name is Anthony Davis; 71 percent of our NBA panelists are also calling him "Rookie of the Year."
Our Summer Forecast has predicted the East standings and West standings so far. Now we're moving on to individual award races.
Who will be the 2012-13 Rookie of the Year?
For foresight, we surveyed 100 of ESPN's best basketball minds, including contributors from ESPN.com, the TrueHoop Network, TrueHoop TV, Daily Dime Live, ESPN TV, ESPN Radio, ESPN Deportes, espnW, ESPN The Magazine, ESPN Insider, ESPN Fantasy, ESPN Games, ESPNDallas.com, ESPNLos Angeles.com, ESPNBoston.com, ESPNChicago.com, ESPNNewYork.com, ESPN Stats & Information, ESPN Topics and ESPN Analytics.
To participate in the discussion and perhaps get your opinion published on this page, #NBApicks is the Twitter hashtag to use. Or you can just follow along @NBAonESPN.
Here's the voting breakdown:


Forecast: 2012-13 Rookie of the Year
RANK
PLAYER
VOTES



1


Anthony Davis
New Orleans Hornets
PF | No. 1 pick

Last season
Kentucky
14.2 ppg, 10.4 rpg, 4.7 bpg



71

Anthony Davis because he reminds me of Bill Russell - better on defense than offense and can be a defensive anchor. #NBApicks

— A-Train (Shade3c) (@Emerald_Custard) August 22, 2012






2


Damian Lillard
Portland Trail Blazers
PG | No. 6 pick

Last season
Weber State
24.5 ppg, 4.0 apg



10

I think Damian Lillard gets rookie of the year - Starting minutes, 2 man game with LMA, and it's a guards league #NBApicks

— Chris Freed (@Big_Saages) August 22, 2012






3


Michael Kidd-Gilchrist
Charlotte Bobcats
SF | No. 2 pick

Last season
Kentucky
11.9 ppg, 7.4 rpg



8

MKG is in the best situation to win ROY because he is already (by far) the best player on his team, the Bobcats. #NBApicks

— Dan Waxenberg (@d_WAX) August 22, 2012






4 (tie)


Harrison Barnes
Golden State Warriors
SF | No. 7 pick

Last season
North Carolina
17.1 ppg, 5.2 rpg



2

Harrison Barnes for ROY because he brings so much energy to the court. He'll do everything to help his team win! #NBApicks

— Jarred Aabel (@JarredAabel) August 22, 2012




4 (tie)


Bradley Beal
Washington Wizards
SG | No. 3 pick

Last season
Florida
14.8 ppg, 6.7 rpg



2

I've got Bradley Beal. Working with John Wall and Nene will only open up opportunities for him #NBApicks

— Bo Churney (@bochurney) August 22, 2012






4 (tie)


Jonas Valanciunas
Toronto Raptors
C | 2011 No. 5 pick

Last season
Lietuvos Rytas
7.7 ppg, 5.8 rpg



2

Raptors Valanciunas is bringing home the hardware. He is gonna anchor coach Casey's D and raps will be a playoff team #NBApicks

— Stephen Hogan (@stephen_hogan10) August 22, 2012



Also receiving votes: Donatas Motiejunas, Rockets (1), Austin Rivers, Hornets (1), Thomas Robinson, Kings (1), Jared Sullinger, Celtics (1), Marquis Teague, Bulls (1)
•
Click here for the complete list of voters »
2012 NBA Summer Forecast

Follow the NBA on ESPN:
Twitter / Facebook / Google+
Our early NBA predictions for 2012-13:
kpelton

Kevin Pelton


Not sure why Gonzaga was so frantic on that final defensive possession down 3. Just needed a stop, not a turnover.
about 2 hours ago

CJ12_

Cardale Jones


Had a great time at the St. V game, S/O to that great basketball team and coach #No3InTheNation #22-0 #PlayOffs!!!! Let's get it!!!
about 2 hours ago

ESPNSteinLine

Marc Stein


Pretty safe to say that Willie Cauley-Stein has already sewn up my 2015-16 Rookie of the Year vote
about 3 hours ago

ESPNNBA

NBA on ESPN


Need a favor... Derrick Favors has you covered. Favors puts up 16 Pts and 12 Reb as Jazz beat Bucks, 82-75. http://t.co/z6ZrIoafdf
about 3 hours ago

ESPNNBA

NBA on ESPN


Kawhi Leonard erupts for 22 Pts & 10 Reb as Spurs steamroll Suns, 101-74. San Antonio wins its 2nd game in a row. http://t.co/AqI4CllOB0
about 3 hours ago

ESPNNBA

NBA on ESPN


Vintage D-Will takes a trip down memory lane. Deron Williams goes off for 25 Pts as Nets surprise Mavs, 104-94. http://t.co/W7QPJnhk3v
about 3 hours ago

ESPNNBA

NBA on ESPN


Michael Beasley climbs the ladder with this powerful #SCtop10 slam on Mike Muscala. http://t.co/vfGWFaU0hK
about 4 hours ago

ESPNNBA

NBA on ESPN


Kevin Garnett wasn't the only one making his return to Twin Cities... "Jiggly Boy" returns as well. http://t.co/bAW27PzmS5
about 4 hours ago

ESPNNBA

NBA on ESPN


Marc Gasol makes his mark with 27 Pts & 11 Reb as Grizzlies claw out a victory against Timberwolves, 101-97. http://t.co/5tBXbccRRx
about 4 hours ago

ESPNNBA

NBA on ESPN


Nene splits Pistons' defenders with this one-handed riveting jam. http://t.co/gTLZ1UuTz2
about 4 hours ago

ESPNNBA

NBA on ESPN


Paul Millsap drops 22 Pts as Hawks outlast Heat, 93-91. Atlanta wins its 4th game in a row. http://t.co/0sr7FDjJ2A
about 4 hours ago

ESPNNBA

NBA on ESPN


Wizards withstand Pistons comeback, 99-95, as John Wall scores 22 Pts. Washington finishes w/ a 3-9 record in Feb. http://t.co/IJD2GKYOiH
about 5 hours ago

Simplymario22

Mario Rodriguez


Gotta agree with @AminESPN on this one @TrueHoopTV @kevinarnovitz I can't think of a team that's won it all that didn't have a star closer
about 5 hours ago

ESPNSteinLine

Marc Stein


Then Sunday night from 7-10 ET on @ESPNRadio: Your NBA Insiders return w/special guest @kenjeong direct from Hollywood! Plus more surprises
about 5 hours ago

ESPNSteinLine

Marc Stein


Sunday 10A CT/11A ET: @ESPNFC stars @AleMorenoESPN & @SteveNicol61 join us on @ESPNSoccerToday. To listen: http://t.co/fzC9XEhoki @KESN1033
about 5 hours ago

ESPNSteinLine

Marc Stein


For you radio tuning purposes ... two important tweet bulletins follow
about 5 hours ago

mcten

Dave McMenamin


Go Cuse. Purposefully covering the Duke score with @miketirico and pallilo https://t.co/91wOkE0zWi
about 6 hours ago

kpelton

Kevin Pelton


The master at work: @AminESPN conducts a radio interview at the table. http://t.co/RMKgpNbYcF
about 6 hours ago

kpelton

Kevin Pelton


The matter at work: @AminESPN conducts a radio interview at the table. http://t.co/Hy4YN01olO
about 6 hours ago

WallaceNBA_ESPN

Michael Wallace


Oh, can't forget about Miss Delta's, Fresh Pot coffee shop in Mississippi Ave historic district and also Powell's Bookstore. Much love PDX
about 6 hours ago


MOST SENT STORIES ON ESPN.COM