Mr. Stern, tear down this Hall
Eighty inductees make the cut for The Mag's analytically rebuilt Hall of Fame
Originally Published:
December 3, 2012
By
Ross Marrinson
| ESPN The Magazine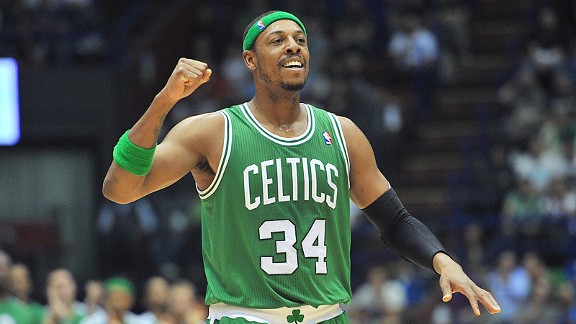 Brian Babineau/Getty Images34: Paul Pierce's jersey number, and, coincidentally, his rank in our new NBA Hall.

This story appears in ESPN The Magazine's Dec. 24 Hall of Fame Issue. Subscribe today!
IN 1996, a sports writer named John Hollinger invented a little stat he called Player Efficiency Rating. Since then, basketball's advanced metrics have leaped from irrelevance to ubiquity, becoming a driving force behind the rosters of the 23 NBA teams that employ an advanced-stat man. The dirty little digits of analytics are everywhere in hoops.
Showing the math
Career win shares* + Dominance Factor**
= Hall of Fame Rating
---
* Career regular-season win shares (WS) are calculated through a complex algorithm that factors offensive rating, defensive rating, individual possessions used and faced, and team wins.
---
** Based on the notion that 10 win shares equates to a dominant season, we tallied the five highest WS seasons in a player's career; any amount above or below 50 (10 WS x five seasons) is his dominance factor (DF). (Michael Jordan's top five win-share total seasons = 100.7, for a DF of 50.7.) Adding that to or subtracting that from his career WS yields our HOF Rating. (Jordan: 214 WS + 50.7 DF = 264.7 HOF Rating.)
---
Retired players plotted during the year of their last active season; all stats through Dec. 4. For the WS of any NBA player, consult Basketball-Reference.com.
Except for in its Hall. Stroll through the Naismith Memorial Basketball Hall of Fame and the sensation is of a house in serious need of spring cleaning -- a dusty collection of indiscriminate players. There are those who wither under the glare of analytics (sorry, Isiah Thomas). College stars who made little NBA impact (sorry, Ralph Sampson). Those who never truly dominated (sorry, Alex English). And international players who -- while huge in, say, Latvia -- hardly merit a plaque (sorry, Uljana Semjonova). Indeed, basketball's Hall needs more than a feather duster. It needs a statistical wrecking ball.
So with the help of stat guru Dean Oliver, we built a new Hall based on irrefutable analytics. We started with career regular-season win shares, a metric that indicates how many wins a player contributes to his team -- 10 win shares, like Kevin Love had last season, constitutes a dominant year. The stat boasts the benefit of equalizing for the historically fluctuating pace of NBA play. A second benefit? Unlike traditional stats, win shares do not help stat compilers who hang on past their primes. (Poor production yields minuscule win-share totals; you can't, in other words, Joe Dumars your way to win shares.) Then, to reward the best players of their eras, we added in a dominance factor to arrive at our Hall of Fame Rating. When we tallied it all up, two legends topped 300, another 11 eclipsed 200 and a natural line between greats and not-as-greats was a clear 100. Big round numbers, after all, make the best wrecking balls.
---
HOW TO BUILD an NBA Hall of Fame? first, define what it is -- and isn't. From the 156 players now enshrined in Springfield, we cut 57 on demographics alone: female players, international-only stars and those who played before the 1946 birth of the BAA (all of whom, yes, are deserving of their own Hall). From there, we cut the 55 who didn't clear our threshold of a 100 Hall of Fame Rating (see below) and added 36 more (19 active, 17 retired) who did. The total tally of inductees into The Mag's NBA Hall? A nice round 80 -- that is, until we enshrine Kevin Durant in two years. To see The Mag's Hall in graphic form, download the PDF here.
Springfield is a maddening mess. Cold, hard metrics clean it up.
Follow The Mag on Twitter (@ESPNmag) and like us on Facebook.
SPONSORED HEADLINES
MORE NBA HEADLINES
MOST SENT STORIES ON ESPN.COM
ESPN The Magazine: December 24, 2012
HALL OF FAME FEATURES

HALL OF 100

COLUMNS

MORE FROM THE HALL OF FAME ISSUE