#NBArank 5: Russell Westbrook
Originally Published:
April 8, 2013
ESPN.com
Why wait until summer? ESPN.com and the TrueHoop Network are ranking the top 30 players in the NBA -- and counting them down on Twitter (@NBAonESPN). As the rankings are announced, you can also find them here on the pages of ESPN.com.


Rank
Player
Score



5




8.98

Russell Westbrook | @russwest44
Oklahoma City Thunder | PG | Age: 24 | 2012 rank: #9





#NBARank Westbrook at a good spot. Gets the blame too much, but puts up fantastic numbers all the time. Next generation PG

— Dave Abbott (@Dpuzzle23) April 10, 2013

Russell Westbrook is certainly a Top 5 player. Potential to be Top 3. #NBArank

— chris palmer (@ESPNChrisPalmer) April 10, 2013

People like to criticize Westbrook but not too many people have a team that has a PG that does what Westbrook does every night #NBArank

— JrW(@Javoris) April 10, 2013

TrueHoop Network was dead on with Russell Westbrook's #NBArank. He is a top 5 player in this league.

— Ali Ahmed(@CDNBallJunkie) April 10, 2013



What is #NBArank?
#NBArank is the Twitter hashtag to use if you want to get involved in the discussion or just follow along.
You can also follow along here: @ESPNNBA
You can see previous editions of #NBArank here: 2011 | 2012
How did we rank the players?
We asked 111 experts to rate each player on a 0-to-10 scale, in terms of "the current quality of each player."
The voters are contributors to ESPN's NBA coverage from ESPN.com, the TrueHoop Network, TrueHoop TV, Daily Dime Live, ESPN TV, ESPN Radio, ESPN Deportes, espnW, ESPN The Magazine, ESPN Insider, ESPN Fantasy, ESPN Games, ESPN Boston, ESPN Chicago, ESPN Dallas, ESPN Los Angeles, ESPN New York, ESPN Stats & Information, ESPN Topics and ESPN Analytics.

2012-13 NBA Player Rankings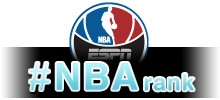 Follow the NBA on ESPN:
Twitter / Facebook / Google+
We're ranking every NBA player -- and counting them down on Twitter, from No. 30 to No. 1. Follow the discussion at
#NBArank
.
PLAYER RANKINGS
MORE #NBARANK
---
THE TRUEHOOP NETWORK
ESPNNBA

NBA on ESPN


Tristan Thompson slams home one of his 12 offensive rebounds to give Cavs 108-104 lead in overtime. Bulls' ball with 24 seconds left.
about a minute ago

mcten

Dave McMenamin


Tristan Thompson with 14 pts and 13 reb as the clock ticks down to the extension deadline. He's being a bank robber for Halloween.
about a minute ago

ESPNSteinLine

Marc Stein


73 minutes left before the extension deadline. Not too late for Tristan Thompson
about a minute ago

ESPNNBA

NBA on ESPN


Programming note: Clippers-Lakers currently airing on ESPNEWS & WatchESPN.
3 minutes ago

truehooptv

TrueHoop TV


All these players going down. The season is clearly too long.
5 minutes ago

ESPNNBA

NBA on ESPN


Cavs have had the edge in OT so far in Chicago, leading Bulls 104-102 with 1:35 to go. LeBron with 34 pts.
6 minutes ago

Chris_Broussard

Chris Broussard


Nice regroup by Cavs, tho absence of Rose and Noah, not to mention Butler, takes away from it a bit
9 minutes ago

kpelton

Kevin Pelton


Maybe Tristan Thompson is really the Cavaliers' Dennis Rodman.
9 minutes ago

ESPNSteinLine

Marc Stein


Still absolutely astounded that the Cavs lost to that Knicks team last night. I've heard all the rationalizations. Not buying any of them
9 minutes ago

truehooptv

TrueHoop TV


I take back all the bad things I said about Lebron from the last 24 hours.
10 minutes ago

truehooptv

TrueHoop TV


This game means nothing. This game means everything.
16 minutes ago

ESPNNBA

NBA on ESPN


Kevin Love's 3 is off the mark and we're headed to overtime in Chicago! Cavs, Bulls tied at 98 -- catch OT action on ESPN & WatchESPN.
16 minutes ago

ESPNNBA

NBA on ESPN


Cavs ball with 3.1 seconds remaining after Kirk Hinrich airballs a 3-pointer. Tied 98-98.
18 minutes ago

bbdoolittle

Bradford Doolittle


Hinrich with the alternate ending to the Jimmy Chitwood shot scene.
18 minutes ago

ESPNNBA

NBA on ESPN


Three-point play from Kyrie Irving ties it up. 98-98 with 27 seconds to go. Bulls ball. -- LIVE on ESPN
20 minutes ago

mcten

Dave McMenamin


Kyrie gets a generous continuation call for the and-1 and we have a 98-98 tie with 27.9 seconds left in the 4th.
20 minutes ago

kpelton

Kevin Pelton


The NBA and I have such different definitions of "the act of shooting."
21 minutes ago

mcten

Dave McMenamin


New story: LeBron says his lasting memory from his big return game to Cleveland will be those 8 pesky turnovers http://t.co/DyC1HDRqOZ
23 minutes ago

truehooptv

TrueHoop TV


Beam me up!
23 minutes ago

Chris_Broussard

Chris Broussard


Working out kinksRT @TheDrP42: @Chris_Broussard you think cavs just working out the kinks or sign of things to come???
23 minutes ago