#NBArank player ratings: 11-15
Originally Published:
April 9, 2013
ESPN.com
Why wait until summer? ESPN.com and the TrueHoop Network are ranking the top 30 players in the NBA -- and counting them down on Twitter (@ESPNNBA). As the rankings are announced, you can also find them here on the pages of ESPN.com.
What is #NBArank?
#NBArank is the Twitter hashtag to use if you want to get involved in the discussion or just follow along.
You can also follow along here: @ESPNNBA
You can see previous editions of #NBArank here: 2011 | 2012
How did we rank the players?
We asked 111 experts to rate each player on a 0-to-10 scale, in terms of "the current quality of each player."
The voters are contributors to ESPN's NBA coverage from ESPN.com, the TrueHoop Network, TrueHoop TV, Daily Dime Live, ESPN TV, ESPN Radio, ESPN Deportes, espnW, ESPN The Magazine, ESPN Insider, ESPN Fantasy, ESPN Games, ESPN Boston, ESPN Chicago, ESPN Dallas, ESPN Los Angeles, ESPN New York, ESPN Stats & Information, ESPN Topics and ESPN Analytics.


Rank
Player
Score

11



8.44

Dwight Howard | @DwightHoward
Los Angeles Lakers | C | Age: 27 | 2012 rank: #3





Dwight Howard is outside the top 10 in #NBARank after starting the year as a leading MVP candidate. Not quite what Kupchak had in mind...

— Aaron McGuire (@docrostov) April 9, 2013

I don't know about Dwight Howard being ranked so low. Even now, he's leading the league in rebounding. This is just public opinion #NBArank

— Shehan Jeyarajah (@BaylorBoundShee) April 9, 2013

@espnnba dwight howard has been meaning to comment on his rank but he's already changed his stance 11 times #nbarank

— NYKnicksPodcast (@NYKnicksPodcast) April 9, 2013

Dwight Howard is number 11 on #NBArank But the Lakers got worse when he came. I don't get it.

— He Aint TP(@NotoriousTDP31) April 9, 2013





12



8.23

Kyrie Irving | @KyrieIrving
Cleveland Cavaliers | PG | Age: 21 | 2012 rank: #22





I refuse to believe Kyrie Irving is a top 20 NBA player and he hasn't even led his team to a 30 win season yet #NBArank

— Cephas ben Uthai (@EnigmatikBGDB) April 9, 2013

Kyrie Irving at #12 seems about right, once his defense catches up to his O he will be top 5-10 for the next decade plus #NBArank #uncledrew

— Ricky Su (@rickysu23) April 9, 2013

@espnnba @kyrieirving too high. a stud offensively but easily below average defensively - does not equate to 12th in league of ~450 #NBArank

— Court Keeper (@KeeperOTCourt) April 9, 2013





13



8.19

Blake Griffin | @blakegriffin
Los Angeles Clippers | PF | Age: 24 | 2012 rank: #14





Marc Gasol will be in the top 10 very soon. His basketball IQ is top 5 in the league. His brilliance doesn't show in the box score. #NBArank

— Shea Gabrielleschi (@WhatSheaSaid) April 9, 2013

When Blake Griffin develops a killer mentality + improves his jumpshot some more, he'll crack the top #10. Until then, he's #13 on #NBArank.

— The Traveling Crab (@crabdribbles) April 9, 2013

Having Blake outside of the top 10 is probably right. He has plenty of room to improve, we'll see if he earns his way back up #NBArank

— Shehan Jeyarajah (@BaylorBoundShee) April 9, 2013





14



8.18

Marc Gasol | @MarcGasol
Memphis Grizzlies | C | Age: 28 | 2012 rank: #24





@espnnba he could be the best center in the league. Who thought that Pau trade would turn out like this. #nbarank

— BruceLand" (@BruceLand) April 9, 2013

Big man who does everything. Protects the rim, solid midrange and post game, and gets his teammates involved better then any big#nbarank

— Nathaniel Bernhard (@NathanielBern) April 9, 2013

Marc Gasol's #NBArank at 14 is outrageous, he is BETTER than D-12 right now

— Ricky Su (@rickysu23) April 9, 2013





15



8.05

Dirk Nowitzki | @swish41
Dallas Mavericks | PF | Age: 34 | 2012 rank: #11





#NBArank Dirk at 15 is perfect. Due to injury he hasn't played much this season, but he's the only thing keeping the Mavs near .500

— Sammy G (@samuelginaven) April 9, 2013

@espnnba I would take @chrisbosh over Dirk at their respective points in their career. Bosh's health being the deciding factor. #NBArank

— Eric Michael Weiss (@EricHoudini12) April 9, 2013

#NBArank Dirk has produced like Bosh but as a focal point instead of third fiddle. He'll bounce back next year but 15 now is charitable.

— Luke Peters (@LGaryPeters) April 9, 2013



2012-13 NBA Player Rankings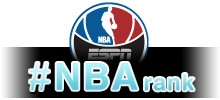 Follow the NBA on ESPN:
Twitter / Facebook / Google+
We're ranking every NBA player -- and counting them down on Twitter, from No. 30 to No. 1. Follow the discussion at
#NBArank
.
PLAYER RANKINGS
MORE #NBARANK
---
THE TRUEHOOP NETWORK