#NBArank player ratings: 21-25
Originally Published:
April 8, 2013
ESPN.com
Why wait until summer? ESPN.com and the TrueHoop Network are ranking the top 30 players in the NBA -- and counting them down on Twitter (@ESPNNBA). As the rankings are announced, you can also find them here on the pages of ESPN.com.
What is #NBArank?
#NBArank is the Twitter hashtag to use if you want to get involved in the discussion or just follow along.
You can also follow along here: @ESPNNBA
You can see previous editions of #NBArank here: 2011 | 2012
How did we rank the players?
We asked 111 experts to rate each player on a 0-to-10 scale, in terms of "the current quality of each player."
The voters are contributors to ESPN's NBA coverage from ESPN.com, the TrueHoop Network, TrueHoop TV, Daily Dime Live, ESPN TV, ESPN Radio, ESPN Deportes, espnW, ESPN The Magazine, ESPN Insider, ESPN Fantasy, ESPN Games, ESPN Boston, ESPN Chicago, ESPN Dallas, ESPN Los Angeles, ESPN New York, ESPN Stats & Information, ESPN Topics and ESPN Analytics.


Rank
Player
Score

21



7.65

John Wall | @John_Wall
Washington Wizards | PG | Age: 22 | 2012 rank: #55





@espnnba to everyone who believes john wall is overrated, look what he has done to the wizards ever since he came back#nbarank

— Vijay Singh (@wizzlesingh) April 8, 2013

John Wall figured out the right time to peak -- right before #NBArank.

— Jovan Buha (@jovanbuha) April 8, 2013

John Wall is #21 in #NBArank, probably a little too high but awesome to finally see some recognition for his incredible play @espnnba

— Kareem (@kJibbs) April 8, 2013

well thanks ESPN for forcing the Wizards to sign Wall to a max now with the latest #NBArank

— dc_fusion (@dc_fusion) April 8, 2013





22



7.62

Rajon Rondo | @RajonRondo
Boston Celtics | PG | Age: 27 | 2012 rank: #12





#NBARank Rondo being rated 22 is a perfect spot for him. He makes his team better and stagnant at the same time.

— Jason Joseph (@swade9_9) April 8, 2013

@espnnba @rajonrondo #nbarank He should be 15.To lead the NBA in assists and tripledoubles after 3 months of being out is pretty impressive.

— Noah Eaton (@Rondo983) April 8, 2013

@espnnba How is Rondo ranked above Rose? Both tore their ACLs and Rose was way better than Rondo pre injury. #NBARank

— Steven Michelen (@StevenMichelen) April 8, 2013





23



7.59

Derrick Rose | @drose
Chicago Bulls | PG | Age: 24 | 2012 rank: #5





Well, at least he wasn't No. 45. RT @espnnba #NBArank 23: Derrick Rose (@drose). es.pn/10MhjU4

— Justin Verrier (@JustinVerrier) April 8, 2013

#NBArank Derrick Rose on 23? :c I know he has a torn ACL and people can't really rank him top ten or so, but 23?!

— A$AP Sandro (@Saaandroo) April 8, 2013

C'mon ESPN...ranking D Rose 23rd best player in the NBA is an insult. Need I remind you he's the youngest NBA MVP ever? Get real! #NBArank

— Jason Millison (@2for3blog) April 8, 2013

@espnnba #NBArank D-Rose was barely a top 15 player when he won MVP, he shouldn't even be cracking top 30 after not playing this season

— Joe Burke (@BrospectorBurke) April 8, 2013

What are you ranking Derrick Rose on? His suit game? #NBARank

— AboveLegit (@Above_Legit) April 8, 2013





24



7.58

Tyson Chandler | @tysonchandler
New York Knicks | C | Age: 30 | 2012 rank: #23





@espnnba TC is the king of the tap-outs! PERIOD! Has changed the culture of the #Knicks with his defensive intensity and rebounding #NBArank

— Deven Parikh (@hoopsfreak91) April 8, 2013





25



7.57

LaMarcus Aldridge | @aldridge_12
Portland Trail Blazers | PF | Age: 27 | 2012 rank: #20





LaMarcus at 25 in #NBARank is more a function of his style than his production. He's not always fun to watch, but he is a franchise rock.

— Danny Nowell (@dmnowell) April 8, 2013

25 for Aldridge seems very low for the glue holding the Blazers together. #NBARank

— Chris Barnewall (@ChrisJandB) April 8, 2013



2012-13 NBA Player Rankings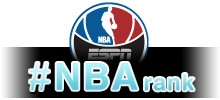 Follow the NBA on ESPN:
Twitter / Facebook / Google+
We're ranking every NBA player -- and counting them down on Twitter, from No. 30 to No. 1. Follow the discussion at
#NBArank
.
PLAYER RANKINGS
MORE #NBARANK
---
THE TRUEHOOP NETWORK