#NBArank player ratings: 26-30
Originally Published:
April 8, 2013
ESPN.com
Why wait until summer? ESPN.com and the TrueHoop Network are ranking the top 30 players in the NBA -- and counting them down on Twitter (@ESPNNBA). As the rankings are announced, you can also find them here on the pages of ESPN.com.
What is #NBArank?
#NBArank is the Twitter hashtag to use if you want to get involved in the discussion or just follow along.
You can also follow along here: @ESPNNBA.
You can see previous editions of #NBArank here: 2011 | 2012.
How did we rank the players?
We asked 111 experts to rate each player on a 0-to-10 scale, in terms of "the current quality of each player."
The voters are contributors to ESPN's NBA coverage from ESPN.com, the TrueHoop Network, TrueHoop TV, Daily Dime Live, ESPN TV, ESPN Radio, ESPN Deportes, espnW, ESPN The Magazine, ESPN Insider, ESPN Fantasy, ESPN Games, ESPN Boston, ESPN Chicago, ESPN Dallas, ESPN Los Angeles, ESPN New York, ESPN Stats & Information, ESPN Topics and ESPN Analytics.

Rank
Player
Score

26



7.53

Brook Lopez
Brooklyn Nets | C | Age: 25 | 2012 rank: #60




@espnnba #nbarank Not better than Dwight, but proving to everyone, including his front office that keeping him was a smart move.

Chirag Hiranandani (@ChiragRH) April 8, 2013

It's sad that a 7 footer who gets <7 rpg is ranked in the top 30. 8 SFs average >7 rpg! Larry Sanders better be in the top 25. #nbarank

CB (@cbyler84) April 8, 2013

After all the flack Brook took this offseason 26 is a nice number. Wouldn't mind him higher either. #NBARank

Matt Cianfrone (@Matt_Cianfrone) April 8, 2013





27



7.51

Kevin Love | @KevinLove
Minnesota Timberwolves | PF | Age: 24 | 2012 rank: #7




A lost season for KLove and all of the TWolves, still a double double machine who can stretch the floor when healthy. #nbarank

Nathaniel Bernhard (@NathanielBern) April 8, 2013

@espnnba Kevin Love's fall on #NBARank is deserved, but disappointing. If he's healthy all of next year he could lead MIN tothe playoffs

Steven Michelen (@StevenMichelen) April 8, 2013





28



7.49

Paul George | @Paul_George24
Indiana Pacers | SF | Age: 22 | 2012 rank: #75




@espnnba @paul_george24 wreaks of a young Tracy McGrady. Hopefully he can stay healthy and continue his climb up the #NBARank

Andre Hunter-Woodard (@JBayJr4) April 8, 2013

@espnnba #nbarank Paul George has made such a jump, already one of the best perimeter defenders and as of late can score with ease.

Greg Field (@gregfield93) April 8, 2013





29



7.48

Zach Randolph | @MacBo50
Memphis Grizzlies | PF | Age: 31 | 2012 rank: #34




What was more unlikely five years ago: The Clippers winning the Pacfic or Zach Randolph being considered a top-30 player? #NBARank

D.J. Foster (@fosterdj) April 8, 2013

@espnnba after coming out of a knee injury and hitting all star status, Z Bo is still a definitive double double machine #nbarank

Vijay Singh (@wizzlesingh) April 8, 2013





30



7.47

Paul Pierce | @paulpierce34
Paul Pierce | SF | Age: 35 | 2012 rank: #29




That's what I love about these #Celtics. They keep getting older, their #NBARank stays the same (said in a McConaughey drawl) @espnnba

Ian Levy (@HickoryHigh) April 8, 2013

Pierce is 30th in #NBARank which seems appropriately vague for possibly the best player on a completely undefinable Celtics team.

Tom Westerholm (@Tom_NBA) April 8, 2013



2012-13 NBA Player Rankings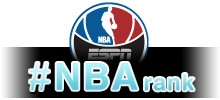 Follow the NBA on ESPN:
Twitter / Facebook / Google+
We're ranking every NBA player -- and counting them down on Twitter, from No. 30 to No. 1. Follow the discussion at
#NBArank
.
PLAYER RANKINGS
MORE #NBARANK
---
THE TRUEHOOP NETWORK
ESPNSteinLine

Marc Stein


9A CT/10A ET: @ESPNSoccerToday on @KESN1033 with a double dose of @ESPNFC: @AdrianHealey & @ShakaHislop! LIVE via http://t.co/IsShxtXUT8
6 minutes ago

jadande

J.A. Adande


Kareem's GIGANTIC RT @JakeEisenberg_ footage of Power Memorial vs. DeMatha in 1965 at Cole Field House. https://t.co/IlvQMaC8Ve
about 5 hours ago

JakeEisenberg_

Jake Eisenberg


Also, in looking at Lew Alcindor (Kareem Abdul-Jabbar) playing at Cole, found great @jadande feature on "Skyhook." http://t.co/f8MqPrxaiS
about 6 hours ago

mcten

Dave McMenamin


New story: LeBron says the Cavs are "fragile" right now as a loss to Toronto extends their skid to 4 games http://t.co/mGVSccWbTo
about 7 hours ago

ESPNNBA

NBA on ESPN


Watch: Top 3 Plays from Saturday night. http://t.co/r30ysudlYR
about 7 hours ago

ESPNNBA

NBA on ESPN


After fourth straight loss, @KingJames offers perspective on how low things could go for @Cavs, @mcten writes. http://t.co/HA8o28M1wa
about 7 hours ago

ESPNNBA

NBA on ESPN


Watch: @paulpierce34 (25 pts) leads @WashWizards past the @Bucks 111-100. http://t.co/cZhZ9QlkwR
about 7 hours ago

kpelton

Kevin Pelton


If a UW opponent gets pinned in the Zone after halftime the crowd nose will be deafening.
about 8 hours ago

ESPNNBA

NBA on ESPN


Watch: @JHarden13 (32 pts) and @HoustonRockets edge @dallasmavs 95-92. http://t.co/CvOTnAfR7h
about 8 hours ago

ESPNNBA

NBA on ESPN


Watch: Brow now! @AntDavis23 posts career-high 43 points (and 14 rebs) as the @Pelicans beat the @utahjazz 106-94. http://t.co/sbBeQBUpug
about 8 hours ago

mcten

Dave McMenamin


LeBron had just 1 rebound tonight. That only happened one time last season for him (a 106-103 loss to Houston in March)
about 8 hours ago

ESPNNBA

NBA on ESPN


Watch: @tonyparker (22 pts) and @spurs earn fourth straight win, posting 99-87 win over @BrooklynNets. http://t.co/Uv4nUl2cX2
about 9 hours ago

mcten

Dave McMenamin


The full LeBron "fragile" quote including a flashback to his 2011 Finals loss to the Dallas Mavericks. http://t.co/TbL6hOffKv
about 9 hours ago

jadande

J.A. Adande


sounds more optimistic than the quotes coming from the Cavs RT @Sixers "It's a learning process, but we're getting better." - @NerlensNoel3
about 9 hours ago

mcten

Dave McMenamin


Are the Cavs 'fragile'? Dion: "I believe so. When teams go on a six, 8-0 run, everybody is looking around and we put our heads down"
about 9 hours ago

jadande

J.A. Adande


#extendedmetaphor RT @mikey1615: @jadande @ChuckCulpepper1 Mike Davis not gonna get walked in this one
about 9 hours ago

jadande

J.A. Adande


Maybe Kirk Gibson will hit a home run RT @ChuckCulpepper1: Exodus in the background, Rose Bowl, #USCvsUCLA http://t.co/Yeyx2KQh51
about 9 hours ago

ESPNNBA

NBA on ESPN


Watch: @boogiecousins (31 pts, 18 rebs) leads @SacramentoKings to 113-101 win over @MNTimberwolves. http://t.co/ULmUr2PXgy
about 9 hours ago

ESPNSteinLine

Marc Stein


RT @mcten: LeBron: "We're a very fragile team right now ... And this isn't even the lowest it can get" (GOODNESS)
about 10 hours ago

jadande

J.A. Adande


Actual quote is worse: RT @mcten: LeBron: "We're a very fragile team right now ... And this isn't even the lowest it can get"
about 10 hours ago