Forecast: 2013-14 Rookie of the Year
Originally Published:
August 14, 2013
ESPN.com
We've covered how each team in the East and West will finish. Now our panel takes a stab at which player in the 2013 draft class will have the best start to his career.
OUR NEW PREDICTION ENGINE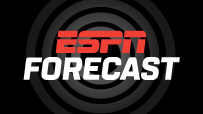 These Summer Forecast predictions are powered by ESPN Forecast.
We asked the ESPN Forecast team to rank their top three choices for 2013-14 rookie of the year, with a first-place vote receiving five points, a second-place vote receiving three and a third-place vote receiving one.
Now, check out the results, which we'll roll out one by one here and on Twitter.
To participate in the discussion and perhaps get your opinion published on this page, #ESPNForecast is the Twitter hashtag to use. Or you can just follow along @ESPNNBA.
Forecast: 2013-14 Rookie of the Year
RANK
PLAYER
VOTES



1


Victor Oladipo
Orlando Magic
SG | No. 2 pick

Last season
Indiana
13.6 PPG, 6.3 RPG, 2.1 APG



284

I really believe Victor Oladipo has all it takes to pull ahead in the race for Rookie of the Year. Orlando just got brighter #ESPNForecast

— RealMadridGhana (@JayCWall) August 14, 2013

For Oladipo win #ROTY he need to get mins & I doubt so ORL is crowded. My boy @Trey_Burke3 'Pitbull' will have 18.5PPG 5.7 APG #ESPNForecast

— Di Castro (@dicastropr) August 14, 2013




2


Trey Burke
Utah Jazz
PG | No. 9 pick

Last season
Michigan
18.6 PPG, 6.7 APG, 3.2 RPG



105

Trey Burke could very well be in the best possible destination to win this award. Could be the go-to scorer they need. #ESPNForecast

— Jacob Barber (@The_Only_Jake) August 14, 2013

@ESPNNBA Utah is handing the keys to a young team to Burke, and his ability to create as well as score will shine as a rookie #ESPNForecast

— Tony Ramsey (@A_RamseyLTSB) August 14, 2013




3


Ben McLemore
Sacramento Kings
SG | No. 7 pick

Last season
Kansas
15.9 PPG, 5.2 RPG, 2.0 APG



84

With so many new faces in Sacramento, it'll be difficult to predict how McLemore will perform next season. 3rd seems right. #ESPNforecast

— Hubert Douglas (@DatyungHdougie) August 14, 2013

@ESPNNBA Ben McLemore is going to get a whole lot of opportunities with Tyreke gone he should be #1 #ESPNForecast

— darshsanghera (@darshsanghera) August 14, 2013




4


Cody Zeller
Charlotte Bobcats
C | No. 4 pick

Last season
Indiana
16.5 PPG, 8.1 RPG, 1.3 BPG



68

Cody Zeller will be a solid stretch 4 with Big Al at center, but 4th most likely to win ROY might be too generous. #ESPNForecast

— Kaitee Daley (@daleysports) August 14, 2013

Hilarious to see @codyzeller even ranked to be #ROTY He won't do anything but be a poster boy for getting dunked on. #ESPNForecast

— Travis (@twondra13) August 14, 2013




5


C.J. McCollum
Portland Trail Blazers
SG | No. 10 pick

Last season
Lehigh
23.9 PPG, 5.0 RPG, 2.9 APG



64

#ESPNForecast McCollum and Lillard. What a backcourt for Portland for years to come.

— Zach Rogacion (@ZachRogacion) August 14, 2013

Might be a stretch now that mo williams is in pdx, but CJ should be exciting #ESPNForecast

— Jeff Peterson (@jpthewiz) August 14, 2013

Also receiving votes: Otto Porter, Wizards (41); Anthony Bennett, Cavaliers (27); Kelly Olynyk, Celtics (21); Nerlens Noel, 76ers (15); Alex Len (15), Suns; Michael Carter-Williams, 76ers (9); Shane Larkin, Mavericks (6); Kentavious Caldwell-Pope, Pistons (4); Dennis Schroeder, Hawks (2); Archie Goodwin, Suns (1); Reggie Bullock, Clippers (1).
EDITORS' PICKS
Will L.A. and the Blazers overcome L.A.'s Clippers.
NBA Now

Sporting a new look, OKC's Russell Westbrook posted his fourth straight triple-double in an OT win.
Recap »

Meet the draft's international man of mystery.
Chad Ford

MOST SENT STORIES ON ESPN.COM