Forecast: Worst Newcomer in 2013-14
Originally Published:
August 16, 2013
ESPN.com
Some deals this offseason raised red flags and eyebrows as soon as they were consummated. Others seemed good at the time, but could end up being cap-killing boondoggles. Or worse.
OUR NEW PREDICTION ENGINE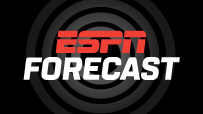 These Summer Forecast predictions are powered by ESPN Forecast.
In the final analysis, who will prove to be the worst acquisition of the summer?
To be clear, we are not talking about the worst player per se, but the one who (considering expectations, price, etc.) will have the biggest negative impact, the most disappointing season or will wear out his welcome first, according to our ESPN Forecast panel.
To participate in the discussion and perhaps get your opinion published on this page, #ESPNForecast is the Twitter hashtag to use. Or you can just follow along @ESPNNBA.
Here's the voting breakdown:
Forecast: 2013-14 Worst Newcomer
RANK
PLAYER
VOTES



1


Andrea Bargnani
New York Knicks
Center

Last season
Toronto Raptors
12.7 PPG, 3.7 RPG, 0.7 BPG



139

Andrea Bargnani worst newcomer. Was there really any other choice? Worst trade of the offseason. #ESPNForecast

— Jacob Barber (@The_Only_Jake) August 16, 2013




2


Josh Smith
Detroit Pistons
Small forward

Last season
Atlanta Hawks
17.5 PPG, 8.4 RPG, 4.2 APG



78

Josh Smith will either boom or bust no in between #ESPNForecast

— Matt (@mepstein35) August 16, 2013




3


Andrew Bynum
Cleveland Cavaliers
Center

Last season
Philadelphia 76ers
DNP (injured)



77

Bynum paired up with Kyrie... that could be a deadly 2-man game and he will space the floor for shooters #ESPNForecast

— Zak Kapfhamer (@Zkap36) August 16, 2013




4


Monta Ellis
Dallas Mavericks
Point guard

Last season
Milwaukee Bucks
19.2 PPG, 6.0 APG, 3.9 RPG



59

@ESPNNBA #ESPNForecast has Monta Ellis as 4th Worst Newcomer? Dirk's selflessness, and the pick n' roll will make them a competitive duo.

— Leon (@LeonTheGent) August 16, 2013




5


Brandon Jennings
Detroit Pistons
Point guard

Last season
Milwaukee Bucks
17.5 ppg, 6.5 apg, 3.1 rpg



52

With Josh Smith and Brandon Jennings together, the Pistons have probably the lowest combined IQ's of any NBA team.

— Frankie Loccisano (@DFLoccisano) August 17, 2013

Also receiving votes: Al Jefferson, Bobcats (40); Tyreke Evans, Pelicans (40); Dwight Howard, Rockets (26); Metta World Peace, Knicks (23); O.J. Mayo, Bucks (21); Kevin Martin, Timberwolves (14); Paul Pierce, Nets (10); Alex Len, Suns (8); Elton Brand, Hawks (8); J.J. Hickson, Nuggets (7); Nick Young, Lakers (7); Andre Iguodala, Warriors (6); Caron Butler, Suns (5); Nerlens Noel, 76ers (5); MarShon Brooks, Celtics (5); Jason Terry, Nets (5); Ben McLemore, Kings (5); Jose Calderon, Mavericks (4); Chris Kaman, Lakers (4); Jason Kidd, Nets (3); Brandon Knight, Bucks (3); Gerald Green, Suns (3); Darren Collison, Clippers (3); Andris Biedrins, Jazz (3); Tyler Hansbrough, Raptors (3); Zaza Pachulia, Bucks (2); Richard Jefferson, Jazz (1); Royce White, 76ers (1); Shabazz Muhammad, Timberwolves (1); Jrue Holiday, Pelicans (1); Greg Oden, Heat (1); Nate Robinson, Nuggets (1); Cody Zeller, Bobcats (1); Earl Clark, Cavaliers (1).
SPONSORED HEADLINES
MORE NBA HEADLINES
MOST SENT STORIES ON ESPN.COM
EDITORS' PICKS
The Clips and Spurs are streaking. Which team won over Marc Stein?
Power Rankings »

It's tourney time for the bottom 10. Who are tankers eyeing?
Ford

We've seen this Clip Show before. Can they be trusted this time?
Pelton