Forecast: 2013-14 East champions
Originally Published:
August 21, 2013
ESPN.com
The Miami Heat are taking aim at a fourth straight Eastern Conference title, but this season could be their toughest challenge yet.
OUR NEW PREDICTION ENGINE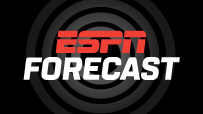 These Summer Forecast predictions are powered by ESPN Forecast.
Is now the time for Indiana to break through and earn an NBA Finals berth? Will Derrick Rose's return spark the Bulls past LeBron & Co.? Or will a veteran crew assembling in Brooklyn have one final push before its window slams shut?
Our Summer Forecast rolls on today with a look at the projected East titlist, as voted on by our ESPN Forecast panel.
To participate in the discussion and perhaps get your opinion published on this page, #ESPNForecast is the Twitter hashtag to use. Or you can just follow along @ESPNNBA.
Here's the voting breakdown:
Forecast: 2013-14 Eastern Conference champions
RANK
TEAM
VOTES



1


Miami Heat
2012-13 record: 66-16
Won NBA Finals
Predicted 2013-14 record: 60-22



380

@ESPNNBA the heat still rule the east as long as LeBron is healthy and is in his prime #ESPNForecast

— Calvin de Leon (@deleon_94) August 21, 2013

@ESPNNBA until someone beats them not comes close to beating them I'm buying they come out of the east. Clippers or rockets vs heat finals

— Ro!!! (@theroway) August 21, 2013




2


Indiana Pacers
2012-13 record: 49-32
Lost in Eastern Conference finals
Predicted 2013-14 record: 54-28



191

@ESPNNBA The Pacers get another year older & experienced, a determined Hibbert has been working hard this offseason = danger #ESPNForecast

— Luke Hoffman (@lhoff526) August 21, 2013

I really can't think of anybody in the East that can compete with the Heat besides the Pacers #ESPNForecast

— Chris Barnewall (@ChrisJandB) August 21, 2013




3


Chicago Bulls
2012-13 record: 45-37
Lost in Eastern Conference semifinals
Predicted 2013-14 record: 55-27



102

@ESPNNBA When the Bulls are heathy easily the best team. they win 85% of games when core is good (noah.rose,deng,boozer) 1st #espnforecast

— chase rifkin (@chase_rifkin) August 21, 2013

@ESPNNBA If D-Rose returns to MVP form, and Jimmy Butler continues his rise prominence, no team is safe! #ESPNForecast

— Aaron Doorn (@spotsdoorn) August 21, 2013

how easily people forget about the bulls is ridiculous Bulls top team in east getting a MVP back and a top 3 coach in nba #ESPNForecast

— adam coffelt (@thecoffeltkid) August 21, 2013






4


Brooklyn Nets
2012-13 record: 49-33
Lost in Eastern Conference first round
Predicted 2013-14 record: 53-29



65

Follow the discussion »