Commentary
Gustavo Ayon looking to plant roots
Originally Published:
September 2, 2013
By
Gonzalo Aguirregomezcorta
| ESPNDeportes.com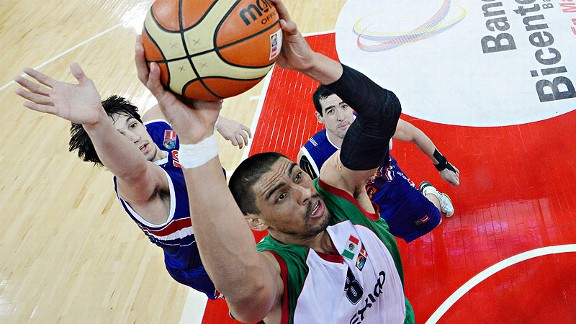 Leo Ramirez/AFP/Getty ImagesMexico center Gustavo Ayon will play for his fourth NBA team in three years in 2013-14.
CARACAS, Venezuela -- Mexico's Gustavo Ayon has been in many places since his professional career began seven years ago, but he hasn't been able to last long in any of them.
In that time, the Mexican center has played for 11 teams, only two of them for more than one season. Between 2008 and 2009 alone, he passed through five organizations and three countries (Mexico, Spain and Venezuela).
In his two seasons in the NBA, Ayon has already played for the New Orleans Pelicans (for whom he averaged 5.9 points and 4.9 rebounds in 54 games during the 2011-12 season), the Orlando Magic (he averaged 3.6 points and 3.3 rebound in 43 contests in 2012-13) and the Milwaukee Bucks (he averaged 4.3 points and 4.9 rebounds in 12 games in 2013). Now Ayon finds himself on the Hawks. Not the Xalapa Hawks, a Mexican League team he played for on three different occasions. But the Atlanta Hawks, who claimed the 28-year-old off waivers in late July.
Road To 2014 World Cup

Follow along as the world's top basketball teams compete in qualifying tournaments for the 2014 World Cup of men's basketball.

• 2014 World Cup Index
• WatchESPN: Americas, EuroBasket
• Parker, France seek elusive top spot
• Tristan Thompson eyes breakthrough
• EuroBasket 2013 preview
• Nets assistant leads Great Britain
• Tristan Thompson eyes breakthrough
• Ayon looking to plant some roots
• J.J. Barea, Puerto Rico's sparkplug
• Luis Scola, golden age holdover
• Joel Anthony, Canada's ring man
• FIBA Americas preview, Part 1
• FIBA Americas preview, Part 2
• FIBA Americas 2013 Schedule
• EuroBasket 2013 Schedule

"Milwaukee didn't want my services, so they waived me and Atlanta came away with my services," the 6-foot-10 Ayon said. "I didn't have any illusions of returning to Europe this year. I came [to the NBA] for three years and we'll see what happens. If nothing is accomplished, we'll have to come to a decision and see what happens."
But Ayon is hoping there is a solution to his situation in Atlanta. "It is always flattering when a team picks you," he said. "I think I had two or three options to go to and at the end we decided on Atlanta."
There, he'll find a familiar face in Al Horford, the Hawks' All-Star big man and the shining light of the Dominican Republic.
"It makes very happy because Al Horford, another Latino, is there," Ayon said. "I've spoken to him some when I've played against him and find him to be a good guy. I hope to have a good chemistry and aside from that he's a very well-respected player inside the NBA and he can teach me a lot of things.
"We've spoken before games, after them and while there's stoppage for free throws. He's a guy you have to stick to, follow around and see what are his strengths and improve day to day."
In the meantime, Ayon is focused on his commitment to Mexico's national team, which has won each of its first three games at the FIBA Americas Championship and leads Group B (Venezuela, Argentina, Dominican Republic, Paraguay) with six points.
The center sets the standard for his team and has posted averages of 17.3 points and 9.3 rebounds in 25 minutes a game.
"We all have to be serious every day," he said. "That's going to bring success to the team. We must continue to stay serious and not think that we've accomplished something, because we haven't accomplished anything. Three important games have been won, but that's in the past."
Mexico's strong play has been one of the big surprises of the tournament. Ayon has never been able to help the national team at the World Cup or in the Olympics, but given its play thus far, that may change soon.
EDITORS' PICKS
In a battle for eighth, the Suns fell to OKC.
The Ten »

Marred by injuries, the Rockets continue to find ways to win. Having James Harden doesn't hurt, either.
Watkins »

Who could land Justise Winslow and Jahlil Okafor? Try our lotto mock draft.
Play »

MOST SENT STORIES ON ESPN.COM