#NBArank 9: Derrick Rose
Originally Published:
October 21, 2013
ESPN.com
ESPN.com and the TrueHoop Network are ranking every NBA player for the third straight year -- and counting them down on Twitter (@ESPNNBA), from No. 500 to No. 1.
Rank
Player
Score



9




8.63

Derrick Rose | @drose
Chicago Bulls | PG | Age: 24 | 2012 rank: #5




2011-12 Stats

| GM | PPG | RPG | APG | FG% | FT% | PER |
| --- | --- | --- | --- | --- | --- | --- |
| 39 | 21.8 | 3.4 | 7.9 | .435 | .812 | 23.10 |




Rose became the youngest player in NBA history to win the MVP award during the 2010-11 season at 22 years old. He is one of seven players in NBA history with career averages of at least 21 points and six assists per game. -- ESPN Stats & Information (@ESPNStatsInfo)



@ESPNNBA The way Derrick Rose has been playing in the preseason, a MVP and top 3 NBA Rank next year looks more then possible #NBArank

— Mike Korzemba (@mikekorz) October 21, 2013

so Derrick Rose hasn't played in a year and we still think his injury is nothing compared to Kobe's? #NBArank

— Beau Knows (@BeauMizoguchi) October 21, 2013

Completely understand Rose's #NBARank. Bit shocked it's not lower since voting took place before preseason and no one knew how he'd play

— Avi Saini (@AvikarSaini) October 21, 2013
2013 #NBArank
This year, we asked our ESPN Forecast panel to predict the overall level of play for each player for the upcoming NBA season. This includes both the quality and the quantity of his expected contributions, combined in one overall rating.
OUR NEW PREDICTION ENGINE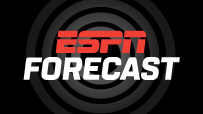 These #NBArank predictions are powered by ESPN Forecast.
As the rankings are announced, you can also find them here on the pages of ESPN.com.
We are starting by running through the "first" 100 players on Sept. 16, and thereafter we will count them down one at a time on Twitter, until Oct. 29, opening night in the NBA.
What is #NBArank?
#NBArank is the Twitter hashtag to use if you want to get involved in the discussion or just follow along.
You can also follow along here: @ESPNNBA
How did we rank the players?
We asked our ESPN Forecast panel to rate each player on a 0-to-10 scale, in terms of "the overall level of play for each player for the upcoming NBA season."
2013 #NBArank
MORE #NBARANK
---
THE TRUEHOOP NETWORK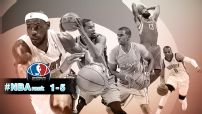 MORE CONTENT
EDITORS' PICKS
Rajon Rondo leaves a complicated legacy in Boston.
MacMullan »

PG carrying OKC

MJ's contribution to the black community is greater than perceived.
Scoop Jackson »