#NBArank 5: Russell Westbrook
Originally Published:
October 21, 2013
ESPN.com
ESPN.com and the TrueHoop Network are ranking every NBA player for the third straight year -- and counting them down on Twitter (@ESPNNBA), from No. 500 to No. 1.
Rank
Player
Score



5




8.88*

Russell Westbrook | @russwest44
Oklahoma City Thunder | PG | Age: 24 | 2012 rank: #9
* Rating was pre-injury setback. (Post-injury score: 7.81)




2012-13 Stats

| GM | PPG | RPG | APG | FG% | FT% | PER |
| --- | --- | --- | --- | --- | --- | --- |
| 82 | 23.2 | 5.2 | 7.4 | .438 | .800 | 23.98 |





Westbrook joined LeBron James and Dwyane Wade last season as the only players in the last decade to average at least 23 points, seven assists and five rebounds per game in a season.
-- ESPN Stats & Information (@ESPNStatsInfo)



A year ago I wouldn't think Russell Westbrook would be top #5 then I saw how bad the thunder was without him #NBArank

— Scorpio305 (@Scorpio305mia) October 22, 2013

Westbrook rated as the 5th best player in the league by #NBArank is right on the money. His explosiveness to the rim makes him unguardable

— Nick Lynn (@NL1Trey) October 22, 2013

So they peg Mamba at 25 because he's old and prone to injuries, but Westbrook makes number 5 after being injured in playoffs..? #NBArank

— Derek Goods (@_derekgoods) October 22, 2013

James Harden is about to be ahead of Russell Westbrook for #NBArank and I can't honestly say I disagree

— illy Willy (@willgladnick) October 22, 2013
2013 #NBArank
This year, we asked our ESPN Forecast panel to predict the overall level of play for each player for the upcoming NBA season. This includes both the quality and the quantity of his expected contributions, combined in one overall rating.
OUR NEW PREDICTION ENGINE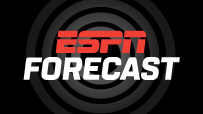 These #NBArank predictions are powered by ESPN Forecast.
As the rankings are announced, you can also find them here on the pages of ESPN.com.
We are starting by running through the "first" 100 players on Sept. 16, and thereafter we will count them down one at a time on Twitter, until Oct. 29, opening night in the NBA.
What is #NBArank?
#NBArank is the Twitter hashtag to use if you want to get involved in the discussion or just follow along.
You can also follow along here: @ESPNNBA
How did we rank the players?
We asked our ESPN Forecast panel to rate each player on a 0-to-10 scale, in terms of "the overall level of play for each player for the upcoming NBA season."