#NBArank 3: Chris Paul
Originally Published:
October 22, 2013
ESPN.com
ESPN.com and the TrueHoop Network are ranking every NBA player for the third straight year -- and counting them down on Twitter (@ESPNNBA), from No. 500 to No. 1.
Rank
Player
Score



3




9.48

Chris Paul | @CP3
Los Angeles Clippers | PG | Age: 28 | 2012 rank: #4




2012-13 Stats

| GM | PPG | RPG | APG | FG% | FT% | PER |
| --- | --- | --- | --- | --- | --- | --- |
| 70 | 16.9 | 3.7 | 9.7 | .481 | .885 | 26.43 |





Paul and John Stockton are the only players in NBA history to average at least 15 points, nine assists and two steals per game in six different seasons. No other player has done it more than three times. Steals became an official stat in 1973-74.
-- ESPN Stats & Information (@ESPNStatsInfo)



very few players have come in and completely changed the history and face of a franchise and @CP3 did just that with the Clips #NBArank

— Joe Forgatch (@akidnamedjoe) October 22, 2013

A lot of guys will be gunning for his 'best PG' crown, but he is going after LBJs crown! Meet this years MVP- Chris Paul #NBArank

— Darko (@DarkoSmilevski) October 22, 2013

@ESPNNBA @CP3 The premier PG in NBA, General Lob is underrated big shot maker but is he another Stockton in books w/ no rings? #NBArank

— Pavle Kisin-Rajlic (@Gambitguru77) October 22, 2013

#NBArank The best point guard in the world now combined with coach Doc who will push him to new heights. @CP3 at number 3 is a no-brainer.

— Hacob (@Hmkhitar) October 22, 2013
2013 #NBArank
This year, we asked our ESPN Forecast panel to predict the overall level of play for each player for the upcoming NBA season. This includes both the quality and the quantity of his expected contributions, combined in one overall rating.
OUR NEW PREDICTION ENGINE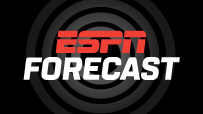 These #NBArank predictions are powered by ESPN Forecast.
As the rankings are announced, you can also find them here on the pages of ESPN.com.
We are starting by running through the "first" 100 players on Sept. 16, and thereafter we will count them down one at a time on Twitter, until Oct. 29, opening night in the NBA.
What is #NBArank?
#NBArank is the Twitter hashtag to use if you want to get involved in the discussion or just follow along.
You can also follow along here: @ESPNNBA
How did we rank the players?
We asked our ESPN Forecast panel to rate each player on a 0-to-10 scale, in terms of "the overall level of play for each player for the upcoming NBA season."