Las Vegas Summer League schedule
Updated:
July 22, 2013, 11:06 PM ET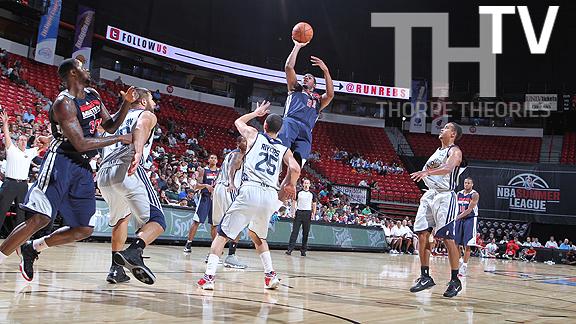 Summer League Theory
Summer League ball has been a little sluggish this year. Is it the defenses? The talent? The dry heat? ESPN Insider David Thorpe shares his theories.
Summer League Theory
NEXT VIDEO
All Las Vegas NBA Summer League games are played at Thomas & Mack Center and the COX Pavilion on the campus of the University of Nevada Las Vegas. All times ET.
SCHEDULE/RESULTS
| Friday, July 12 | Time | Location |
| --- | --- | --- |
| Pelicans 77, Knicks 72 | Recap | COX Pavilion |
| Clippers 90, Hawks 83 | Recap | COX Pavilion |
| Cleveland 70, LA Lakers 62 | Recap | COX Pavilion |
| Spurs 69, Bobcats 68 | Recap | COX Pavilion |
| Saturday, July 13 | Time | Location |
| Warriors 56, Wizards 52 | Recap | COX Pavilion |
| Mavericks 76, Kings 73 | Recap | COX Pavilion |
| NBA D-League 83, Timberwolves 81 | Recap | Thomas & Mack |
| Bulls 81, Grizzlies 67 | Recap | COX Pavilion |
| Suns 82, Trail Blazers 69 | Recap | Thomas & Mack |
| Bucks 88, Nuggets 74 | Recap | COX Pavilion |
| Heat 81, Raptors 72 | Recap | Thomas & Mack |
| Sunday, July 14 | Time | Location |
| Knicks 82, Wizards 69 | Recap | COX Pavilion |
| D-League 81, Clippers 77 | Recap | Thomas & Mack |
| Bobcats 86, Mavericks 80 | Recap | COX Pavilion |
| Lakers 81, Trail Blazers 63 | Recap | Thomas & Mack |
| Cavaliers 69, Grizzlies 58 | Recap | COX Pavilion |
| Bucks 69, Pelicans 61 | Recap | Thomas & Mack |
| Hawks 75, Heat 71 | Recap | COX Pavilion |
| Raptors 82, Spurs 76 | Recap | Thomas & Mack |
| Monday, July 15 | Time | Location |
| Bobcats 84, Knicks 71 | Recap | COX Pavilion |
| Pelicans 66, Cavaliers 62 | Recap | COX Pavilion |
| Suns 91, Timberwolves 89 | Recap | Thomas & Mack |
| Lakers 77, Clippers 65 | Recap | COX Pavilion |
| Warriors 80, Kings 66 | Recap | Thomas & Mack |
| Spurs 96, Hawks 87 | Recap | COX Pavilion |
| Bulls 93, Nuggets 81 | Recap | Thomas & Mack |
| Tuesday, July 16 | Time | Location |
| Wolves 80, Heat 71 | Recap | COX Pavilion |
| Raptors 81, Kings 70 | Recap | COX Pavilion |
| Warriors 84, Bucks 72 | Recap | Thomas & Mack |
| Bulls 93, Nuggets 81 | Recap | COX Pavilion |
| Suns 100, Grizzlies 88 | Recap | Thomas & Mack |
| Wizards 97, Nuggets 69 | Recap | COX Pavilion |
| D-League 82, Mavs 75 | Recap | Thomas & Mack |
| Wednesday, July 17 | Time | Location |
| Nuggets 87, Pelicans 82 (Game 34) | Recap | COX Pavilion |
| Grizzlies 90, Wizards 83 (Game 35) | Recap | Thomas & Mack |
| Wolves 92, Kings 54 (Game 36) | Recap | COX Pavilion |
| Blazers 70, Hawks 69 (OT) (Game 37) | Recap | Thomas & Mack |
| Heat 113, Knicks 66 (Game 38) | Recap | COX Pavilion |
| Mavericks 95, Clippers 89 (Game 39) | Recap | Thomas & Mack |
| Thursday, July 18 | Time | Location |
| Cavaliers 72, Spurs 66 (Game 40) | Recap | COX Pavilion |
| Lakers 72, Bucks 68 (Game 41) | Recap | Thomas & Mack |
| Raptors 95, Nuggets 78 (Game 42) | Recap | COX Pavilion |
| Bobcats 92, Grizzlies 84 (Game 43) | Recap | Thomas & Mack |
| D-League Select 83, Wolves 75 (Game 44) | Recap | COX Pavilion |
| Suns 92, Blazers 84 (Game 45) | Recap | Thomas & Mack |
| Heat 68, Bulls 62 (Game 46) | Recap | COX Pavilion |
| Warriors 79, Mavs 76 (Game 47) | Recap | Thomas & Mack |
| Friday, July 19 | Time | Location |
| Knicks 91, Clippers 80 (Game 48) | Recap | COX Pavilion |
| Kings 93, Hawks 87 (Game 49) | Recap | COX Pavilion |
| Wizards 78, Pelicans 77 (Game 50) | Recap | Thomas & Mack |
| Spurs 90, Bucks 80 (Game 51) | Recap | COX Pavilion |
| Grizzlies 91, Nuggets 84(Game 52) | Recap | Thomas & Mack |
| Bulls 94, Mavs 87 (Game 53) | Recap | COX Pavilion |
| Wolves 72, Blazers 66 (Game 54) | Recap | Thomas & Mack |
| Saturday, July 20 | Time | Location |
| Heat 82, Cavaliers 76 (Game 55) | Recap | Thomas & Mack |
| Suns 103, Raptors 98 (Game 56) | Recap | Thomas & Mack |
| Bobcats 85, D-League Select 75 (Game 58) | Recap | Thomas & Mack |
| Warriors 83, Lakers 77(Game 57) | Recap | Thomas & Mack |
| Sunday July 21 | Time | Location |
| Suns 91, Heat 89 (Game 59) | Recap | Thomas & Mack |
| Warriors 75, Bobcats 67 (Game 60) | Recap | Thomas & Mack |
| Monday, July 22 | Time | Location |
| Warriors 91, Suns 77 (Game 61) | Recap | Thomas & Mack |
EDITORS' PICKS
Check out the moves of some of the stars of Team USA.
Animations! »

Twenty-five players you have to see at the 2014 World Cup.
Fraschilla

Breaking down Kevin Love's current contract situation.
Brian Windhorst »