More than a year removed from a trip to the Western Conference finals, the Phoenix Suns' future is looking pretty gloomy.

After letting Amare Stoudemire walk in free agency, the Phoenix front office splurged last offseason on less-than-stellar replacements, leaving it with a ton of wing players and little direction. With even a playoff berth now looking like a long shot, is it time to ship Steve Nash out of town and build back up from scratch?

After looking over the Lakers on Monday, our 5-on-5 team continues its trip through the Pacific by surveying the Suns' scene:
1. Fact or Fiction: Phoenix should trade Steve Nash.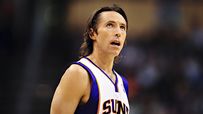 David Thorpe, Scouts Inc.: Fact if the Suns don't plan on adding more star power. Fiction if they do. Seeing Nash end his career outside of the playoffs each season would be a sorry story.

Michael Schwartz, Valley of the Suns: Fact. This question is complicated by the fact that Nash means everything to the franchise, but the Suns would be best served by swallowing hard and starting the rebuilding process in earnest by dealing him. Such a franchise-altering trade also would likely ensure the Suns would be bad enough to select a stud in the loaded 2012 draft.

Rob Mahoney, The Two-Man Game: Fact. The team is totally directionless, and trading Nash seems to be its only reasonable out. It's not even a matter of "freeing" Nash for his sake or that of the adoring basketball public; trading its star point guard is the most sensible option for the future of the franchise as a whole.

Beckley Mason, HoopSpeak: Fiction. It's not what I want, at all, but I don't see why Phoenix should trade Nash. It's not like owner Robert Sarver tricked him into re-signing; Nash knew management was cheap. He's still a top-15 player -- you don't give him away for pretty good parts.

Rahat Huq, Red94: Fact. I'm a firm believer that a team must first hit rock bottom before again reclaiming a place near the top. Trading Nash will hurt the bottom line at the box office, but the former MVP's on-court production works counter to the ultimate goal.
---
2. Should Marcin Gortat or Robin Lopez start at center?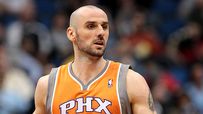 David Thorpe, Scouts Inc.: Gortat. He's one of the most underrated guys in the league, and his advanced-level degree from SVG University has made him an excellent defender.

Michael Schwartz, Valley of the Suns: Lopez was a starter in name only last season once Gortat joined the team and embarked on his double-double binge, outplaying Lopez in nearly every statistical category. Not only should the "Polish Hammer" start at center, but he's perhaps the most promising piece of the post-Nash future.

Rob Mahoney, The Two-Man Game: Marcin Gortat, and it's not close. Gortat is certainly enabled by sharing the floor with an elite playmaker, but even that disclaimer doesn't discount his production. Gortat has taken a legitimate opportunity and ran with it, while Lopez has struggled in virtually every role the Suns have given -- gifted, really -- him.

Beckley Mason, HoopSpeak: Gortat in a landslide. He is the more athletic finisher off Nash's one-handed pick-and-roll drop-offs and an active rebounder, and gives a passable effort on defense. Lopez has a well-earned reputation for being tall and having likable hair, but he's really not that good.

Rahat Huq, Red94: The Suns need to start the 22-year-old Lopez and trade Gortat. In a deal, the Polish center, moreso than anyone else on the roster, would bring back prospects to replenish a rather dry cupboard. For the Suns, rebuilding must begin today for a chance at a brighter tomorrow.
---
3. Fact or Fiction: Aaron Brooks is the PG of the future.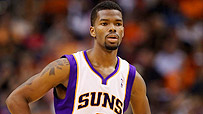 David Thorpe, Scouts Inc.: Fiction, if they want to do what's best for AB. He's a mini version of Bobby Jackson, the godfather of the supersonic scoring combo guard coming off the bench.

Michael Schwartz, Valley of the Suns: Fiction. Brooks is nothing more than the backup point guard of the present, and even then he hardly ignited the Suns' bench after Phoenix dealt for him at last season's trade deadline. It would be unfair to expect the Suns' PG of the future to replicate Nash, but he must be more than the inefficient gunner that Brooks is.

Rob Mahoney, The Two-Man Game: Fiction. Brooks is a better player than his play last season would suggest, but his team will always be forced to accommodate his fairly significant weaknesses before it can truly benefit from his strengths. He's a solid piece in a complementary role, but a building block he is not.

Beckley Mason, HoopSpeak: Fiction. Aaron Brooks looks and runs like he could be from a distant future in which man has evolved to move at incredible speeds and bear giant heads designed for increased brain size, but his mental game is stuck in his days dominating the Pac-10. Keep him for the right price, but recognize that he's just too small to play starter's minutes.

Rahat Huq, Red94: Fiction. Brooks is not even a PG. The Lilliputian can make for a nice sparkplug off the bench, but unless a 1995 Scottie Pippen resides somewhere in your lineup, I wouldn't hand the former Rocket the keys to your team.
---
4. Which wing will contribute the most going forward?
Candidates: Vince Carter, Josh Childress, Jared Dudley, Grant Hill, Mickael Pietrus.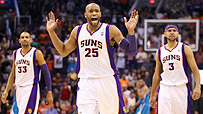 David Thorpe, Scouts Inc.: Josh Childress has the game to be a long-term starter, if he plays next to better players; he does a lot of things that make those players even better. Absent better talent, none of those guys will end up doing much as starters, although I love Dudley's IQ and toughness.

Michael Schwartz, Valley of the Suns: Jared Dudley was an afterthought when the Suns acquired him from Charlotte three years ago, and now he's an integral part of Phoenix's future. JD improves another aspect of his game every summer (he's working on his off-the-dribble game now), and his work ethic will lead him to a long career as a valuable contributor.

Rob Mahoney, The Two-Man Game: Jared Dudley. Grant Hill would be the obvious choice if he was a Sun for certain, but his unrestricted free agent status makes him too much of a question mark. Dudley is a suitable alternative; he's a player who can contribute through spot-up shooting, rebounding and effort defense. He might rely on Nash's shot creation to supply offense, but Dudley's across-the-board contributions make him the favorite here.

Beckley Mason, HoopSpeak: Oh, man. A murderers (of Phoenix fans' fortunes) row! It would surprise me if any of these guys played for Phoenix in three years. I think it's between Hill and Dudley, and whoever does the most uplifting, socially important PSAs in the next two years wins.

Rahat Huq, Red94: It's smart money to not bet against Grant Hill, who at 39 is making the rest of us look pitiful for skipping our weekly cardio. Fun fact: Two of the top three picks from the 1994 draft (Hill and Jason Kidd) are still going strong. Fun fact: Glenn Robinson, the '94 No. 1 overall pick, hasn't been relevant since George W. Bush's first presidency.
---
5. When will the Suns make the playoffs again?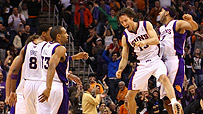 David Thorpe, Scouts Inc.: Considering the depth out West, the cash crunch in Phoenix and no clear plan being orchestrated by the team (yet, anyway), 2015 seems as good a guess as any. The Rockets, Clippers and even the Jazz look to jump back into the top eight, and it's hard to expect franchises such as the Spurs, the Lakers or even the Trail Blazers to start flopping badly.

Michael Schwartz, Valley of the Suns: The Suns are hell bent on reloading rather than rebuilding after determining most massive rebuilding projects take at least a decade to complete. They will be flush with cap space in 2012, and if they cash in, they should crash the playoff party in 2013.

Rob Mahoney, The Two-Man Game: 2015. By the time the Suns finally see the value in trading Nash, it will be far too late. They'll get minimal returns for Nash in a late-season trade or let him walk in free agency and be forced to endure a slow, gradual rebuild that will finally put them back in the playoffs halfway through the decade.

Beckley Mason, HoopSpeak: 2016. I don't see them making the playoffs anytime soon, unless they can acquire something more useful than the gruesomely decaying corpse of zombie Vince Carter and a cadre of decent players. Nash is still the best in the game at elevating his teammate's play, but there's only so high you can push guys when they're smacking up against low ceilings.

Rahat Huq, Red94: 2016, at the earliest. The team has no blue-chip prospects, and it will take years to both acquire and cultivate the kind of top-tier talent it needs. With that said, a Nash-Carter-Hill triumvirate would do serious damage in some seniors' leagues.


ESPN.com and the TrueHoop Network
David Thorpe is an NBA analyst for ESPN.com's Scouts Inc. Rahat Huq, Beckley Mason, Rob Mahoney and Michael Schwartz contribute to the TrueHoop Network.