The Philadelphia 76ers went 41-41 last season under new coach Doug Collins, taking a first-round playoff exit at the hands of LeBron James and the Heat.

Do the Sixers have what it takes to rise above mediocrity in the East? Or at least have the building blocks of a contender?
Their last NBA Finals appearance came in 2001, and many fans weren't even born for their last NBA title in 1983. The Elton Brand era hasn't exactly energized the fan base -- the Sixers drew 14,751 fans per game last season, 25th in the league. The regular sellout crowds of Allen Iverson's prime are long gone.

Will a city with great hoops lineage rise again in the NBA? Our experts scale the heights and ponder, 5-on-5 style.
1. Fact or Fiction: Philly should trade Andre Iguodala.
Henry Abbott, ESPN.com: Fact. In a great sports city without much love for this sport -- they couldn't even sell out when the Heat visited -- the Sixers need a real plan to contend, which means big changes. There's nothing wrong with Andre Iguodala's game (except that poor man's Paul Pierce act is no crunch-time solution), but he has a big salary, which means he probably has to go.

Tim Donahue, Eight Points, Nine Seconds:
Fiction. I realize burn it down and start from scratch is what all the cool kids are doing, but at some point in time, a team has to hang on to good basketball players. Iggy is only 27, and he can play defense. There really are worse things you could have.

Beckley Mason, Hoopspeak: Fiction. I agree that Philadelphia has some needs Iguodala can't fill, but the Sixers are still a fragile bunch, and it's unlikely they'd be able to find anyone who can plug as many holes as AI. If they move him for a pure scorer, they should be prepared to take a step back in defense and fast-break efficiency.

Rashad Mobley, Truth About It: Fact. The Sixers need a formidable low-post threat, and trading Iguodala is the best way for them to accomplish that. They'll miss his defense and his ability to get a triple-double at any moment. But Lou Williams, Jrue Holiday and Evan Turner can pick up the slack, along with their newly acquired big man.

Ethan Sherwood Strauss, Hoopspeak: Fiction, just like Philly talk radio's negative depiction of Andre. The problem is, Iggy excels at the ignored aspects of hoops (passing, rebounding, defense). In a bizarro universe, Iguodala does less to aid his team while scoring lots o' points -- and pundits are gabbing about how "He needs more help!"
---
2. Fact or Fiction: Evan Turner will live up to his No. 2 draft status.
Henry Abbott, ESPN.com: Fiction. Let's assume John Wall is the top of the crop. Would you trade me Derrick Favors for Evan Turner? How about Greg Monroe or Paul George? That wasn't a terrible pick, but Turner proves once again that subpar athleticism makes the transition to the NBA exceptionally tough.

Tim Donahue, Eight Points, Nine Seconds: Fiction. That's both bad and good. The bad is that in the dozen or so times I watched him this past season, the only adjective I could come up with was "nondescript." The good is that living up to No. 2 ain't all it's cracked up to be: Darko Milicic, Shawn Bradley, Jay Williams, Stromile Swift, Hasheem Thabeet, Danny Ferry ...

Beckley Mason, Hoopspeak: Fiction. Turner's pedestrian first season whispers "bust," but it's unlikely those whispers will become shouts. As second overall picks go, his impact (although at a different position) will be somewhere between Emeka Okafor and Tyson Chandler. Still, there's no way he'll ever be judged the 2010 draft class' second-best player.

Rashad Mobley, Truth About It: Fiction. But Hasheem Thabeet and Michael Beasley haven't exactly lived up to theirs, either. All that proves is that the NBA draft is hit or miss. Turner can be a solid all-around player who can create matchup problems at guard or small forward, play solid defense and be the second-best or best player on his team. Just like Iguodala.

Ethan Sherwood Strauss, Hoopspeak: Fiction. While it would be wise for Sixers HQ to wait patiently on Turner's development, this binary question requires an immediate decision. As I stare into my crystal lottery-pingpong ball, I spy only endless, efficient, boring Greg Monroe putbacks. Sorry, Philly, Monroe will make you regret passing on him with each lifeless, liftless layup.
---
3. Fact or Fiction: Thaddeus Young should start.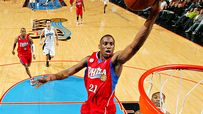 Henry Abbott, ESPN.com: Fiction. Thaddeus Young is probably the most intriguing Sixer -- he is young, athletic and talented, and can finish like crazy at the rim -- but before deciding whether he should start, I think it's important to figure out what position he plays. I've heard smart people say he should always be in the paint as a power forward. I've heard smart people say he will really blossom once he masters life as a small forward. Let's figure that out first.

Tim Donahue, Eight Points, Nine Seconds: Fiction. I love Thad's game. He probably deserves to start, but I think he might be optimal as that "starter off the bench" who can provide matchup problems.

Beckley Mason, Hoopspeak: Fiction. When a team has such a slim margin for error, it's hard to give loads of time to a player with such an incomplete game. Young doesn't rebound or defend anyone, but his instinctive scoring game makes him a valuable asset off the bench. Keep him seated to start, and pray that Elton Brand and his knees of chalk don't crumble.

Rashad Mobley, Truth About It: Fiction. Last season, Young spent some time at the 4 slot, and he did a solid job particularly on the defensive end of the floor. But for now, Elton Brand and his bad contract will start at power forward. Young, as he demonstrated in the 2011 playoffs against the Miami Heat, is at his best providing energy off the bench.

Ethan Sherwood Strauss, Hoopspeak: Fact, if by "starting" you mean "playing more." This kid finally has production to match the potential, and it's high time our legal system did something about a world in which Jodie Meeks gets more burn. Watching Young play only 26 minutes is like watching a peacock in a black and white movie.
---
4. Fact or Fiction: Jrue Holiday will be a star.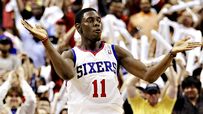 Henry Abbott, ESPN.com: Fact. I doubt he'll be an All-Star, but I'm absolutely certain that guy could lead on a fantastic team.

Tim Donahue, Eight Points, Nine Seconds: Fiction. "Star" is a lofty goal. I won't completely rule it out, but neither will I predict it at the moment. Philly fans have to love the upward slope of his career arc. It's too early to get greedy, though. Let him grow and see what you've got.

Beckley Mason, Hoopspeak: Fact, but not a superstar. Holiday is hard to evaluate because his developing game manifests in odd combinations of maturity and inexperience. At only 21, he's ahead of the curve, but I don't think he'll ever catch up to the likes of Derrick Rose, Russell Westbrook, Deron Williams or Chris Paul. Rajon Rondo, though, is in sight.

Rashad Mobley, Truth About It: Fact. But with the likes of Williams, Rose, Rajon Rondo and Wall in the Eastern Conference with him, no one will notice. Still, at just 20 years old, Holiday started every game, averaged 14 points and 6.5 assists, and led his team a playoff berth. As his teammates mature and improve, so will he.

Ethan Sherwood Strauss, Hoopspeak: Fiction. Don't blame Jrue, who acquitted himself nicely as a sophomore. Holiday just happens to play in a point guard golden age. "Star-level" PG production is probably rising faster than Jrue's theoretical ceiling. He'll be one of those quality Renaissance painters history never heard of.
---
5. Fact or Fiction: The Sixers have a bright future ahead.

Henry Abbott, ESPN.com: Fiction. It is very hard to go from so-so to pretty good to great. The more common NBA story is to be terrible while collecting lottery picks and cap space, and then launch from the depths of despair into greatness. The Sixers seem to be stuck in the middle, unable to make noise in the playoffs or the lottery.

Tim Donahue, Eight Points, Nine Seconds: Fiction -- for now. They have a very good young vet in Iguodala, and lots of promise in Holiday and Young. I just don't know what the final product will look like, so I think their future is unclear. Not bad, per se, but it remains too uncertain to call bright.

Beckley Mason, Hoopspeak: Fiction. I suppose with the right eyes, you can peer from the top of the Philadelphia Museum of Art steps and see the Sixers enjoying home court in the playoffs. But it seems to me that this team is in a precarious position, and one false step or missed opportunity (DeMarcus Cousins!) could prevent this optimistic vision from coming true.

Rashad Mobley, Truth About It: Fiction. The Sixers still need a formidable low-post threat to complement their promising backcourt. And despite his strong first season, coach Doug Collins has a knack for wearing on his players the longer he stays around. The Sixers have the potential to improve, but it is too soon to label their future a bright one.

Ethan Sherwood Strauss, Hoopspeak: Fact, but keep in mind that I follow the Warriors. "Consistent playoff appearances" sounds like a license to print your own money (provided that money isn't Euros).


ESPN.com and the TrueHoop Network
Henry Abbott writes for ESPN.com. Tim Donohue, Beckley Mason, Rashad Mobley and Ethan Sherwood Strauss contribute to the TrueHoop Network.