For some debates, 500 ratings from 91 experts just ain't gonna cut it.

While the #NBArank project rolls on into the top 100, we're aiming a much bigger microscope on five cases of players -- who have crossed paths or will cross paths in major moments of their careers -- and determining which one should have finished higher on our list.

Let's start with one guy left just outside the top 100 (DeMar DeRozan, No. 101) and the first entry in it (Wesley Matthews, No. 100).
1. Who should be ranked higher: DeMar DeRozan or Wesley Matthews?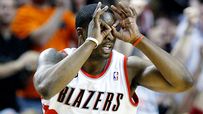 Devin Kharpertian, Nets Are Scorching: Matthews, but it's as close as the ranking. DeRozan has more long-term upside, but Matthews gets the edge today because of his defense and long-range shooting. Matthews shot over 40 percent from deep last season while DeRozan couldn't hit even 10 percent of his 3-pointers. As a shooting guard, that's unacceptable.

John Hollinger, ESPN.com: Matthews. DeRozan is better at scoring but it's closer than you think (0.9 points per 40 minutes), and Matthews scores more efficiently because of his 3-point weapon. More importantly, Matthews passes the ball occasionally and actually tries on defense. While DeRozan's ceiling is much, much higher, Matthews is the better player at the moment.

Rahat Huq, Red94: It's a pretty even match. If I needed a supporting piece to fit on a contender, I'd take Matthews. But if I needed some hope and upside for a bad team like, well, the Raptors, I'd take DeRozan.

Brendan Jackson, Celtics Hub: Matthews. The Portland shooting guard has better numbers across the board while playing nearly as many minutes as DeRozan. When called on, Matthews can also be a defensive specialist with 3-point range -- two things DeRozan hasn't been able to prove he can do.

Beckley Mason, HoopSpeak: Wesley Matthews should be ranked higher, and not just higher than DeRozan. Matthews is the superior defender, the more versatile offensive player and a far better 3-point shooter. DeRozan is young and an intriguing prospect, but at this stage he doesn't make the smart, tough plays Matthews does ... when Wes isn't dribbling into ill-advised pull-ups, that is.
---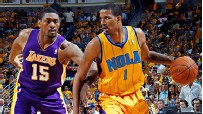 Devin Kharpertian, Nets Are Scorching: Can I take neither? OK, Ariza, because he's 26 and he still has a shot at salvaging a decent career. But he's been incredibly disappointing since the 2009 playoffs, and Metta World Peace's value has similarly plummeted these past two seasons.

John Hollinger, ESPN.com: Ariza by a whisker. Neither would know a good shot if it slapped him in the face -- Ariza in particular may have the worst shot selection in basketball -- but both are elite, ball-hawking defenders. Last season they were of roughly equal value, but youth gives Ariza the edge going forward.

Rahat Huq, Red94: Metta World Peace. In this league, only a handful of players are more frustrating to watch, more disruptive to a team's flow, and more opposed to making smart decisions than the Lakers' starting small forward. Trevor Ariza is one of those players.

Brendan Jackson, Celtics Hub: Metta World Peace ... but not by much. He was asked to come to the Lakers and be a complementary player. Ariza went to Houston/New Orleans to be the starting swingman. While their numbers are very similar, I'm giving the slight edge to the baller formerly known as Ron Artest for doing what was asked of him and failing only slightly less.

Beckley Mason, HoopSpeak: Ariza. In terms of production, rangy Ariza's lack of range doesn't keep him from outpacing plodding Metta World Peace. A change in Ron Artest's name won't change his game; Metta World Peace is on a downward spiral. Expect Ariza -- who is now also the better, if less iconic, defender -- to expand this growing gap in usefulness next season.
---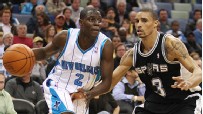 Devin Kharpertian, Nets Are Scorching: Darren Collison. I think they'll coexist well as Pacers teammates, but Collison can impact a game more, and he did so without a safety net all of last season. He plays much more out of control than Hill, but he also makes more happen on the floor.

John Hollinger, ESPN.com: If they're both playing point guard, I'll go with Collison, although neither is exactly Mr. Court Vision. But for overall value, it has to be Hill. His ability to defend the wings and his superior results as a spot-up shooter make him a much more multifaceted weapon. Don't be surprised if they're often finishing games together in the backcourt.

Rahat Huq, Red94: Probably Collison, but these two breakout stars are each playing so well in filling in that the better question is who gets traded first: Chris Paul or Tony Parker? Oops. I guess stars aren't as expendable as some had thought.

Brendan Jackson, Celtics Hub: Collison ... but I'm a sucker for assists. Collison has also shown the ability to score and dish while Hill has been mostly a pure scorer. Hill has grit, for sure, but he's not taking the starting point guard role from Collison, just one indication of both players' place in the league.

Beckley Mason, HoopSpeak: Based on productivity thus far, one has to choose the scrappy Collison. Both can push the ball upcourt and to the rim in a blur, and Collison appears to be the more natural point guard. But Hill's size, ability to defend true shooting guards and consistent stroke give me pause. Collison for the moment, Hill for the future.
---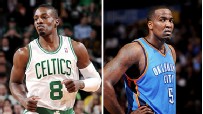 Devin Kharpertian, Nets Are Scorching: Big Perk. If he's healthy -- and it's a big if -- having a guy like Perkins who can protect the interior makes a huge difference. I love Green's versatility, but his game has stagnated the past few seasons. He has yet to take that next step and become an impact player.

John Hollinger, ESPN.com: Perk. Neither was very good in 2010-11, but Perkins has shown in the past that he's capable of being both a high-percentage scorer and a bruising post defender. Green's track record is one of pure averageness.

Rahat Huq, Red94: Perkins. Perk is one of the sole survivors of a dying breed, one of the most intimidating men in basketball, and the only player I have personally seen stifle both Yao Ming and Dwight Howard in single coverage. Green is the bag of pretzels Celtics GM Danny Ainge got back when he decided to break up the most feared defensive unit in basketball.

Brendan Jackson, Celtics Hub: Perkins. It comes down to who helps a team more -- a starting center with unparalleled toughness or a tweener who is a jack of all trades, master of none? This isn't a complete referendum on the trade (it takes more than 60 words for that) but it does give you some perspective on who is more valuable to a team.

Beckley Mason, HoopSpeak: Perkins. Jeff Green is the more athletic, talented and skilled player, but that doesn't make him better. Because Perkins plays such a crucial position, he gets the nod. Green is a role player without a role. Get Perk healthy, and he can fill a highly specialized and valued niche of the banger who boards, sets bulldozer screens and makes defenses smarter.
---
Note: Mayo was selected No. 3 overall in the 2008 draft, one spot after Beasley.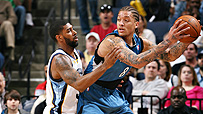 Devin Kharpertian, Nets Are Scorching: Mayo. By default. And I'll never forgive myself for preferring Beasley to Derrick Rose in 2008.

John Hollinger, ESPN.com: Beasley, and it's not that close. While both players have underachieved, Beasley has had better results than Mayo his entire career despite often playing out of position. Beasley has put up better numbers at power forward than small forward his whole career, but Minnesota's roster forces him to play the wings.

Rahat Huq, Red94: Mayo. I think back to my befuddlement over Heat president Pat Riley's alleged aversion to Beasley prior to the draft, with rumors of the Heat president targeting Mayo in a trade-down. Didn't happen, but true prescience from Riley in seeing the early signs. He probably wishes he had had similar foresight regarding John Starks in Game 7 of the '94 Finals.

Brendan Jackson, Celtics Hub: Beasley. Things haven't been easy for B-Easy since he came into the league, and most of it is his fault. On the court, however, he has shown himself to be a capable starter while Mayo is just showing flashes of his scoring ability. It's interesting that both players have been either given away for nothing or nearly given away for nothing.

Beckley Mason, HoopSpeak: Beasley. My mind understands that statistically Beasley has been more productive given the opportunity. But my heart is saying: "No, no, no! This guy is the crown prince of offensive stagnation. He's a laughable defender! He's an awful shot aficionado!" At least Mayo wants to do the right thing; he seems serious about being an NBA player. Problem is, he's not all that good.


ESPN.com and the TrueHoop Network
John Hollinger is a senior writer for ESPN.com. Devin Kharpertian, Rahat Huq, Brendan Jackson, Beckley Mason contribute to the TrueHoop Network.