#NBArank instant analysis: 26-30
5-on-5: Debating whether latest players unveiled in our rankings are properly rated
Originally Published:
October 11, 2011
ESPN.com and the TrueHoop Network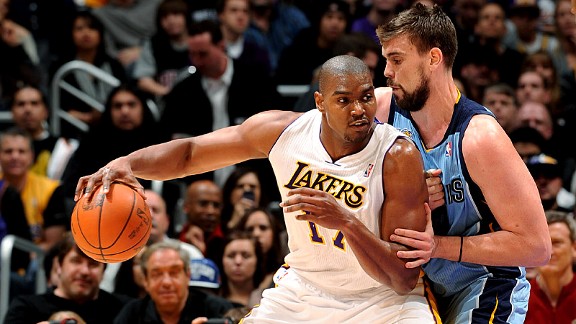 Noah Graham/NBAE/Getty ImagesCenters of attention: L.A.'s Andrew Bynum and Memphis' Marc Gasol jockey for position in #NBArank.
ESPN.com's #NBArank project heads inside the top 30, revealing some of the NBA's best that we won't be seeing until at least mid-November now that the lockout has led to the cancellation of the season's first two weeks.
Whose rating is too high? Too low? Just right?
Get some instant analysis after each player is unveiled with some wrangling among our five-man panel, and then let your voice be heard on Twitter.
1. Marc Gasol at No. 26: Too high, too low or just right?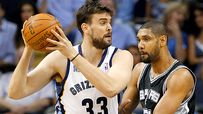 Zach Harper, Daily Dime Live:
Too high. I'm riding the Marc Gasol bandwagon with the rest of you. He isn't challenging Pau for best Gasol in the family as much as some fans want to pretend, but he's becoming one of the better centers in the league (whatever that means). I just can't justify saying he's better than guys like Joe Johnson, Andrew Bogut or Andre Iguodala.
Mike Kurylo, KnickerBlogger: Too high. He's a smart young-ish player, with good hands (2.4 assists per 36 minutes) and efficient scoring (59.6 percent true shooting percentage). But his rebounding is weak (8.6 rebounds/36 minutes) for a 7-foot-1 big man. If he were Eddy Curry's brother, would he be ranked this high?
Noam Schiller, Hardwood Paroxysm: Too high. There isn't much that Marc can't do on a basketball court -- between his defense, his midrange game and his passing, he's one of the most well-rounded big men out there. But he also isn't truly elite in any one area, and he benefits greatly from the attention drawn by Zach Randolph. He'll get here, just not yet.
Jeremy Schmidt, Bucksketball: Just right. There's been a rush on centers over the past 10 players, and that makes sense -- after Dwight Howard, there are five or six centers who are virtually interchangeable. Marc Gasol has the most complete mix of offense, defense and durability of the bunch, though.
Brian Windhorst, ESPN.com:
Too high. Gasol has the potential to be one of the best true centers in the league over the next 2-3 seasons and this ranking reflects that potential. I would not say he's a top-30 NBA player at this moment, though. His improvement over the last two seasons has been remarkable but it's hard to keep up that trajectory. But I understand the rationale.
---
2. Rudy Gay at No. 27: Too high, too low or just right?
Zach Harper, Daily Dime Live: I initially was going to say it's too high for him, but I'll buy into his game and say it's just right. There isn't a spot on the floor where he can't kill you offensively. He's good in isolation, in pick-and-rolls, in post-ups -- and he can spot up to hit the 3. Although injuries limited his season, he was also an elite isolation defender. Rudy is realizing his potential before our very eyes.
Mike Kurylo, KnickerBlogger: Too high. Gay will play a ton of minutes (39.9 minutes per game last season), and give you a fair amount of points (17.8 points per 36 minutes) but at an average efficiency (53.3 percent TS%). For all his athleticism, he lacks the all-around production of a top-30 player.
Noam Schiller, Hardwood Paroxysm: Perfect. Before his unfortunate injury, Gay was a borderline All-Star. Doesn't get much more borderline than three spots out of the league's top 24. Whenever a healthy Rudy takes the court again, his shot creation from the wings should make the difference between a surprising underdog Grizzlies squad and a full-blown title contender.
Jeremy Schmidt, Bucksketball: Just right. He's not a superstar, but there's still a chance he could be. Before getting injured last season, Gay was putting together his most complete season while still producing offensively. Hardly a game went by in the playoffs last season without someone asking how dangerous the Grizzlies would be if Gay were healthy. There was a reason for the curiosity.
Brian Windhorst, ESPN.com: Too high. There's a split in the thinking on Gay amongst NBA execs. Some think the Grizzlies were crazy to give him $80 million last year. Some think it was prudent considering his size and abilities. The Grizzlies were betting that Gay's best days are ahead of him. This ranking says that too.
---
3. Tony Parker at No. 28: Too high, too low or just right?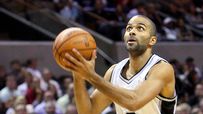 Zach Harper, Daily Dime Live: Just right. Tony Parker has a few flaws in his game that limit him from being truly dominating. He can't shoot 3-pointers and he's still a weak defender. However, he's so good at penetrating the defense and attacking in the pick-and-roll that his offensive attack can be suffocating for opponents. He's not an elite point guard, but he's definitely a top-30 guy.
Mike Kurylo, KnickerBlogger: Too low. The Spurs won 61 games and had the league's second-best offense (111.8 offensive efficiency) with Tony Parker playing a team high 2,528 minutes. Coincidence? I think not.
Noam Schiller, Hardwood Paroxysm: Just right. After an injury-plagued 2009-10 season, it seemed that Parker was on his way out of the league's elite. A surge back to full strength aided by a revamped Popovich system made that season a distant memory. The new wave of point guards will ward Parker off eventually -- but only in a few years.
Jeremy Schmidt, Bucksketball: Too high. Parker is still solid, but he's not your average 29-year-old. He has a lot of miles on his legs, and without a 3-point shot to fall back on, he isn't likely to age as well as a Steve Nash or a Jason Kidd. He was still strong last season, but bigger, more athletic point guards are taking over this league.
Brian Windhorst, ESPN.com: Just right. The guy has been an elite point guard for the last eight years or so. His prime could be coming to an end, so you're in danger of being behind the curve by putting him here. But after injuries really knocked him down two seasons ago, he bounced back to a strong season in 2010-11. He's earned his spot here.
---
4. Joakim Noah at No. 29: Too high, too low or just right?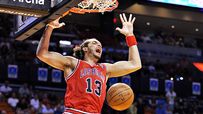 Zach Harper, Daily Dime Live: Too high. Noah is fantastic in the Bulls' defensive system, and his skill in the high post is pretty underrated. But he can't get you a bucket when you truly need it and he can be bullied in the post more than most elite defensive big men. I'd love to have Noah on my team, but he's not a top-30 player in this league.
Mike Kurylo, KnickerBlogger: Too low. Much like his predecessor, Tyson Chandler, Noah is a low-volume-scoring, high-rebounding, defensive-minded center. Those guys are always underrated. Noah made the NBA's All-Defensive second team last season and is just hitting his peak at 26 years old.
Noam Schiller, Hardwood Paroxysm: Too high. Joakim brings everything you want from a player: energy, heart and intangibles. But even though his midrange jumper is more of a weapon than his hideous form would make you think, he just doesn't give enough offensively to rank as a top-30 player.
Jeremy Schmidt, Bucksketball: Too high. Noah's motor is a skill that's often overlooked. But that doesn't make up for his limitations offensively and, yes, as an individual defender of centers. He's getting an individual bump because he played on a very good team. A rating this high for Noah should be classified as another assist from Derrick Rose.
Brian Windhorst, ESPN.com: Perhaps a tad high. Noah is indeed one of the best defensive big men in the league and his value leaps within the system the Bulls have built. But he's just an average offensive player, his biggest contribution being offensive rebounding. He hasn't made an All-Star Game yet, and it's because that offense keeps him from being an elite big man.
---
5. Andrew Bynum at No. 30: Too high, too low or just right?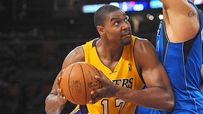 Zach Harper, Daily Dime Live: Too high. Yes, Andrew Bynum is bigger than most humans, and in the Lakers' system of attack, he's a very valuable commodity. But his injury concerns are still ... well ... concerns. He's like that significant other you just can't get along with to truly enjoy the relationship. The idea of him is better than the reality.
Mike Kurylo, KnickerBlogger: Just right. When he's healthy, Bynum's production is eye-catching for a 24-year-old: 19.0 PER, 60.2 percent TS%, 10.6 rebounds per 36 minutes, 2.3 blocks/36, 15.5 points/36. But he has averaged 31 missed games over the last four seasons, and that makes Bynum a risk going forward.
Noam Schiller, Hardwood Paroxysm: Just right. Bynum's argument is almost identical to No. 33 Andrew Bogut's: when healthy, Bynum has a legit case as the world's second-best center and deserves to be rated much higher. However, he isn't on the court enough to warrant the jump. And unlike Bogut, Bynum needs to show he can control that Barea-whacking temper.
Jeremy Schmidt, Bucksketball: Too high. At what point do we take into account Bynum's injuries and just assume he'll never play a full season. If we assume Bynum will play only two-thirds of a season, which is probably safe to do at this point, he would have to produce like Dwight Howard to deserve this high of a ranking. Andrew Bynum, you are no Dwight Howard.
Brian Windhorst, ESPN.com: Just right. Everyone wants Bynum to be more than he is. They want those 10-15 games a season when he looks like he's a genuine All-Star to be the norm. They want his knees to be healthy. But while he often seems like a tease, there just aren't many big men who can play with their back to the basket like Bynum can. He's a rarity, and rare gems are worth more.




ESPN.com and the TrueHoop Network
Brian Windhorst writes for ESPN.com. Zach Harper hosts Daily Dime Live. Mike Kurylo, Noam Schiller and Jeremy Schmidt contribute to the TrueHoop Network.
• Follow ESPN's NBA coverage on Twitter | On Facebook


SPONSORED HEADLINES
MORE NBA HEADLINES
MOST SENT STORIES ON ESPN.COM
5-on-5: Five Questions on Five Hot NBA Topics
EDITORS' PICKS
The Cavs have sprung back to expected form.
The Ten »

Chandler's dunks and 25 boards vs. NYK? No coincidence.
Tim MacMahon »

Kobe's hero-ball act is doing more harm than good.
Baxter Holmes »