John Hollinger shared his 2011-12 Grizzlies player profiles; now it's our 5-on-5 crew's turn to weigh in.
1. For which Grizzlies player is the 2011-12 season most important?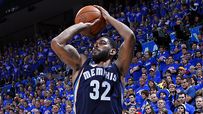 Henry Abbott, ESPN.com: I still remember hearing from a Timberwolves fan on draft night, nearly in tears because his team finally had that player, but then traded him -- he being O.J. Mayo -- for measly Kevin Love. And while the Grizzlies would surely love to undo that deal today, Mayo has shown the potential to be special. But is he still a player of limitless potential? Last season was a step in the wrong direction, and it's getting to be time to make decisions about the biggest contract of his life.
Chip Crain, 3 Shades of Blue: Mayo. You can wonder how Rudy Gay will return from injury or how Zach Randolph will perform now that he has a new contract, but no one needs a season more than Mayo, who played poorly in 2010-11 and will be a free agent this upcoming summer.
Ryan DeGama, CelticsHub: Gay. We had him just 27th in #NBArank but he has all the tools to be a top-15 player in this league. He should consistently be torturing defenses from the arc to the rim and locking down guys on the wing as he enters his prime. Prediction: in two years his contract will look like a major burden or a minor bargain.
Chris Palmer, ESPN The Magazine: Gay, no question. As ridiculous as the murmurs last season were about the Grizz being better off without him, you can't overlook that they were pretty darn good with him on the sideline. Rudy knows it and certainly wants to prove his worth. Gay is their biggest star but he needs to show that this season. He's still only 24 but must follow the lead of other wings like Kobe Bryant and LeBron James and embrace defense in order to move from All-Star caliber to just plain All-Star.
J.M. Poulard, Warriors World: Gay's absence from the lineup last season as the Grizzlies slowly morphed into a contender led many to believe the team could do without the UConn product as well as his exorbitant contract. Playing like one of the best small forwards in the league (he was before his injury) would surely help put an end to that chatter.
---
2. Who is the most intriguing player on the Grizzlies roster?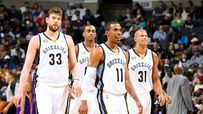 Henry Abbott, ESPN.com: Sam Young is one of the most anonymous starters in the NBA. But he will never fail for lack of effort, and if all that work means he will continue to add skills then he has the potential to be a meaningful contributor to good NBA teams for many years to come.
Chip Crain, 3 Shades of Blue: Josh Selby. Selby was a disappointment as a freshman at Kansas last season but he has been turning heads all summer in charity games. Selby must find a position -- there are questions about his ability to lead a team at the point -- and be able to defend shooting guards, but his talent is unquestioned. If Selby can become a consistent scoring threat off the bench, it would allow Memphis to shop Mayo.
Ryan DeGama, CelticsHub: Tony Allen. Allen is the human equivalent of chaos theory. He can swallow an elite scorer on one play and commit an absurd foul on the next. He can finish strong on the break or dribble the ball off his face. He can come to a teammate's aid on the court or attack him on the plane. He is, in a word, joy.
Chris Palmer, ESPN The Magazine: Marc Gasol is someone I'm always so interested to watch. There's so much with him that could go right or wrong. A guy with great size, a soft touch and knack for pinpoint passing doesn't come around everyday. He made some terrific strides last season and at 26 seems to still be getting better. He'll always be outmatched athletically but if he's able to improve his lateral movement, to prevent from being exposed defensively away from the basket, he could end up being a top five center very soon.
J.M. Poulard, Warriors World: Zach Randolph has always been a terrific player, but the fear with him has always been whether he could show up and play without disrupting team chemistry with his off-the-court problems. These concerns will increase with Randolph now signed for the long term to guaranteed money.
---
3. What's the most surprising take in Hollinger's Grizzlies profiles?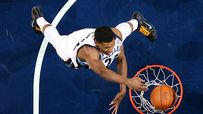 Henry Abbott, ESPN.com: Numbers show that Gay was defending and passing like never before in 2010-11. The Grizzlies were amazingly fun to watch during last season's playoff run without Gay. If the return of their wing star reinforces their gritty team identity, so much the better.
Chip Crain, 3 Shades of Blue: Xavier Henry. That was a harsh outlook considering he was a 19-year-old rookie who missed all summer work because of a contract dispute and most of the second half of the season with a knee injury. Henry struggled but his potential can't be ignored, and he has looked good when seen this summer. Any improvement could spell the end of Mayo's run in Memphis.
Ryan DeGama, CelticsHub: I'm intrigued by Hollinger's notion of weighting Shane Battier's minutes towards the power forward spot. A lineup with Allen-Gay-Battier at the 2-3-4 could wreak defensive havoc. All three guys can square up their men on D and all three can provide great help.
Chris Palmer, ESPN The Magazine: I liked John's take on Darrell Arthur, particularly his excellent ability to guard the pick-and-roll, which is a highly valuable skill and one which will keep him on the floor. It's also one Arthur gets little credit for but it was among many small things that fueled Memphis' surprise playoff run last spring. If I'm making a list of breakout players for this season, Arthur's on it.
J.M. Poulard, Warriors World: With the way Bulls fans were clamoring for Mayo to come to Chicago as the missing piece to their championship puzzle, it was interesting to note that he was essentially a below-average shooting guard who did little to space the floor.
---
4. Based on Hollinger's profiles, what do the Grizzlies need most?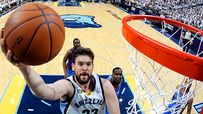 Henry Abbott, ESPN.com: To keep Gasol away from the buffet.
Chip Crain, 3 Shades of Blue: More power, especially with Gasol, Battier, Leon Powe and Hamed Haddadi all free agents and Arthur becoming one next summer if not signed to an extension. Gasol is vital to the Grizzlies' success, so he has to be retained. However, Gasol alone won't be enough with the undersized Z-Bo and Arthur at the 4-spot.
Ryan DeGama, CelticsHub: An improved offense. Memphis finished 16th in the league in efficiency and you can see why: they don't have great shot creation at the point and they're one of the worst 3-point-shooting teams in the league. The roster may need modification to juice the offense, even with expected improvements from the holdovers.
Chris Palmer, ESPN The Magazine: Two words that didn't show up in John's scouting report: experience and leadership. With good reason since they have very little of each. You simply can't force experience. It just takes time. But in the leadership category they need a voice and a personality they can lean on. From a leadership standpoint, Randolph had one of his best years. He talked more than ever on the court and worked with guys in practice. But with his track record you just never know when he'll have a character relapse. Allen is the most vocal but can be erratic and volatile. This job is going to have to be Gay's.
J.M. Poulard, Warriors World: A knockdown 3-point shooter who will not get embarrassed on defense would certainly help the Grizzlies, but one suspects that the return of Gay to the lineup may in fact propel the team to the upper echelon of the Western Conference.
---
5. Would a shortened season help or hurt the Grizzlies?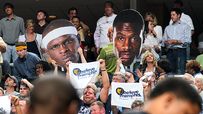 Henry Abbott, ESPN.com: I'd assume that the Lakers and Spurs -- two veteran teams who know a thing or two about playing shortened seasons because they do it every year by playing their aging stars fewer minutes for most of the season -- will be best-positioned to take advantage of the short schedule. Which is bad for everyone else in the West.
Chip Crain, 3 Shades of Blue: Help. The Grizzlies are a young team that should be able to recover quicker if a shortened season means three games in a row and four games in five days. The team is deep and doesn't rely on one or two players to win.
Ryan DeGama, CelticsHub: I'm largely agnostic on this question, given the limited evidence we have on the topic. I'll say this: there's nothing particularly worrying about a shortened/condensed season for the Grizz, but no major advantages either.
Chris Palmer, ESPN The Magazine:
A shortened season would almost certainly help the Grizzlies. They're a relatively young squad (six key guys under 25) so a pair of back-to-backs in the same week is going to affect them a lot less than most teams. And it's tough to think of an up-and-coming team with as much to prove, therefore allowing their bring-it-on attitude to trump any mental fatigue a shortened schedule would bring.
J.M. Poulard, Warriors World: Several teams may struggle with their execution in the half court with a shortened season, which undoubtedly favors teams that dominate the hustle stats categories. The Grizzlies are a great offensive rebounding team and they force a multitude of turnovers; thus an abbreviated season would certainly help them take advantage of teams' inability to adequately execute when things slow down.


ESPN.com and the TrueHoop Network
Henry Abbott is a senior NBA writer for ESPN.com. Chris Palmer covers the NBA for ESPN Insider and ESPN The Magazine. Chip Crain, Ryan DeGama and J.M. Poulard contribute to the TrueHoop Network.
• Follow ESPN's NBA coverage on Twitter | On Facebook