John Hollinger broke down each player on the Magic roster. Now our 5-on-5 crew weighs in on what lies ahead for Orlando in 2011-12.
1. For which Magic player is the 2011-12 season most important?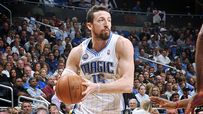 Nate Drexler, Magic Basketball: Hedo Turkoglu. As his age starts to creep up on him, Turk is showing signs of insecurity and lack of confidence. After moving around the continent several times in the past few years, reestablishing himself as a staple in Stan Van Gundy's offense will be pivotal this year.
Daniel Nowell, Magic Basketball: I'd love to get cute here, but there's only one player on the roster who's the best center in the league, the best two-way player in the league and a free agent at year's end. It's not like the rest of the roster is stocked with unknown breakout candidates, either.
Eddy Rivera, Magic Basketball: Gilbert Arenas. Either he can exceed expectations and have a positive impact on the court, helping the Magic win games, or he can be the same delusional player he was last season. The fact that Dwight Howard's future partly hangs in the balance of Arenas' mind, body and soul speaks to how desperate things are in Orlando. Of course, there's a chance he's not on the roster at all if the Magic amnesty him.
Matt Scribbins, Magic Basketball: Howard. However, his most important role will be as an evaluator instead of a player. Will his teammates and the front office do enough to convince the most dominant player in the game to stay in Orlando?
Michael Wallace, ESPN.com: Howard. The fate of the franchise essentially rests on his massive shoulders. And you can make a case that he means more to Orlando these days than Mickey Mouse. Obviously, Howard doesn't have much more to prove on the court. But this season is all about a decision regarding his future. Will he stay or will he go? And if he's gone, will the departure come before, during or after the season? Orlando's actual games are a distant second in relevance.
---
2. Who is the most intriguing player on the Magic roster?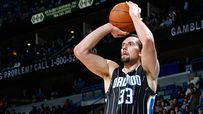 Nate Drexler, Magic Basketball: Ryan Anderson. His length and ability to devastate defenses from deep is undervalued. Stan Van Gundy made it clear that he liked Brandon Bass as a starter and Anderson coming off the bench, but I can't help but think how dangerous Orlando would be if he saw more minutes, especially considering the starting lineup plus/minus advantage when he's in it.
Daniel Nowell, Magic Basketball: I think Anderson really might be the best chance the Magic have for meaningful improvement. His efficiency, though documented, is under-publicized, and his style would re-establish the spacing that gave the league such fits a few seasons ago. Plus, the rest of the roster is hardly "intriguing," as it's a collection of vets whose games are more or less known quantities.
Eddy Rivera, Magic Basketball: Anderson. By many objective measures, Anderson was the Magic's second-best player in 2010-11, and some of his skill-set offensively resembles Dirk Nowitzki to boot. Anderson is nowhere near the same caliber of player but if he can improve as a shot creator and individual defender, the sky's the limit for him.
Matt Scribbins, Magic Basketball: Anderson. He is a power forward who makes his money behind the 3-point line, and he also does tremendous work on the glass. His offensive rating was the best on the team last season, but he could not crack the starting five due to defensive struggles. He could be the second-best player on the roster if his defense improves.
Michael Wallace, ESPN.com: Jameer Nelson. It was only two seasons ago when Nelson was an All-Star and seemed on the verge of solidifying his place as one of the league's elite point guards. But there was a huge drop-off in his game and confidence last season for a number of reasons. When he's healthy, Nelson is as productive and aggressive as any point in the league. But he can't stay healthy long enough to be relied on for significant stretches of the season.
---
3. What's the most surprising take in Hollinger's Magic profiles?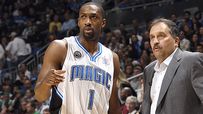 Nate Drexler, Magic Basketball: I was surprised to see the optimism about Arenas. I can't remember the last time Agent Zero posted a 17 and 6 in the regular season, but perhaps as his injury heals we will find he still has some gas in the tank.
Daniel Nowell, Magic Basketball:
It's been said before, but when you read Hollinger's assessment of the individual defenders here, it really brings home what a defensive monster Howard is. The Magic are consistently league defensive leaders, and there is not one other player you could call a "plus" individual defender.
Eddy Rivera, Magic Basketball: It's more disturbing than anything else and the numbers bear it out -- Orlando doesn't have a lot of talent on the roster. Outside of Howard, you can count on one hand the number of above-average players that coach Stan Van Gundy has at his disposal. Just a year ago, the Magic were stacked. How quickly things change.
Matt Scribbins, Magic Basketball: I knew Howard's passing and ballhandling weren't going to make Magic Johnson blush, but did he really post the second-worst pure point rating in the NBA? Orlando's offense could improve dramatically if the big man develops his ballhandling and passing skills.
Michael Wallace, ESPN.com: Everything Hollinger said about the enigma that is Gilbert Arenas qualifies here. Much like Howard, the only issue that matters is his immediate future. Will Orlando use the amnesty provision to cut Arenas loose, or continue to hold out hope? Perhaps no one in the league believes in Arenas -- including the player formerly known as Agent Zero himself -- more than Magic GM Otis Smith. But Arenas has struggled to resemble at least a fraction of the player he once was.
---
4. Based on Hollinger's profiles, what do the Magic need most?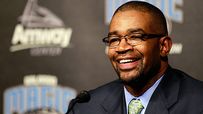 Nate Drexler, Magic Basketball: An outright perimeter threat. Jameer Nelson represents a good deep threat, and the Magic have always been good at spreading the floor around Dwight and getting open 3-point looks, but they need a deadly scorer -- something akin to Rashard Lewis in 2008 (or better).
Daniel Nowell, Magic Basketball: A new general manager.
Eddy Rivera, Magic Basketball: A miracle. With Howard's pending free agency looming, Smith needs to go for broke and try to acquire either Chris Paul or Deron Williams. The problem is that Orlando doesn't have many attractive assets. If that doesn't work, the idea of trading Howard before the trade deadline must be explored.
Matt Scribbins, Magic Basketball: Another stopper on defense. Orlando is always among the NBA's best defensive teams, but Howard is the only rotation player that Hollinger considers above average on defensive. Maybe the big man's offense would improve if he wasn't forced to spend all of his energy playing one versus five on the other end of the floor.
Michael Wallace, ESPN.com: Another big power forward or center. The demands this team placed on Howard to play nearly every minute of every game was almost criminal. The Magic's failure to bring in a low-post presence to replace Marcin Gortat's role behind Howard proved costly in last season's first-round playoff exit against Atlanta. Orlando also needs more production at shooting guard, especially if the often inconsistent Jason Richardson departs via free agency.
---
5. Will a shortened season help or hurt the Magic?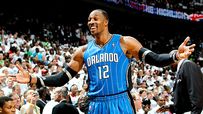 Nate Drexler, Magic Basketball: Help. Orlando tends to struggle late in the season with disenchantment or possibly just boredom, especially once it locks into the No. 4 seed in the East playoffs. The shortened season may give the Magic the urgency they need to grab a higher seed and see a different playoff route than usual.
Daniel Nowell, Magic Basketball: Help. This season is about swinging for the fences to keep Dwight, or putting themselves in a position to grow from the loss of one of the league's three best players. Sixty-six, 82, 15 games -- it doesn't matter if they don't find a way to make the team better suited for the future than it is now.
Eddy Rivera, Magic Basketball: Hurt. Time is not on the Magic's side. The franchise, like it was in 1996 with Shaq and in 2004 with Tracy McGrady, is at a crossroads with its superstar. Somehow, someway, Smith has to undo his mistakes, rebuild on the fly, and find a second star to pair with Howard to entice him to stay. If not, then Howard is a goner. Plain and simple.
Matt Scribbins, Magic Basketball: Help. The best team's chances of victory increase the longer a game, series, or season goes. Orlando is not the best team in the Eastern Conference, and its chances of success this season are improved because a shortened season will introduce more luck in the final standings.
Michael Wallace, ESPN.com: Help. Considering how the alternative of losing an entire season would have destroyed the Magic more than any other team in the league, even a shortened season should be considered a blessing. Not only does the franchise stand the chance of losing Howard, the city would also have lost the benefit of hosting All-Star Weekend. If Howard stays, a shortened season means fewer overall minutes and a lighter burden on Howard. That can only be a good thing.


ESPN.com and the TrueHoop Network
Michael Wallace covers the Miami Heat for ESPN.com. Nate Drexler, Daniel Nowell, Eddy Rivera and Matt Scribbins contribute to the TrueHoop Network.
• Follow ESPN's NBA coverage on Twitter | On Facebook