The Kings stayed in Sacramento. Will they stay at the bottom of the West standings as well? John Hollinger gave his take on each player on the Kings' roster. Now, our five-man team chimes in.
1. For which Kings player is the 2011-12 season most important?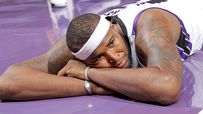 James Ham, Cowbell Kingdom: Tough question. The Kings have three young players working on the final year of their rookie contracts in J.J. Hickson, Jason Thompson and Donte Greene. This season is extremely important for all three because none has established who they are as NBA players.
Zach Harper, Daily Dime Live: DeMarcus Cousins. Even though DMC is only 21 years old, the Kings need him to become an offensive force in the post. He settled for too many 16-to-23 foot jumpers and made less than 40 percent of them. He's a load in the post and someone needs to teach him how to maximize that advantage night in and night out.
James Herbert, HoopSpeak: DeMarcus Cousins. See the "attitude problems" note in his profile? He has to make sure that's not in next year's version. It would be absolutely great if he could get rid of the "must improve defense" and "poor shot selection" parts as well, but the most important thing for Cousins is to change his reputation. This season isn't about putting it all together; it's about convincing people that, at some point, he will.
Chris Palmer, ESPN The Magazine: Jimmer Fredette. I think his first season is going to set the tone for his career. With his whole folk hero thing, he's like the NBA's Tim Tebow, so guys are going to be coming at him hard. Fredette is going to have to learn more quickly than other rookies. He'll need to find out what he does best in a hurry and do it well.
Jonathan Santiago, Cowbell Kingdom: DeMarcus Cousins. Contrary to what he said Saturday, he's not this lockout's Shawn Kemp. In fact, Kings president Geoff Petrie said Cousins has come into camp 10 pounds lighter this year. If he can score more efficiently down low and facilitate the ball, he is Sacramento's most dangerous offensive weapon.
---
2. Who is the most intriguing player on the Kings' roster?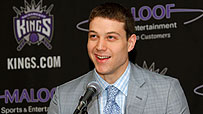 James Ham, Cowbell Kingdom: DeMarcus Cousins. It's not even close. This guy has all the potential in the world and the desire to be great. Whether he can translate that into NBA stardom is a big question. My guess is that Cousins starts to prove the naysayers wrong this season.
Zach Harper, Daily Dime Live: Tyreke Evans. Evans was so horrendous last season in comparison to his rookie campaign, and it was mainly because of a bad case of plantar fasciitis. It took away his first step and didn't allow him to explode toward the hoop. He's healthy now and if he can get back to where he was headed as a rookie, this Kings squad looks a lot more dangerous.
James Herbert, HoopSpeak: I want to go with Isaiah Thomas since I'm a sucker for tiny point guards, but let's get real: It's Jimmer. Outside of perhaps Ricky Rubio, no prospect has inspired more "will his game translate" discussions than Fredette over the past couple of years. At the very least, I think he'll be a decent bench scorer. Can he be more than that?
Chris Palmer, ESPN The Magazine: DeMarcus Cousins. He's got a world of potential but doesn't know how to play yet. With focus, discipline and being a bit more receptive to coaching, this guy could dominate. I said the 2011-12 season is most important to Jimmer, but put Cousins right behind him.
Jonathan Santiago, Cowbell Kingdom: Jimmer Fredette, no doubt. Can his scoring prowess translate to the next level? From what I've seen, early returns suggest his shooting stroke will.
---
3. What's the most surprising take in Hollinger's Kings profiles?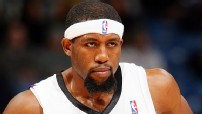 James Ham, Cowbell Kingdom: I'm surprised that Hollinger expects Cousins to have such a breakout season. It's not that I wouldn't rate him the same way, but there is a risk in speculating on a gold mine like Cousins. Either you strike it rich or you have a lot of questions to answer.
Zach Harper, Daily Dime Live: Hollinger says that Donte Greene shot 73.2 percent at the rim last season, which is surprising since Greene just runs 3-point line to 3-point line. I refuse to believe he took any attempts inside the arc.
James Herbert, HoopSpeak: Tyreke Evans shot 29.4 percent on 2-pointers outside of 3 feet last season. I knew his shot was wonky, but with the amount of jumpers he takes, that's shockingly bad.
Chris Palmer, ESPN The Magazine: The idea that Tyreke Evans could be a decisive factor defensively. It's a part of his game that isn't often talked about, to the point that if you haven't seen him play a lot you might have no idea what he can do on the defensive end. Should Evans evolve into an upper-echelon defender he'll be knocking on that All-Star door sooner rather than later.
Jonathan Santiago, Cowbell Kingdom: This may shock some Kings fans: John Salmons' rankings in assist ratio among shooting guards (13th) and in pure point rating (17th) aren't half bad. Most disliked the reacquisition of Salmons because of his reputation as a ball-stopper, so it's pretty surprising to see those numbers.
---
4. Based on Hollinger's profiles, what do the Kings need most?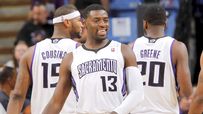 James Ham, Cowbell Kingdom: John Salmons to return to the player he was before last season. Salmons is only 32 years old and had very productive stints in Chicago and Milwaukee before last season's struggles. The Kings need him to solidify the small forward spot on both ends of the floor so teams can no longer shift their strongest wing defenders to Evans.
Zach Harper, Daily Dime Live: A system. Looking at the weapons this team has, they certainly could use something other than the 1-4 flat in which Reke dribbles and either takes a bad jumper, gets to the basket or kicks it out for a missed shot. You can spread the floor with their guards and have them attack when defenders close out too hard. Get some player movement like the good ol' days.
James Herbert, HoopSpeak: This might be the most obvious glaring hole in the league: The Kings need a distributor. There's a ton of talent on this roster, but every significant player needs the ball in his hands. I'd love to see the Kings acquire just one pass-first player.
Chris Palmer, ESPN The Magazine: Guys who can share the ball. The stat about Tyreke Evans and Cousins having the lowest percentage of at-rim baskets assisted on is telling. They've got a lot of guys who like to jack the rock but need to start spreading it around. If not, they won't beat anybody no matter how talented they are.
Jonathan Santiago, Cowbell Kingdom: They clearly need significant improvement from Cousins and Tyreke Evans. As I said earlier, Cousins is the Kings' most important player this season. But Evans is a very, very close second. At full strength, he can do for the Kings what Brandon Roy in his prime did for the Portland Trail Blazers.
---
5. Will a shortened season help or hurt the Kings?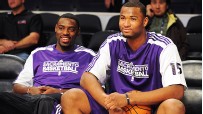 James Ham, Cowbell Kingdom: The lockout-compressed schedule is brutal early on for the Kings, with 22 of their first 33 games on the road. But the Kings youth could come in handy this season and help them win a few close ones.
Zach Harper, Daily Dime Live: Hurt. This team really needs constant reminders of what they're doing correctly and incorrectly. Having such a compressed season will help them because they're young and full of running, but it will hurt more with limited time to gameplan and fix what's going wrong on the court. They need practices and lots of it.
James Herbert, HoopSpeak: Hurt. This group of youngsters and scorers needs some time to define roles and develop chemistry. An abbreviated training camp won't help Sacramento put its pieces together, nor will it make it easy for Paul Westphal to implement a more varied playbook.
Chris Palmer, ESPN The Magazine: Tough to say. I think this is one team that it really won't affect either way. That is to say if they played all 82 games their winning percentage would be roughly the same.
Jonathan Santiago, Cowbell Kingdom: I think it will help because they're a young team with fresh legs. None of the players came to camp overweight or unhealthy. And if they don't make any more moves, they may have the benefit of better team chemistry. Unlike some other teams, they've played with a full roster in this abbreviated training camp.


ESPN.com and the TrueHoop Network
Chris Palmer covers the NBA for ESPN Insider. Zach Harper is the host of Daily Dime Live on ESPN.com. James Ham, James Herbert and Jonathan Santiago contribute to the TrueHoop Network.