Can the Toronto Raptors claw their way out of the Eastern Conference basement? John Hollinger broke down each player on the Raptors' roster. Now our 5-on-5 crew weighs in on what lies ahead in Toronto in 2011-12.
1. For which Raptors player is the 2011-12 season most important?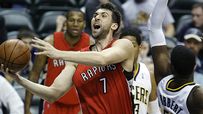 J.M. Poulard, Warriors World: Leandro Barbosa will be playing for a new contract, and needs to show he can score and make good decisions with the ball. He is typically at the mercy of his point guard to find him in scoring position, but he needs to display the ability to create good shots for himself in order to boost his value.
Zarar Siddiqi, Raptors Republic: Andrea Bargnani. If new coach Dwane Casey can't get him to play defense, his run in Toronto just might be over, especially with Jonas Valanciunas waiting in the wings. In previous seasons, he's been getting guaranteed minutes, but that might change with hungrier guys such as Ed Davis and Amir Johnson right behind him.
Robert Silverman, KnickerBlogger: DeMar DeRozan. DeRozan has certain skills that can't be taught or developed, but there still are major kinks in his game -- he's a black hole once he gets the ball in his hands and a sieve when the man he's guarding does. As Hollinger states, if he can shore up these areas, DeRozan could find himself in the upper echelon of a league bereft of promising, young 2-guards.
David Thorpe, Scouts Inc.: Looks to be an easy choice in Andrea Bargnani, if only because the coaching change gives him one last chance to decide whether he wants to be a complete basketball player. Casey can be a huge difference-maker simply by getting Bargs to care about little things, such as defense, rebounding and being a force at something beyond scoring. I can envision Casey saying, "You were the first pick in the draft; start acting like it."
Timothy Varner, 48 Minutes of Hell: I'm going to cheat by choosing Jonas Valanciunas, who will spend the 2011-12 season playing overseas. He's the only Raptors property who strikes me as a potential impact player in the NBA. His continued development means more for the future of the franchise than anyone on the current roster.
---
2. Who is the most intriguing player on the Raptors' roster?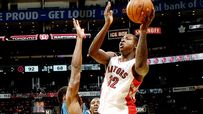 J.M. Poulard, Warriors World: DeRozan showed enough production and promise last season for some to expect him to one day become an All-Star talent. In just his second season, he gained confidence and played like he belonged; one wonders whether this season will bring forth a player more intent on leading the team and asserting himself as the man.
Zarar Siddiqi, Raptors Republic: The easy answer would be DeRozan because of his improvement, but I'll go with Davis. After sitting out training camp and missing a chunk of the 2010-11 season, the southpaw impressed in the second half. He has the length to be a very good defender and has tremendous leaping ability, which he actually puts to use on defense.
Robert Silverman, KnickerBlogger: Davis. He has everything you'd want in a burgeoning power forward -- defense, shot-blocking, rebounding and the hustle/grit to do the dirty work. He needs to develop a consistent low-post game and add some bulk, but if he can, look out. An All-Star berth isn't outside the realm of possibility.
David Thorpe, Scouts Inc.: I think Davis has a lot more to give than what we've seen, a good thing considering he played well as a rookie. He has the ability to create shots inside for himself and make them -- which is no easy task. With a steady diet of post touches, the Raps might have themselves a strong scorer inside to pair with Bargnani's perimeter talents.
Timothy Varner, 48 Minutes of Hell: Davis. Hollinger isn't bullish on Davis' likelihood to improve this season. But I'm cheering for Davis to break the trend created by those players who share his statistical profile. Every team in the league could use a nightly double-double, and Davis could potentially deliver just that.
---
3. What's the most surprising take in Hollinger's Raptors profiles?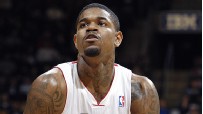 J.M. Poulard, Warriors World: Sonny Weems looks like a player who should be far more productive on the court given his athleticism, size and strength. But his willingness to settle for midrange jumpers is clearly holding him back and preventing him from being a more effective player.
Zarar Siddiqi, Raptors Republic: DeRozan's developing offensive game. Most see the dunks, but in his sophomore season, DeRozan improved his shooting in the critical 10-15 feet range by 16 percent. His off-the-ball skills were always good; now he's learning to use screens in the elbow area to get his shots.
Robert Silverman, KnickerBlogger: In general, I was far more optimistic about the Raptors' chances before reading Hollinger's assessment. He paints the picture of a squad that would struggle to win 25 games (in a normal 82-game season), and he might have convinced me that he's right.
David Thorpe, Scouts Inc.: Hollinger noted that, historically, players such as Davis who make shots and don't turn the ball over rarely show improvement in their second season. I blame this on coaches, who typically lack the vision to recognize that a player such as that probably needs the ball more, instead of just being penciled in as a role player. We'll know whether Davis can be more than a "glue guy" only if he is first asked to do much more and fails.
Timothy Varner, 48 Minutes of Hell: I'm surprised Johnson grades out so poorly as a defender. High foul rate, poor effort, bad build -- Johnson is a good reminder that bad defenders can block shots, too.
---
4. Based on Hollinger's profiles, what do the Raptors need most?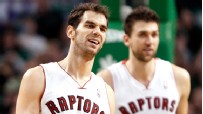 J.M. Poulard, Warriors World: Any semblance of a defensive attitude/philosophy. The Raptors gave up a league-high 29.3 field goal attempts per game at the rim last season. Part of that can be attributed to the players on the roster, but mostly it stems from the team's inability to devise a defensive game plan to keep teams out of the paint.
Zarar Siddiqi, Raptors Republic: Three-point shooting! Dead last in the league last season, and so far it's "addressed" by deep bench players such as Anthony Carter (career 25 percent 3-point shooter), Gary Forbes (career 33 percent) and Rasual Butler (career 36 percent). It's hard to see who will spread the floor for all those power forwards and centers to do their work inside.
Robert Silverman, KnickerBlogger: Defense. As the Raptors' rotation currently stands, the starting point guard, shooting guard, power forward and center are really subpar. Casey brings a rep as a defensive-minded coach, but aside from Davis, his best defenders are the likes of Carter and Aaron Gray -- neither of whom is likely to play serious minutes. Alas, something about silk purses and sow's ears comes to mind with regards to the right proper Canadian franchise.
David Thorpe, Scouts Inc.: Let's make a short list: (1) A former No. 1 pick who plays defense and rebounds like his hair is on fire. (2) Perimeter quickness on defense. (3) A bench that features more shooters.
Timothy Varner, 48 Minutes of Hell: What the Raptors need more than anything else are better players. Toronto's roster has a few nice complementary pieces, but no one player the franchise can build its team around.
---
5. Will a shortened season help or hurt the Raptors?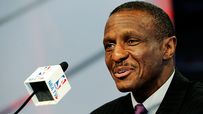 J.M. Poulard, Warriors World: The teams that are returning the same players as well as the same coaching staffs will have an advantage going into this shortened season given the short turnaround time to get ready for the games. Consequently, the Raps might struggle early and eventually find their sea legs later in the season.
Zarar Siddiqi, Raptors Republic: Hurt, for the most part, because it offers less time to develop the team's core. But the Raptors have one goal this season: establish a sense of accountability. I mean, Casey has actually brought a giant rock into the locker room to hammer home the point.
Robert Silverman, KnickerBlogger: Help. They've got the depth, young legs and athleticism necessary to withstand the grind of a shortened season. They'll definitely snag a win or two by running into the ground a veteran team that's resting and/or saving its vets for tougher foes.
David Thorpe, Scouts Inc.: Hurt, only because they need more practices and games to learn how to play for their new coach.
Timothy Varner, 48 Minutes of Hell: Help. It gives the team enough time to continue the development of players such as Davis and evaluate the needs for the future, but it is short enough for the team to get out before the losing becomes unbearable.


ESPN.com and the TrueHoop Network
David Thorpe writes for Scouts Inc. J.M. Poulard, Zarar Siddiqi, Robert Silverman and Timothy Varner contribute to the TrueHoop Network.