With the Thunder-Mavs and Clippers-Jazz doubleheader on tap (ESPN/ESPN3, 8 p.m. ET), our 5-on-5 crew takes a look at the compelling matchups.
1. West finals: Dallas 4, OKC 1. Who'll win this rematch in Big D?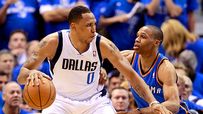 Kevin Arnovitz, ESPN.com: Starting tonight? I'll take the Thunder, but give the Mavericks a little more time to marinate and they're going to be a tough out for Oklahoma City in a seven-game series.

Graydon Gordian, 48 Minutes of Hell: I'll go with OKC. Since returning from injury Sunday against the Spurs, Dirk Nowitzki has struggled to find his rhythm offensively. And, without Tyson Chandler, the Mavs won't keep Russell Westbrook, Kevin Durant and Serge Ibaka away from the rim.

Spencer Ryan Hall, Salt City Hoops: OKC was clearly not amused to be on the wrong side of an endless loop of Blake Griffin highlights since Monday, but it'll have to wait until after Wednesday to get the bad taste of Mozgovery out of their mouths. Dallas keeps rolling and protects its home court with a close win.

Marc Stein, ESPN.com: When the Mavs were struggling early, one of their few sources of consolation was the knowledge that their two best games in that funky start came against the Thunder. They should have won both, too. Something tells me it's the Thunder's turn to swing back … especially after they were humbled so publicly on the wrong end of Monday night's Blake Show.

Royce Young, Daily Thunder: The Thunder and Mavs have played twice already this season, splitting with the home teams winning each game. I don't think those games really tell us all that much as they happened when the Mavs were limping out of the gate still hungover from their championship celebration. But I think OKC will take this one, mainly because there's a real sour taste in the Thunder's mouth after Griffin and the Clippers embarrassed them Monday.
---
2. #NBArank put Dirk No. 5 and Durant No. 6. Where do they belong now?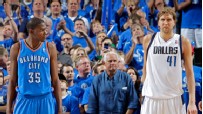 Arnovitz: #KArank had Durant as No. 3, and I'll keep him there. Dirk's little hiatus means that -- just for the time being -- he's stuck outside the top 25 in that little "also receiving votes" footer. By April 1, I expect him to be squarely in the top 10 again.

Gordian: At the time, I would have put Durant in the top 5 -- the only player who's clearly better is LeBron James -- and Dirk would be closer to No. 7 or No. 8. And that's about where I still have them. Dirk's playoff tear boosted his ranking, and justifiably so, but Durant's clearly the superior player at this point.

Hall: KD most definitely has moved past Dirk this season. Durant is scoring
(26.8 ppg on 51 percent shooting), rebounding (7.9), assisting (3.2) and blocking (1.25) at career-best levels. OKC has the best record in the league, and only LeBron James and Derrick Rose are making similar statements with team results. Dirk is still ballin', but the mantle has shifted.

Stein: I thought Dirk, based on the peerless way he was playing throughout the playoffs when we last saw NBA basketball, deserved to start the season – if only this one particular season -- in the No. 1 slot. But, on current form, as he continues his slower-than-expected recovery from a nagging knee problem, No. 41 wouldn't be in the top 20. Yet I'd argue that it's a temporary condition and that Dirk will be safely back in the top 10 where he belongs when it matters … in the playoffs. As for KD? Top five, obviously. LeBron, Kobe Bryant and D-Rose have been the season's early headliners, but Durant is right there.

Young: Dirk rode the title high for a while, but I think he's at the bottom of the top 10. Durant is a top-three player. He scores the ball as effortlessly as any player in the league and does it at a stupidly efficient clip. But he's building upon his game more and more. His assists are up, and he's becoming more of a complete offensive weapon rather than just a scorer. Plus, he's putting up routine double-doubles and playing better-than-you-think defense.
---
3. Westbrook-Durant will be a classic success story or a tragic one?
Arnovitz: Success story. Two dynamic players who can create shots out of sofa lint are bound to feud every now and then. If they weren't willful, they wouldn't be 16-4 headed into February.

Gordian: A classic success story. Yes there's been a bit of drama in OKC. But, with each new season, Durant, Westbrook and the team as a whole continue to improve and convert those improvements into increasing amounts of playoff success. I firmly believe this core will hang a banner in OKC.

Hall: I don't know how much more brotherhood the Thunder have to demonstrate before we'll all allow them the courtesy of playing without speculation of underlying rifts. The on-court incompatibilities between Westbrook and Durant seem like problems any coach would love to have. Their story ends as a success.

Stein: Tragic is a bit much. Count me among those who'd prefer to see KD playing with a pass-first point guard in the Rajon Rondo mold, but let's not forget that Westbrook wants to be in OKC. That has to factor into the way we grade the fit here, no matter how frustrating Westbrook's offensive approach can be. Westbrook's willingness to commit for the long term to a program he believes in regardless of franchise location -- like Durant's -- makes him valuable far beyond his athletic gifts.

Young: Too early to tell, but not for the reasons most are thinking. Relationally, Westbrook and Durant are entirely fine. The question to be determined is whether they're a good basketball fit. Does Durant need a more pass-first-minded guy, or is having a point guard version of Dwyane Wade as a running buddy good? I think we'll have a much better idea where that relationship is going after this season.
---
4. More surprising twist: Clips third in West or Jazz fifth?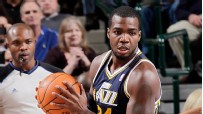 Arnovitz: The Jazz. The Clippers have been building for this moment for a while, even if they were able to expedite their fortunes by trading for Chris Paul. The Jazz were supposed to be relegated to Secaucus for the next few seasons while they built around their youth -- yet here they are.

Gordian: At the end of last season, the Clippers didn't have Paul, and the Jazz had talented young pieces that jelled as the season wore on. But, after the Paul trade, I anticipated the Clippers would be a top-four team in the West. I still thought the Jazz would be on the outside of the playoff picture looking in.

Hall: That the Clippers are the hot ticket in L.A. is definitely mind-blowing, but it doesn't happen without the slightly shady arrival of Chris Paul. The Jazz, on the other hand, are fielding a roster most people predicted would struggle to win more than a handful of games.
No one expected this level of beasting from Paul Millsap.

Stein: Utah. Hands down. No one pegged the Jazz to be in the playoff hunt … not even for a third of the season. Especially with all of us know-it-alls expecting them to put the development of youngsters such as Derrick Favors and Enes Kanter ahead of any and all other pursuits. I still struggle to see them as a playoff team, but, at the very least, they're making people dread road games in the SLC again.

Young: That's close because, come on, the Clippers being third in the West sounds akin to someone saying DeAndre Jordan won a free throw contest, but I think the Jazz are a bigger surprise. By all appearances, that was supposed to be a major rebuild that was going to need multiple years of draft picks and free-agent signings for Utah to recover. Yet they're right back in the thick of things in the West.
---
5. Clippers at Jazz: Who'll get win No. 13 first?
Arnovitz: Salt Lake City has been inhospitable to the Clippers, who have lost 42 of their past 43 in Utah. They got waxed at Energy Solutions Arena a couple of weeks ago, but this time will have a healthy Paul in uniform. The Clippers have been all about reversing their history this season. That will continue Wednesday night with a big win over the Jazz.

Gordian: It'll be close, but I'll go with the Clippers. Both teams have efficient offenses (Clips are sixth in offensive efficiency, Utah 10th) and questionable defenses. But only one team has Paul, a top-five NBA player. His nightly competitiveness and steady leadership will be the difference in tonight's game.

Hall: Deep down, the Clippers are still the Clippers, especially when they play in Salt Lake. They've lost 42 of the past 43 times they've played the Jazz on the road, and they looked terrible while losing by 29 points to the Jazz two weeks ago. The huge win over the Thunder has L.A. feeling good, but it won't last.

Stein: Did we mention that teams are back to dreading road games in Utah? That's especially true for the Clips, who never win in Utah. But, with CP3 back and L.A.'s confidence riding shotgun on Blake's elevator, I'm going with the team that's rewriting its image by leading the Pacific Division. (You can look it up.)

Young: Jazz. The Clippers are playing their very best basketball of the season with back-to-back wins over the Nuggets and Thunder, which is why I think a game in Utah is dangerous for them. The Jazz are still playing with something to prove, and the Clippers might walk in feeling a bit too good about themselves.

ESPN.com and the TrueHoop Network
Marc Stein and Kevin Arnovitz write for ESPN.com. Graydon Gordian, Spencer Ryan Hall and Royce Young contribute to the TrueHoop Network.

• Follow the NBA on ESPN on Twitter | On Facebook | On Google+