The second half of the season is full of intrigue. What's on your mind? We answer your questions on the trade deadline, the playoffs and more.
1. Who will be moved at the trade deadline?
Submitted by @MyOnlyOpponent, via Twitter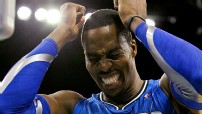 Kevin Arnovitz, ESPN.com: A core member of the Utah Jazz. Utah is stocked up front with two prolific vets backed up by a pair of top-three picks. There's also some redundancy on the wing and a fairly moveable asset at point guard with Devin Harris.
Zach Harper, Daily Dime Live: Can I say nobody significant? I keep getting the feeling that everybody is going to wait for the Dwight domino to fall, and if it doesn't, will anybody be able to get something significant together at the final hour of the trade deadline? Do teams fully grasp the new CBA yet and, if not, is that keeping them from being active? We could have another deadline in which Anthony Johnson is the only deal.
Brendan Jackson, Celtics Hub: Someone on the Celtics' roster. Admittedly, this answer is a bit of a cop-out, but there are a couple of things at play here: (1) the Celtics don't appear to be championship contenders as constructed; (2) Danny Ainge has never been shy about making controversial/blockbuster trades.
Jared Wade, Eight Points, Nine Seconds: Dwight Howard. I cannot tell you where he will wind up, but it is hard to see Orlando obstinately refusing the best trade-deadline package for a best-of-his-generation center who otherwise will have his bags packed before the Magic are even eliminated from the playoffs. You just can't let him walk for nothing.
Royce Young, Daily Thunder: Not Dwight Howard. That's not an answer to the question, but I know he's the player first to everyone's mind. I just don't see Orlando giving him away right now. So I'll go with Monta Ellis. His name has been floated around for a long time and with new ownership and a new coach, it's time to get serious about that culture change and start rebuilding.
---
2. Will the Celtics trade one of the Big Four?
Submitted by @Jsounds24, via Twitter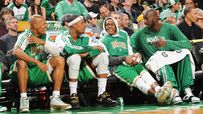 Arnovitz: Probably. The Celtics are a pragmatic organization and are well aware the window is closing. If they can swing a deal that makes their ledgers younger and leaner moving forward, they'd likely pull the trigger -- though finding fair value won't be easy.
Harper: I really don't get why the Celtics would trade Rajon Rondo, unless they're bringing back a starting point guard in the deal. Ray Allen seems like the only viable option to deal right now, but if you do trade him, is it worth the headache of the other guys complaining for a couple of months? Nothing available is making this team a contender. Just let contracts expire.
Jackson: The Celtics will trade one of the Big Four only if the right deal comes along. But I don't think there's any point in ruining any chance of re-signing them at substantial discounts in the offseason unless Danny Ainge is completely floored by a deal. Which he won't be. The Celtics'
players are valuable only to contending teams, and these teams have low draft picks and won't give up any key players in return.
Wade: Yes. Danny Ainge knows his AARP crew has no prayer of beating Miami or Chicago this year and has shown no signs of sentimentalism. He won't push a Hall of Famer out the door for nothing, but some other GM should make a decent enough offer for Ainge to pull the trigger. Perhaps even if it means trading Rajon Rondo.
Young: No, but I'm not saying that with much conviction. It's about time for Danny Ainge to hit the big red button on the Big Four, but I would think he wants to give them one more shot at it. Not to suggest they have an actual shot, because they really don't, but still, I think they at least want to try.
---
3. Which team could surprise and go far in the postseason?
Submitted by @mdylan21, via Twitter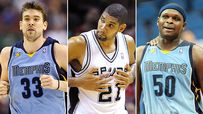 Arnovitz: The Grizzlies have a reasonable schedule over the next few weeks. If they can stockpile a few wins while they wait for Zach Randolph's return, they could be the second-best team in the West when the postseason rolls around.
Harper: Is it a surprise if I pick the Spurs? They've quietly become a top-four team in the NBA over the last month and they still don't have a healthy Manu on their side. Assuming they don't face a matchup nightmare like Memphis in the first round, I wouldn't be shocked to see Popovich coach his team into the Western Conference finals.
Jackson: Knicks. Let's keep the Linsanity going! The Knicks are much better defensively this season and have the talent on their roster to be a dangerous playoff team. They also have some time to reintegrate Carmelo Anthony back into the offense, which now has someone to actually run the show instead of Melo being the show.
Wade: Philadelphia 76ers. Their success isn't just a schedule fluke. They have the best defense in the league by a significant margin. They trail only Miami and Chicago in point differential (which has historically been the best regular-season predictor of playoff success). They have a stable of talented, athletic contributors. And Doug Collins is coaching as well as anyone this year.
Young: It shouldn't really be a surprise if the Grizzlies go deep into the playoffs, so I'll say the 76ers. I really think they could be built for a run at the Eastern finals. Which of course means beating either the Heat or Bulls, but I can see it happening. Depth is huge in the playoffs, and I'm not sure anyone has more than Philly.
---
4. Could the Thunder beat the Heat in a 7-game series?
Submitted by @jovan_24, via Twitter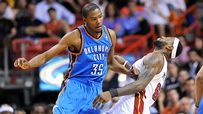 Arnovitz: Could they? Sure, but I don't make that bet until the Thunder can demonstrate a consistent ability to defend in transition -- a shortcoming that would eat them alive during two weeks of basketball against Miami. The clear winner in a seven-game series between the Thunder and Heat -- Joe Viewer.
Harper: Sure, they could beat the Heat in a seven-game series. I just find it unlikely that it would happen. The Thunder have a very perimeter-oriented attack and letting the Heat perimeter defenders know they don't have to worry about a post presence could unleash hell on OKC. Then again, many didn't think Dallas would beat Miami …
Jackson: Of course, and this doesn't even fall under the "any given Sunday"
sentiment. The Thunder and Heat are as evenly matched as it's going to get this season. The Thunder have young, healthy, athletic players and one of the deepest rosters in the NBA. A seven-game series screams "ESPN Instant Classic."
Wade: Yes. After LeBron's, let's say, lackluster work in the fourth quarter, we can't just presume he will play as well as he has this year in an NBA Finals matchup with the Thunder. I wish that wasn't true but it just is. And the Thunder are loaded with talent and hunger. If these teams matched up for the title, I would expect a dogfight.
Young: Absolutely. Both teams match up really well with each other. LeBron and Durant. Westbrook and Wade. Ibaka and Bosh. The X factor would be James Harden. If he could contribute more than what the Heat would get outside of their stars, the Thunder could take down Miami.
---
5. Who are the top 5 players in the NBA right now?
Submitted by @Tony_Parsons7, via Twitter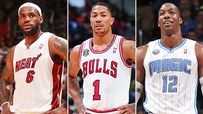 Arnovitz: Taking both sides of the ball into account -- LeBron James, Dwight Howard, Dwyane Wade, Kevin Durant and Chris Paul.
Harper: LeBron, Dwight and Chris Paul seem like givens to me. I think I'd have to give the final two spots to Kobe and Durant right now. Wade might be an all-around better player than both of them at this stage, but they're probably impacting the game more. This top-five question feels like a clown car. There are too many people to fit in there.
Jackson: In no particular order: LeBron James, Dwight Howard, Kevin Durant, Chris Paul and Dwyane Wade.
Wade: LeBron James, Dwyane Wade, Dwight Howard, Derrick Rose and Chris Paul. The fact that Kevin Durant's name doesn't appear on this list is mere testament to how great Chris Paul is. But CP3 just does everything you could ever want a floor general to do on a basketball court.
Young: The NBA's talent pool is maybe as deep as it's ever been, which makes narrowing down the top five incredibly challenging. But I'd say LeBron, Chris Paul, Kobe Bryant, Kevin Durant and Dwyane Derrick Rose Wade. OK, so I cheated.

ESPN.com and the TrueHoop Network
Kevin Arnovitz writes for ESPN.com. Zach Harper is the host of Daily Dime Live. Brendan Jackson, Jared Wade and Royce Young contribute to the TrueHoop Network.
• Follow the NBA on ESPN on Twitter | On Facebook | On Google+