LeBron James has been simply brilliant this season, averaging 27.9 points, 7.9 rebounds, 6.3 assists and 1.9 steals per game, and shooting a career-best 52.9 percent from the field. And his current player efficiency rating of 30.54 is one of the best marks of all time.
So will he take home his third MVP trophy this season? How about his first defensive player of the year award or first Finals MVP award? Let's debate!
1. LeBron vs. the field: 2011-12 Most Valuable Player.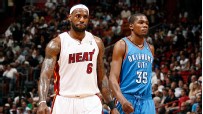 Israel Gutierrez, ESPN.com: When you consider complete body of work, it has always been LeBron. Not only did he have easily the best first half of the season, but he has excelled with Dwyane Wade out and has had impressive moments of late. Kevin Durant, meanwhile, has picked a bad time to be erratic.
Tom Haberstroh, Heat Index: LeBron. He might not have the most compelling narrative, but his individual dominance is simply too great this season. His lead in PER is the largest we've seen in more than a decade. Kevin Durant has faded, the Heat are chasing the league's top record and hard feelings from the Decision have thawed. Another regular-season award is in store.
Beckley Mason, ESPN.com: I'll take LeBron because as far as I can tell, "the field" here just means Kevin Durant. If the Thunder don't win the top seed in the West, I think Durant's case takes a significant hit. Miami and OKC have nearly identical records, and I don't think there's an individual statistical case for Durant. If LeBron turns in one more signature performance, that should lock it up.
Chris Palmer, ESPN The Magazine: For the past few weeks I've been going back and forth between LeBron and Kevin Durant for MVP. It's an impossibly tight race, but the trophy will go to James. Durant's having a career year across the board, but save for a brief cool spell in March, LeBron has been otherworldly. And if voters consider James' superior defense, it's an easy decision.
David Thorpe, ESPN.com: LeBron. I can't account for the voters, so I'll make my own argument. LeBron has better partners (but not by much) in Wade and Chris Bosh compared to Durant (Russell Westbrook and James Harden), but if Miami's Big Three played alongside the rest of the Thunder and Durant's trio were in Miami, OKC would have won 50-plus games this season. I don't think anyone is in LeBron's class.
---
2. LeBron vs. the field: 2011-12 Defensive Player of the Year.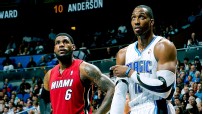 Gutierrez: Definitely the field. Not only does it require vigilant examination of LeBron's defensive efforts to recognize his greatness at that end of the floor, but others like Serge Ibaka and Tony Allen simply can afford to be defensive specialists, collecting stats and reputations. Giving LeBron this award, though, would be a credit to attentive voters.
Haberstroh: The field. If Dwight Howard isn't going to win it again, who will get his votes? Probably another big man. With the Knicks grabbing headlines for their defense, Tyson Chandler probably (and deservedly) will generate big support. Kevin Garnett will be there, too. LeBron could win it, but the Heat needed to be the top defense for him to be the favorite. And they're not.
Mason: The field. James has had a DPOY-worthy season, but Tyson Chandler's impact on the Knicks franchise is a perfect narrative of improvement for voters to latch on to come award season.
Palmer: LeBron is the most complete defender in the NBA. The award is his. From locking down point guards in crucial moments to sprinting back on defense to stop the ball or swat it from behind, there's little that he doesn't do. But there's nothing better than LeBron playing passing lanes like a cornerback and intercepting a skip pass before taking it the other way for the highlight finish. Thing of beauty.
Thorpe: The field. There are a number of players who have impact in a game similar to LeBron's. Guards, wings and bigs. Is LeBron better on defense than KG, Joakim Noah, Ray Allen, Chandler, Andre Iguodala and Elton Brand? Yes, but it's close enough that someone else can win it.
---
3. LeBron vs. the field: 2012 NBA Finals MVP.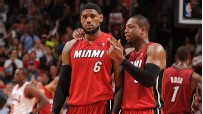 Gutierrez: After last year? Come on, now. This could be LeBron versus the Heat roster, and LeBron still wouldn't be the choice. That's not to say it couldn't happen. It's just that LeBron has no history of coming up large in this particular series, so what's the point of going against the odds?
Haberstroh: The field. Always pick the field for Finals MVP. Especially when leader-closer-captain-winner-heart-soul Dwyane Wade is on your team. There are too many variables at play to pencil in LeBron, and I wouldn't even label him as the Finals MVP favorite on his team.
Mason: The field. Even if the Heat win a title, he'll have serious competition in teammate and 2006 Finals MVP Dwyane Wade. I would take James' odds over Wade's and the field over both.
Palmer: If the Heat make it to the Finals and win, LeBron would be far from a lock for Finals MVP. I'd say it's a 50-50 toss-up between him and Dwyane Wade. Wade comes alive on the big stage and already has one award in his pocket. But it's like this: If LeBron dominates fourth quarters, it's his.
Thorpe: The field by a mile. Even forgetting last year's meltdown, the best player in the world does not have to be the most valuable player of a seven-game series. When Boston won the title a few years ago, Garnett, Allen and Rajon Rondo all had moments when they were clearly the best players in multiple games or even an entire series. Then Pierce served that role in the last series. If Miami wins a ring, Wade could easily be its leading scorer in the Finals or be the difference-maker in two, three or all four wins.
---
4. LeBron vs. the field: Best player of his generation (2003 to '12).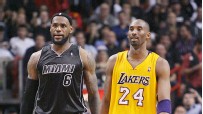 Gutierrez: "Best" is tricky. If it were "most gifted" or "most well-rounded," LeBron would be the choice each time. But "best," to me, means a player you're downright scared to face. And even for most of the past 10 years, that player has remained Kobe Bryant. And regardless of when Kobe's career ends, he'll be considered as being in the same generation as LeBron.
Haberstroh: The field. We're talking the prime years of Tim Duncan and Kobe Bryant here! It's a slightly unfair comparison since LeBron has barely even hit his prime. LeBron probably will overtake them when it's all said and done. But here's a stat for you: Since LeBron broke into the league, Kobe Bryant has 230 more total MVP votes than LeBron (4,542 vs. 4,312).
Mason: LeBron. A reasonable person could argue that LeBron has been the best player in the NBA since he led the Cavs to the Finals at only 21. But the reason I'd take LeBron is that he's still getting better and he's been the most influential player of his generation off the court as well.
Palmer: From 2003 to 2012, Kobe Bryant has been the NBA's best player with four Finals appearances, three scoring crowns, two titles, an MVP award and seven appointments to the all-NBA first team. James is the best player who has come into the league since 2003, but he takes a backseat to Kobe, who's arguably the best player of any generation.
Thorpe: The field, but that can change if Miami wins it all in June. Kobe's rings and Finals MVP awards edge out Bron's "best player on Earth in the regular season."
---
5. LeBron, Kobe or Kareem: All-time points leader.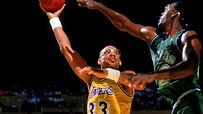 Gutierrez: Which is more likely, Kobe (33 years old) averaging about 23 points a game and playing an average of 80 games for another five years, or LeBron (27) going the next 10 seasons averaging about 24 per and playing almost every game? Both seem feasible, but Kobe has a longer injury history. So I'll take LeBron.
Haberstroh: LeBron. But that's so, so far away. LeBron has 2,000 points on Kobe at this age and about 5,000 points on Kareem. LeBron is wayyyy ahead of pace right now, which will make it much easier to eventually catch Kareem, who played until he was about 63 years old.
Mason: Kareem. I don't see LeBron making it a priority to play long enough to break this record (he's not even halfway to Kareem's mark), and Kobe needs at least four more seasons of stellar play to catch him. I probably shouldn't bet against Bryant, but I doubt even his body can sufficiently resist eroding against the NBA grind.
Palmer: At 38,387 career points, no one will touch Kareem. Kobe is still about 9,000 away, so he'll need to average about 27 points per game over the next four years while playing in all 82 games. Having been in the league since he was 17, his body won't likely hold up. While he can score with the best, LeBron looks to pass too often to become the all-time points leader.
Thorpe: Kareem. Being that tall and having the perfect weapon were huge advantages. Playing with the best passing guard ever helped him pile up points when his body otherwise would have struggled to do so. Neither wing player has or likely will have that kind of setup man, and therefore must manufacture points against the teeth of the defense nightly. It will get harder and harder for them to score.

ESPN.com and the TrueHoop Network
Israel Gutierrez, Tom Haberstroh, Beckley Mason and David Thorpe cover the NBA for ESPN.com. Chris Palmer covers the NBA for ESPN The Magazine.
• Follow the NBA on ESPN on Twitter | On Facebook | On Google+