Where should the NBA's top offseason targets end up? We pick out the best possible new homes for some of the best free agents and, of course, Dwight Howard.
1. In which organization should Deron Williams have more confidence?
A. Brooklyn
B. Dallas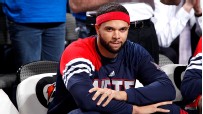 Kevin Arnovitz, ESPN.com: B. Dallas, which has shown it has the organizational chops to win a championship, whereas the Nets have shown they have the organizational chops to create a boring graphic logo for their reboot in Brooklyn.
Maurice Brooks, ESPN.com: B. Signs wishing happy birthday in the front yard and partying with coach Avery Johnson are nice, but the bottom line is the Nets aren't close to being able to compete in the Eastern Conference, while the Mavericks are only one year removed from winning an NBA title.
Israel Gutierrez, ESPN.com: The only one of the two with a recent track record is Dallas, so B would have to be the answer. It remains unclear how, or if, the Brooklyn angle will help lure free agents to the Nets, but it could be significant. The question is whether Williams is willing to risk that and trust his inexperienced owner.
Zach Harper, Daily Dime Live: B. Not only are the assets and teammates far superior to what the Nets currently have, you can be confident in knowing that Mark Cuban will keep the Mavericks competitive in the next phase of this franchise. Mikhail Prokhorov seems like he's trying to be the new Cuban, but why not go with the real one?
Justin Verrier, ESPN.com: B. And it's not even close. The Nets have shown a willingness to take a great leap forward, with Williams leading the way, but their desperation already has led to some questionable decisions. (Instead of Harrison Barnes on the wing, they might have Gerald Wallace.) It's like LeBron and the Cavs all over again. Dallas won a title with Dirk Nowitzki, Tyson Chandler and a bunch of old guys. Sign him up.
---
2. What's the best landing spot for Dwight Howard?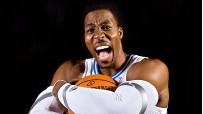 Kevin Arnovitz, ESPN.com: Brooklyn. Howard has an unquenchable need to be the center of attention. In Brooklyn, he can be the face of a franchise that's embarking on a historic move to one of the United States' sexiest urban locales.
Maurice Brooks, ESPN.com: L.A. Lakers. Dwight already stole Shaquille O'Neal's nickname, so he might as well follow in Shaq's footsteps as a dominating center who left the Magic and went to the Lakers to win an NBA crown.
Israel Gutierrez, ESPN.com: Wherever Deron Williams lands. He'll be happiest with a high-quality point guard and on a team where he remains the top option. Brooklyn would be his most sensible choice if Williams stays. In Dallas, he would have to wrestle with Nowitzki for touches and the lead role.
Zach Harper, Daily Dime Live: I'd say Brooklyn. It will be a huge market, and it would be a fresh start for his career. Dallas seems like the best shot at winning a title, but Dwight can make the transition to Brooklyn easier. It would satisfy his assumed need for attention and being the man on the team.
Justin Verrier, ESPN.com: Los Angeles. And not Kobe's L.A. If the Heat are the team to beat for the next decade or so, the way to do so is to exploit where they're weakest: at point guard and center. Although the Clippers likely wouldn't part with Blake Griffin, one of the few top picks they got right, a Chris Paul-Dwight Howard nucleus would be the best 1-5 punch in the league.
---
3. What's the best landing spot for Steve Nash?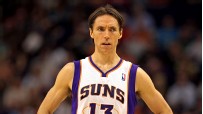 Kevin Arnovitz, ESPN.com: Toronto. Once a year, Air Canada Centre erupts when the public address announcer introduces the starting point guard for the Phoenix Suns, native son Steve Nash. Although he wouldn't help Dwane Casey's promising campaign to turn the Raps into a defensive force, Nash is still a very productive point guard who would make the Raps' supporting cast more fluid.
Maurice Brooks, ESPN.com: New York. The Knicks would be scary if they could persuade Nash to come to the Big Apple. With him running the show, Carmelo Anthony and Amare Stoudemire automatically would become better offensive players. He brings the perfect blend of experience and leadership, and would be a huge upgrade for New York at the position.
Israel Gutierrez, ESPN.com: Oklahoma City. If we're assuming Nash would take a discount to play for a title, Oklahoma City would be the spot for him. That team needs an outright distributor and someone who can create even more space for Kevin Durant and Russell Westbrook. Of the teams that are reportedly most interested in Nash, New York probably would be his best option.
Zach Harper, Daily Dime Live: Indiana. I'm all in on Nash to the Pacers. Putting that defense behind him and allowing him to direct their scoring options is an almost too-perfect fit. With Derrick Rose recovering for the Bulls, Indiana easily could move closer to Miami's level with Nash on board. Even with the Heat to get by, the Pacers have fewer roadblocks than teams in the West.
Justin Verrier, ESPN.com: New York. Miami's probably the best bet if he wants to go title-hunting, but with LeBron as the de facto point guard, Nash would kind of be marginalized. Which is both a crime against basketball and something he doesn't seem like he'd be into. The Knicks need someone to stir the drink, and who better to revive Stoudemire's career than the guy who breathed life into it?
---
4. What's the best landing spot for Ray Allen?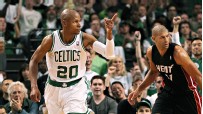 Kevin Arnovitz, ESPN.com: Miami. Allen makes a ton of sense for the Heat for a couple of reasons. First, he fits snugly into Miami's committed strategy of opening up the floor by surrounding LeBron James with shooters. Second, Allen understands how to move without the ball, a skill that will help keep the Heat's occasionally stagnant offense from descending into rigor mortis.
Maurice Brooks, ESPN.com: Boston. I would love to see the Celtics' Big Three make one more run at it. It's easy to imagine how many easy trifectas Ray would get off drive-and-kicks from James in Miami, but a completely healthy Boston team, with Allen spacing the floor, is talented enough to play with anyone.
Israel Gutierrez, ESPN.com: This one depends on how badly Ray wants back in the NBA Finals. If he wants a sure thing, he'll settle for a reserve role with the Heat and be a more reliable version of Mike Miller. If he wants to roll the dice a bit, the Clippers would be an ideal fit. With Allen and Lamar Odom, the Clippers would have a solid shot at reaching the title round.
Zach Harper, Daily Dime Live: Boston. With potential pay cuts for Ray and KG, the Celtics can add a couple of veterans to round out the rotation. While the window for competing with Miami is probably a lot smaller than Boston believes, it can retool short-term to make a solid run at the East with the right pickups.
Justin Verrier, ESPN.com: Miami. It'd be a shame if Allen can't finish his career in New England, a place he loves and in which he has deep roots. But the fit is too perfect with the Heat. You want to surround LeBron and Dwyane Wade with as many shooters as possible, and Ray is still one of the best in the game when healthy.
---
5. If you're the Knicks, whom would you try harder to sign?
A. Jeremy Lin
B. Steve Nash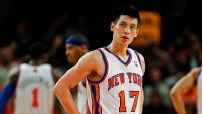 Kevin Arnovitz, ESPN.com: A. Nash is the better player by a country kilometer, but the Knicks won't sniff a title with either. That being the case, why not go with the guy who has the branding power?
Maurice Brooks, ESPN.com: B. Linsanity was cute, but Nash is a perennial All-Star, two-time MVP and a future Hall of Famer. Regardless of age, give me the player who has been there, done that for years over the guy who briefly showed he has a lot of potential.
Israel Gutierrez, ESPN.com: B. If those are the choices, of course Nash. Carmelo Anthony might not love the idea of returning to anything close to a Mike D'Antoni offense, but Nash would automatically make Stoudemire and Chandler regular scoring threats again.
Zach Harper, Daily Dime Live: A. Nash is a Band-aid, and the Knicks need to build something a little more long-term. Grabbing Lin for four years seems like a better path than hoping Nash can perform a miracle in two. Also, it's a brilliant business decision to keep one of the most popular players in the league on your roster.
Justin Verrier, ESPN.com: B. New York is obviously in win-now mode -- Melo is even reportedly losing weight!! -- and the few weeks we got with Lin leading a healthy Knicks roster didn't exactly instill much hope of accomplishing that. It'd be a shame to give up on Lin (and all the money he'd surely bring to the club) so early, but he's probably better suited on a team where he can get his shots.


ESPN.com and the TrueHoop Network
Kevin Arnovitz and Israel Gutierrez cover the NBA for ESPN.com. Maurice Brooks and Justin Verrier are NBA editors for ESPN.com. Zach Harper is the host of ESPN.com's Daily Dime Live.
Follow the NBA on ESPN on Twitter | On Facebook | On Google+