We're only two games into the regular season and the Lakers, despite all their big names, are 0-2 and Steve Nash is injured. Also, it took just one game for James Harden to win over the fans in Houston.
1. On a 1-to-100 scale, how worried should Lakers fans be?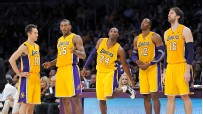 Kevin Arnovitz, ESPN.com: 32. The 2006-07 Dallas Mavericks came out of the gate 0-4, losing their second game by 31 points. When the season was over, they'd logged more regular-season wins than any team since the late-era Bulls dynasty. Health and durability are legitimate concerns for the Lakers, but you can't declare a roster fatally flawed or a system completely unsalvageable after 96 minutes.
Danny Chau, Hardwood Paroxysm: 40, though it's not all in response to Mike Brown and the offense. Between Steve Nash's leg contusion and Dwight Howard playing almost 40 minutes a game, it's clear that injuries and minute allotment should be the main concerns. Offensive flow and continuity will emerge in time, but not if the main cogs are sidelined.
Jared Dubin, Hardwood Paroxysm: About a 10. I'm not hitting the panic button just yet. The Lakers aren't off to the most auspicious start and are dealing with some minor injury issues, but there's too much talent for it not to eventually shine through. The 2010-11 Heat struggled out of the gate too. As long as the Lakers are healthy in April, they'll be just fine.
Chad Ford, ESPN.com: 50. On one hand, it's way too early. Remember when Heat fans were wringing their hands (and Cleveland fans were gloating) when Miami got off to a slower start than expected the first year LeBron and Bosh joined D-Wade in Miami? How'd that turn out?
On the other hand, the Lakers look much worse than the Heat ever did. The offense is a joke, Steve Nash is playing off the ball, and everyone looks old. Maybe we overrated the Lakers, but it's still too early to tell.
Amin Vafa, Hardwood Paroxysm: 20. This team still has mounds of talent, even if it will take a bit of time for it to jell. The star-studded 2010-11 Heat had some bumps in the road on their way to figuring it out, but they eventually did. No reason to think the Lakers couldn't do the same. Let's just hope Nash's leg heals quickly.
---
2. On a 1-to-100 scale, how bummed should Thunder fans be?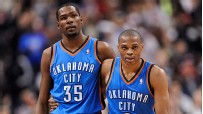 Arnovitz: Between 25 and 75. There are a zillion reasons to root for a team, but one of the most appealing ones is the fun of watching a core of charismatic players grow up together. That dynamic doesn't exist often, but it did in Oklahoma City prior to the Harden trade. Losing that hurts.
But the desire for your team to be savvy, for the organization to be managed with intelligence and foresight -- that's another part of the fan experience. The intensity with which a Thunder fan values one of those features over the other will tell whether he or she sits closer to 25 or 75.
Chau: 30. It's never easy to see a fan favorite leave, especially one so important to the offense. Hearing news of Harden's incredible Rockets debut does little to ease the heartbreak. But the Thunder are as they were a week ago: championship contenders with excellent prospects for the future. That fact should help most fans sleep at night.
Dubin: I'll give this a 70 on the bummer scale. Harden is one of the best, most exciting players on the league, and Oklahoma City was forced to move him for financial reasons. That hurts no matter how you spin it. The haul the Thunder got in return is a nice consolation, but keeping the young, homegrown pieces together for as long as possible would have been better.
Ford: 75. Thunder GM Sam Presti got real value for Harden. Given the recent giveaways of players such as Dwight Howard and Steve Nash, that's saying something. But if I'm a Thunder fan, I'm pretty discouraged. The Thunder had a legitimate title contender with Harden. They would have had three young, All-Star-level players locked up for the next few years. Now? A lot more ifs. I doubt the ifs ever add up to Harden.
Vafa: 65. I'm one of the few people who believes the Thunder have cobbled together enough resources to make up for a lack of Harden, but after watching him torch the Pistons last night ... well, did you watch him torch the Pistons last night? Even I might have seller's remorse.
---
3. On a 1-to-100 scale, how excited should Rockets fans be?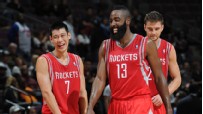 Arnovitz: 70. The Harden acquisition marks the official end of the Yao-T-Mac era. On Saturday, the franchise laid down a sturdy cornerstone with Harden. They now have a dynamic point guard, an active and defensive center, some young upsiders and additional money to spend. Don't expect confetti to fall overnight in Houston, but the blueprint is a nice-looking sketch.
Chau: 80. For the first time in what has seemed like a long time, the Rockets have a direction. The team finally has focal points in Jeremy Lin and Harden, and surrounding them is a young and eager supporting cast ready to learn. Win or lose, this team will be loads of fun. That should placate fans until more possibilities arise next summer.
Dubin: 100. Harden showed every tool he has in his box in his first game as a Rocket, and there's more where that came from. His presence will help alleviate pressure from and aid the development of Lin, another big part of Houston's future. When Kevin McHale figures out which of his stable of forwards makes the best pick-and-roll partner for his two creative guards, look out.
Ford: 75. GM Daryl Morey has been trying to package his assets and turn them into a star for years. After two frustrating seasons, Morey finally hit pay dirt. Harden is not Dwight Howard or Chris Paul, but he is the best player Houston has had since Yao Ming, is locked into a five-year deal and is just 23 years old. With Harden, Lin, Omer Asik and other bright young assets like Chandler Parsons, Terrence Jones, Donatas Motiejunas and Royce White, the Rockets finally have some building blocks. I don't think we'll see Harden dropping 37 points and 12 assists every night, but there's no question that Rockets fans finally have a player to be truly excited about.
Vafa: 90. It's safe to say that it's fun to cheer for the Rockets again. After years of waiting to see how Daryl Morey's plans would hatch, they have been rewarded with an entertaining trio of Harden, Lin and Asik. That probably wasn't the title-winning Plan A that Morey had in mind, but it's an absurdly fun-to-watch Plan B.
---
4. What is your take on the extensions signed this week?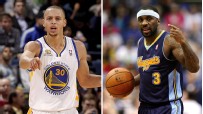 Arnovitz: With a few notable exceptions (e.g., Mike Conley), these $40 million signings often become among the most low-value contracts in the league. A couple were reasonable. The Warriors got a significant discount on Stephen Curry, who is a max player when healthy. Taj Gibson makes sense. But DeMar DeRozan hasn't demonstrated he is much better than replacement level. Like the Sixers, I want to believe that Jrue Holiday could lead a team into June, but I'm not sold on his ability to lead a high-efficiency offense. Collectively, a mixed bag.
Chau: With the exception of DeRozan's extension, which is a bit steep for a player who doesn't project to be much more than what he is now, most of the agreements were fair, if not steals. Steph Curry's extension could be a bargain if he can keep his ankle from continually wandering away from the rest of his body.
Dubin: The members of the 2009 class that actually got extensions got paid. Every extension save for one was for at least $40 million, and the one that wasn't was an $8 million-plus a year deal for a bench player. The most interesting part of this class' extension haul, though, is who didn't get paid: 2009-10 Rookie of the Year Tyreke Evans. Who would have seen that coming four years ago?
Ford: The new collective bargaining agreement may have kept the Thunder from overpaying Harden, but it didn't stop the rest of the league from burning through boatloads of cash this week. Harden, I can understand. The Rockets gave up a ton of assets to get him and had to fork out big bucks to keep him.
The rest? Questionable. I think Stephen Curry, Jrue Holiday, Ty Lawson, Taj Gibson and DeMar DeRozan all have bright futures, but teams paid them for what they might be someday, not what they are at the moment. Given that they owned their restricted rights next summer, I'm not sure why they were in such a hurry to overpay their young players.
Vafa: For the most part, the extensions handed out this week were well-deserved. It was surprising that Harden had to get his extension from Houston instead of OKC, but I was glad to see Holiday, Gibson, Curry, DeRozan and Lawson make it work. Noteworthy: From that same class, Brandon Jennings and Tyreke Evans did not get extensions.
---
5. What else emerged from the first two nights of the season?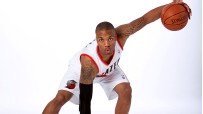 Arnovitz: Damian Lillard, like a butterfly from a chrysalis; a renewed Memphis-Clippers rivalry that will probably never determine a conference champ but has evolved into the best recurring street fight in the NBA; the certainty that Rick Carlisle is good at his job, even with the loss at Utah; and the belief that the Jazz big men will steal every rebound -- except from Anderson Varejao. He keeps his.
Chau: Early returns from rookies like Jonas Valanciunas and ROY front-runners Anthony Davis and Damian Lillard have been extremely promising. Jae Crowder didn't make as compelling an introduction, but he is quickly gaining fans for his hustle and surprisingly varied skill set. Opening week is the perfect time to find new bandwagons to rationally or irrationally hop onto.
Dubin: Being that I'm dealing with the effects of Hurricane Sandy (no power since Sunday and going to restaurants with Wi-Fi to watch games), I think it was the right move for the NBA and New York City to postpone the Knicks-Nets opener at the Barclays Center. It was a nice story to have those two open the season against each other, but it's not nearly worth the trouble with the condition New York City, Brooklyn and New Jersey are in.
Ford: Anderson Varejao may have already put up one of the best stat lines we'll see all season. Darren Collison and Marvin Williams look like great low-cost, high-reward pickups for the Mavs and Jazz. The Hornets and Raptors aren't making the playoffs, but they'll be tough outs most night. To all of those who accused me of overrating Damian Lillard before the draft, it looks like I underrated him. To all of those who accused me of underrating Austin Rivers before the draft, it looks like I overrated him.
Vafa: Albeit with a small sample, I can comfortably say that Anthony Davis and Damian Lillard are the early favorites for Rookie of the Year, Mo and Marvin Williams look very comfortable in Salt Lake City, the Mavs need Dirk back soon, and Ray Allen has the easiest job in the world this season.


ESPN.com and the TrueHoop Network
Kevin Arnovitz and Chad Ford contribute to ESPN.com. Danny Chau, Jared Dubin and Amin Vafa contribute to the TrueHoop Network.
Follow the NBA on ESPN on Twitter | On Facebook | On Google+