Joe Johnson feels like his Nets are better than the Knicks. He'll get a chance to prove it Monday night when the two teams face off in Brooklyn.
Our 5-on-5 panel takes a look at both squads.
1. Knicks or Nets: Better team now?
Jared Dubin, Hardwood Paroxysm: Knicks. They've still got the most efficient offense in the league as of Monday morning, and I'm more confident their defense can turn it around with Tyson Chandler as the anchor, than I am that the Nets make a sudden defensive leap.
Beckley Mason, ESPN.com: Knicks. Neither team has played much defense, but the Knicks' offense has been more crisp and consistent, and only one of the Nets' eight wins came against a team (the Clippers) that will finish with a winning record this season.
Marc Stein, ESPN.com: Knicks. They sure didn't show it in Houston, but defense was a big part of their early success. Speaking purely about this season, New York has the more well-rounded team. And a higher ceiling as a result. The Knicks, in my view, will have blown a major opportunity if they don't finish second in the East given the current state of the conference.
Jared Wade, 8 Points, 9 Seconds: Knicks. Record-wise and statistically, the edge goes to New York, which easily has the league's best offense so far. But it's more than that. The Knicks just appear to have a higher ceiling when they're playing well, as we saw in impressive wins over the Heat, Spurs, Hornets and Sixers.
Brian Windhorst, ESPN.com: The Knicks but it's close. They have a little better bench and play, I feel, better defense. Though the Knicks have been slipping recently, while the Nets have been improving in that area.
---
2. Knicks or Nets: Better team at season's end?
Dubin: Knicks, provided the excellent ball movement sticks and they stay healthy. They'll also get a boost from the returns of Amar'e Stoudemire and Iman Shumpert from injury.
Mason: Knicks. While I expect the Nets' starters will play better and better as the season goes on and they become more comfortable with each other, New York's second unit just seems more talented and reliable. Over the course of a long season, that kind of depth matters.
Stein: Knicks again. They obviously aren't built with longevity in mind, but you can already picture them in the conference finals if they aren't thrown off track by Amar'e Stoudemire's eventual return. Just don't know if D-Will is healthy enough -- or if a struggling Joe Johnson has enough left -- for the Nets to overcome their defensive frailties and make a postseason run. Those two have to be a force together for the Nets to make any playoff noise and we haven't seen it yet.
Wade: Nets. They just have more talent and should continue to improve as the players jell. Meanwhile, I worry about a New York offense that has depended so heavily on Carmelo Anthony and J.R. Smith becoming willing passers and Jason Kidd shooting 51.8 percent. And don't forget the inevitable drama surrounding Amar'e's return. "StoudeMired in Free Fall" sounds like a future New York Post headline.
Windhorst: Again, Knicks closely. They are waiting on Amar'e Stoudemire and Iman Shumpert and those additions should bolster them even if there's a transition period. The Nets, I believe, signed Kris Humphries partially with the intent of trading him but he's not helped his value with his first month. I'm not sure they can upgrade much this season.
---
3. Knicks or Nets: Brighter future?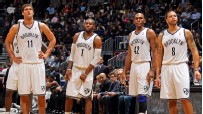 Dubin: Knicks. I'm such a homer.
Mason: Knicks. Shockingly, given all the talk about their long-term inflexibility under the new CBA's more restrictive salary cap, the Knicks' major contracts actually end a year earlier (2014-15) than the Nets'. Theoretically, both teams can always make a trade. But it's hard to imagine Brooklyn getting real value for Gerald Wallace or Joe Johnson once they're in their mid-30s.
Stein: I'm inclined to say Nets ... as long as Mikhail Prokhorov isn't going anywhere. He's already pumped in hundreds of millions and made this a real rivalry. A proper city derby if you permit me to use the soccer term. As long as Prokhorov continues to spare no expense, who knows what the Nets are capable of? (Example: Phil Jackson coaching in Brooklyn someday? With Prokhorov around, you can picture it.)
Wade: Nets. The Knicks are nursing-home old and will continue to be hamstrung by that Stoudemire deal. (He makes $20 million this season and $45 million over the next two.) Iman Shumpert coming back will help, but how do they replace the current contributions of Kidd, Camby and Thomas without any cap flexibility or notable assets to trade?
Windhorst: Probably the Nets. The Knicks, of course, are the oldest team in the league and traded away so many picks that they don't really have prospects to develop to replace some of the guys who are playing surprisingly good minutes for them. The Nets loaded their salary cap and that Joe Johnson deal is going to end up being a problem. But they still have pieces to swing a deal for another star if things fall right. I'd probably buy stock in the Nets over the next three to four seasons rather than the Knicks.
---
4. Knicks or Nets: Who has the best player in NYC?
Dubin: Knicks. Before the season, I would have said the Nets with Deron Williams, but the way Melo has been playing to start the season, I've got to give him the edge right now.
Mason: Knicks. When Carmelo Anthony decides to bull rush the basket, there are few players capable of handling his combination of power and quickness. He's been doing that all season, while also making the smart read to move the ball when the defense shifts heavily to his side of the court.
Stein: Knicks. Hard to pick against Melo right now. You'd naturally rather have a top-flight point guard, if you were building a team, than a supreme scorer. But Melo is so good at what he does that he bucks conventional wisdom in this case. If D-Will was in full flow, though, this PG devotee would probably answer differently. Constantly hearing how banged up he is can only be classified as worrisome.
Wade: Knicks. I may have said the Nets in preseason, but Carmelo is just on another planet right now. He is arguably playing the best ball of his life, with a career-high true shooting percentage and PER. I doubt he keeps hitting 3s at this clip, but the non-charted qualities -- the ball movement, the distributing, the decisiveness -- have outweighed the stats anyway.
Windhorst: Knicks. Carmelo is the best player in New York. His offense is still iso based and he still chucks way more 3-pointers than shots from the post. But he's trying more on defense and sometimes moving the ball better. He's simply one of the best scorers of this generation and probably a future Hall of Famer, who is currently in his prime. If you look at the stats and the performance, I'm not sure you can say that about Deron Williams.
---
5. Melo's Knicks or Deron's Nets: Which team will create a deeper legacy within New York basketball and the NBA?
Dubin: Melo's Knicks. Melo gave himself a two-year head start on playing in New York, and the Knicks' franchise has a 50-plus year head start. It's just too difficult for the Nets to create a legacy that quickly.
Mason: As momentous as the Nets' arrival has been, there's just no competing with the Knicks in terms of cultural relevance -- in New York or elsewhere. This Knicks resurgence competes favorably with the newness of the Nets. The only way this becomes close is if Brooklyn meets and beats the Manhattans in the playoffs. New York sports media will define how these two teams are remembered, and they've no reverence for teams that show up, just those that win.
Stein: I look at it differently. To me it's Jim Dolan's Knicks and Prokhorov's Nets. Putting a major league franchise in Brooklyn after all these years, opening a spectacular building, really giving New York a legit second team and vowing not to stop with all of his various offensives until the Nets have won a championship ... Prokhorov is the guy most likely to keep changing the basketball dynamic in NYC. As long as he sticks around.
Wade: Brooklyn. Given their cap situation, the Nets are locked into this starting lineup for years. So in addition to it being the first team in Brooklyn -- playing in the house that Jay-Z built -- continuity will make this squad more memorable among a fan base with millions of young people who can't remember the Knicks ever fielding a good team. Both teams may have a few decent playoff runs, but I doubt either wins a title, so familiarity with the characters will make the difference.
Windhorst: It is amazing to see the lines at the Nets' team store. The team's marketing department, always one of the best in the league and now with a real product and audience, has done a great job of creating buzz. But the Mets aren't the Yankees, Barclays isn't the Garden and it's hard to fathom the Nets will ever be the Knicks.


ESPN.com and the TrueHoop Network
Marc Stein and Brian Windhorst cover the NBA for ESPN.com. Beckley Mason contributes to ESPN.com. Jared Dubin and Jared Wade are part of the TrueHoop Network.
• Follow the NBA on ESPN on Twitter | On Facebook | On Google+