The NBA trade deadline is drawing closer and closer. Where should some of the top players being discussed in trades land? Our panel weighs in.
1. What's the best landing spot for Josh Smith?
Dan Feldman, PistonPowered: San Antonio. The Spurs have played at a faster tempo the past couple of seasons, which fits Smith, and maybe Gregg Popovich could even eradicate Smith's inefficient reliance on jumpers. Most tantalizing would be Smith defending next to Tim Duncan.
D.J. Foster, ClipperBlog: San Antonio. The Spurs have a habit of turning lost causes (Stephen Jackson, Boris Diaw, Danny Green) into serviceable players, so certainly they could cure Smith's shaky shot selection and shine him up enough to help him earn a max contract this offseason.
Tom Haberstroh, ESPN.com: Brooklyn. If Josh Smith is truly looking for a max deal, he should immediately get on the horn with Nets owner and gazillionaire Mikhail Prokhorov. And by horn, I literally mean a horn because Prokhorov apparently doesn't own a cellphone.
Curtis Harris, Hardwood Paroxysm: Houston. The Rockets would be the ideal spot for Smith. His ability to create defensive havoc complements the stout rim protection of Omer Asik. The offensive half court may be cramped for space when Jeremy Lin and Smith share the court, but in transition Smoove would ease those rough edges and make Houston absolutely devastating.
Tom Sunnergren, Hoop76: Milwaukee. Though giving Smoove the big payday he's angling for might not be what's best for Milwaukee -- max deals are like Hall of Fame inductions; if you have to argue about whether a guy deserves one, he doesn't -- it'd be a joy to watch Smith and Larry Sanders wreak shot-blocking havoc together.
---
2. What's the best landing spot for Dwight Howard?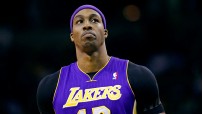 Feldman: Atlanta. I wonder whether Howard wishes he'd just stayed in Orlando all along. He's closed a few doors in the past year, but his hometown Hawks should still want him. Maybe that's the appropriate final leg of Howard's journey to find himself.
Foster: Dallas. Or alternatively, wherever Kobe Bryant isn't. Howard needs a coach who can tailor a defense around him like Stan Van Gundy did, and Rick Carlisle can do that. With Dirk Nowitzki stretching the floor, Mark Cuban coddling him and an all-you-can-eat buffet of post touches, Howard could be dominant again in Big D.
Haberstroh: Wherever Stan Van Gundy coaches next. As the saying goes, "You never know what you've got until it's gone." I'm talking about Van Gundy's genius as a head coach, but that also goes for Howard's credibility, too. When he becomes a free agent this summer, Howard should think long and hard about his career and who can maximize his talents.
Harris: Atlanta. As currently constructed, the Hawks are Dwight's best landing spot. Howard is at his best posting up on the low block, which puts him in position to score or kick out to open teammates. The Hawks feature a number of good shooters who can properly space the floor, thus maximizing Howard's effectiveness.
Sunnergren: L.A. Lakers. Where else can he go? If the Lakers move him, the narrative will be that Howard, for the second time in as many seasons, destabilized, then forced his way off a team with legitimate title aspirations. While his back might recover, his reputation never would. What's best for Dwight is to stay in L.A. and ride out the storm. They'll win again soon. The Lakers always do.
---
3. What's the best landing spot for Eric Bledsoe?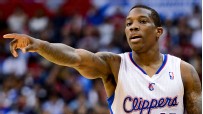 Feldman: Utah. Few teams need a starting point guard, but the Jazz definitely do. Bledsoe could join Enes Kanter and Derrick Favors to form an exciting young core that can grow together. Bledsoe might also upgrade Utah's below-average defense enough to win a playoff series this season.
Foster: Orlando. No more playing 20 minutes a night, and no more standing around in an unimaginative offense watching Jamal Crawford go one-on-five. Instead, Bledsoe could have an entire team built around his unreal athleticism and unique skills during Orlando's rebuilding period.
Haberstroh: Utah. Desperate need at point guard. Bottom-10 ranking in defensive efficiency. Young talented core. Gobs of potential cap space going forward. Bledsoe may not be John Stockton or Deron Williams, but Utah, this is your next great point guard. Newsflash: He's not coming to Salt Lake City in free agency, so get him while you can.
Harris: New Orleans. Doubtful the Clippers give him up, but Bledsoe as a member of the Hornets would be fantastic. The feisty guard would fit in with coach Monty Williams' stringent defense. More importantly, though, Bledsoe would be guaranteed minutes to develop his game. He would either be the first guard off the bench backing up Greivis Vasquez and Eric Gordon or, given Gordon's injury history, be a regular starter.
Sunnergren: L.A. Clippers. Though he's logging only 21.8 minutes a night for a Lob City squad that's deeper than the mid-Atlantic, Bledsoe's role in L.A. isn't exactly stunting his growth. He gets to quarterback the best bench in basketball, all while learning the finer points of his position from one of the best who have ever played it. Not a bad apprenticeship.
---
4. What's the best landing spot for Paul Millsap?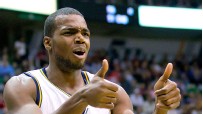 Feldman: Houston. Millsap and James Harden would be a fun combination offensively, especially with Houston's quality floor spacing. That would give Millsap plenty of room to exploit the size or speed mismatches he frequently gains. Patrick Patterson has held his own as a starting power forward, but as a reserve, he could be a difference-maker.
Foster: Houston. Millsap would have no competition for post touches, a monster center (Omer Asik) to protect him defensively, and arguably the best pick-and-roll player in basketball in James Harden to provide him a ton of easy buckets. What more could a big guy ask for?
Haberstroh: Houston. I'd love to see what Millsap could do in a Mike D'Antoni-type system, and the Rockets have a Texas-sized hole at power forward. With sneaky good range in the corners and a knack for poking the ball away defensively, there's a mini Shawn Marion just waiting to break out.
Harris: Charlotte. After years of being in Utah's crowded frontcourt, Millsap would clearly have no problem displacing the litany of Bobcats forwards for major minutes. The Bobcats desperately need the offensive punch around the basket that Millsap provides.
Sunnergren: Brooklyn. Millsap would slide neatly into the rotation spot of Kris Humphries, who has been more impressive in commercials this season than he has been on the court. Millsap might give the Nets the shot in the arm they need to catch the 'Bockers in the Atlantic.
---
5. What's the best landing spot for J.J. Redick?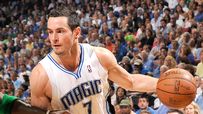 Feldman: Chicago. The Bulls could use a quality shooting guard, especially one like Redick with no long-term salary obligations. He'd immediately upgrade the outside shooting of Chicago, which ranks 25th in 3-point percentage. And I bet Tom Thibodeau would appreciate Redick's underrated defense.
Foster: Chicago. The Bulls have tried to get Redick for a long time, and for good reason. Redick would be deadly coming off nasty screens from Carlos Boozer and Joakim Noah, and he'd get the chance to show off his vastly improved playmaking and defensive acumen on a bigger stage.
Haberstroh: Memphis. But it's going to be tough to get him there now that the Grizzlies gave up a future first-rounder to Cleveland earlier this season. The Griz rank last in 3-point field goals and Redick has made more treys than all but eight players this season. If Memphis can't pry him away from Orlando, don't be surprised if the Nuggets end up with the sweet-shooting veteran.
Harris: Chicago. The Bulls signed Redick as a restricted free agent in 2010 only to see Orlando match their offer. Three years later, the Bulls remain the best fit for Redick, who is a good defender, a terrific shooter and an adept passer. The problem for Redick is that Chicago likely doesn't have the pieces to satisfy Orlando's wants in any potential trade.
Sunnergren: Minnesota. Near-term, the sharpshooter would bring some perimeter credibility to a team that's last in the NBA by a healthy margin in 3-point percentage. And eventually, when Kevin Love returns and this thing the Wolves are building coheres, Minnesota has a chance to be good for a long time. Redick could do a lot worse than be a part of it.


ESPN.com and the TrueHoop Network
Tom Haberstroh covers the NBA for ESPN Insider. Dan Feldman, D.J. Foster, Curtis Harris and Tom Sunnergren are part of the TrueHoop Network.
• Follow the NBA on ESPN on Twitter | On Facebook | On Google+