Playoffs Odds: Stretch-run debates
Originally Published:
February 25, 2013
ESPN.com
Who will make waves in the season's second half? We take a look at some of the biggest standing battles using John Hollinger's Playoff Odds.
1. Fact or Fiction: The Pacers are the East's second-best team.
Playoff Odds: Indiana has a 23.6 percent chance to make the Finals, second to Miami (59.0).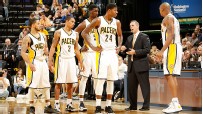 J.A. Adande, ESPN.com: Fact. The Pacers have split their past eight games against Miami, going back to their 2012 playoff series. They have allowed the fewest points per game of any Eastern Conference team. They have a better shot than the Knicks to reach the Finals, in part because their season has unfolded in the opposite manner of the Knicks' season: slow start, coming on stronger as the season goes on.
Andrew Han, ClipperBlog: Fact, in part by attrition. With New York losing five of its past seven games, Chicago still hoping for a Rose before elimination time and Boston's hopes sidelined with Rajon Rondo, Indiana's top rank in defensive efficiency locks up the second slot in the East.
Zach Harper, A Wolf Among Wolves: Fact. The Pacers have the best defense in the NBA and the second-best net differential (plus-5.5) in the East. Over the past 10 games, the Pacers have slaughtered opponents with the eighth-ranked offense during that stretch and an insane plus-17.8 net differential. Indiana is coming into its own right now.
Sean Highkin, Portland Roundball Co.: Fact. Roy Hibbert has rediscovered his offensive game over the past few weeks, and Paul George and David West continue to play well. It'll be interesting to see what they can get out of Danny Granger going forward. Plus, the Knicks are reeling, the Nets are injured and I don't trust the Bulls without Derrick Rose. It's Indy by default.
Michael Pina, Red94: Fact. There are so many ways the Pacers can beat you. They have an All-Star scoring threat, imposing figures on the front line, steady point guard play and, most importantly, a defense that'll choke the life out of just about every offense that crosses its path.
---
2. Fact or Fiction: Houston has the best Finals shot after West's top three.
Playoff Odds: Rockets have a 7.8 percent chance to make it, fourth-best in the West.
Hollinger's Playoff Odds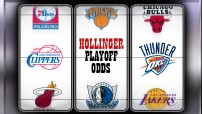 Which teams do the odds favor? Check our projections daily. Playoff Odds »
Adande: Fiction. Asking this group that's never been to the playoffs together to make it all the way to the NBA Finals is asking too much. Yes, the Heat did it in 2011, but they had two of the top five players in the league. The Rockets might not even lock up their playoff spot until the final regular-season game, against the Lakers. And once you get into the playoffs, you need to play defense. That's not Houston's thing.
Han: Fiction. Houston has been one of the surprise teams this season, but it has effectively just swapped a productive player in Patrick Patterson for the fifth pick in last year's lottery, Thomas Robinson. Even though it's a smart move, integrating and adapting this late in the season will cause some slippage.
Harper: Fiction. I love the Rockets' style of play and player beards as much as the next guy, but their having the 22nd-ranked defense makes it hard to pick them over Memphis, Denver and Golden State. Point differential is often a pretty decent predictive indicator, and the Nuggets and Grizzlies have a higher net differential than the Rockets do. They're fun, though.
Highkin: Fiction. But it wouldn't completely shock me. I still like Memphis as a dark horse in the West, but Houston has one of the most explosive offenses in the league. All bets are off if James Harden, Jeremy Lin and Chandler Parsons get hot from beyond the arc at the right times in April and May.
Pina: Fiction. Next season, after the roster is further tweaked in a positive way, the Rockets might be dark horse title contenders. But right now, the Denver Nuggets fit that mold as a lurking team no favorite will want to face. If Ty Lawson catches fire and Danilo Gallinari continues to play with fearless confidence, the Nuggets will do some damage.
---
3. Fact or Fiction: The Bulls will host a first-round series.
Playoff Odds: Chicago is projected to finish 46-36, fourth in the East.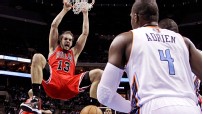 Adande: Fact. For one thing, Chicago's primary rival for the fourth spot, Brooklyn, has a road-heavy schedule the rest of the way. (Given Chicago's home and road records, the Bulls are probably jealous.) Mostly, it's about the Bulls' ability to consistently do what they do. They might not play stellar ball, but they manage to play to their strengths.
Han: Fact. Really this is more a statement about the struggles in the middle of the East than the Bulls being elite. But despite the cobbled-together nature of Chicago, the Bulls are still squarely in contention for a top-four seed with Brooklyn and Atlanta. And the Bulls are the only team of the three with any hope of bringing back a game-changing player in Rose.
Harper: Fact. The Bulls have struggled a bit over their past 10 games, but Rose's return could really catapult them over the Brooklyn Nets. They're the best road team in the East and there's no reason to believe they won't get better at home as the season progresses. Brooklyn has more road games the rest of the season, which could tip the standings.
Highkin: Fiction. If Derrick Rose returns in March, it's very likely he powers Chicago to a top-four seed. But if the Bulls don't get him back, it's easy to picture Joakim Noah and Luol Deng breaking down again from the heavy workload, and it'll be hard to hang on without a scoring threat such as Rose.
Pina: Fact. Though this is more due to the lack of competition. Thanks to their incredible depth and ability to keep the engine revving long after the gas meter has slipped past empty, it's difficult to envision the Bulls failing to pass the questionable Nets for a No. 4 seed.
---
4. Fact or Fiction: The Lakers will make the playoffs.
Playoff Odds: L.A. has a 37 percent chance to make it, ninth-best in the West.
SportsNation: NBA playoff odds

You've read the experts' takes. Now it's your turn to play the fact or fiction game with these potential playoff contenders.
Cast your votes!

Adande: Fiction. Their margin for error is too thin. An off shooting night here, a bad call at the end of a game there or any more injuries, and they're done. Also, what if the Rockets don't comply with them and run off a string of victories? The Rockets not only have games in hand, but they're past the hardest part of their season.
Han: Fiction. This is up for debate once the Lakers are above .500, but they're still one game under, two games behind the Rockets and four games behind Utah in the loss column. Add to that Pau Gasol's extended hiatus and Dwight Howard's recent admission of conditioning woes, and it's not prudent to pencil them in yet.
Harper: Fact. The Lakers have won 10 of their past 14 games and seem to be figuring out how to squeak out wins. If Dwight Howard keeps getting healthier and Steve Nash continues to play well and people keep saying the team needs to amnesty Kobe Bryant, we could see the Lakers get up to the seventh seed.
Highkin: Fact. Out of the Warriors, Rockets and Jazz, Utah strikes me as the most susceptible to losing its footing in the West's top eight. The Lakers have notched big wins recently against eighth-seed hopefuls Dallas and Portland, and Dwight Howard seems to have rediscovered his spark.
Pina: Fiction. Dwight Howard and Steve Nash are both beginning to play better as of late, and Kobe Bryant is locked into an unparalleled zone of offensive excellence. But the Lakers still lack depth and are inconsistent on both ends of the court. Their margin for error is too small to believe they can make it.
---
5. Heat or Spurs: Which conference favorite would win a series?
Playoff Odds: Miami has a 28.1 percent title shot; San Antonio has a 25.7 percent shot.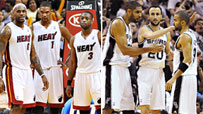 Adande: Heat. Sure, the semi-Spurs almost beat Miami with their B team back in November, and now the Spurs as a whole are playing much better. But so are the Heat these days. It comes down to whose best is the best, and when Miami is defending and LeBron James and Dwyane Wade are both bringing it ... that's a wrap.
Han: Spurs. It seems crazy picking against LeBron James, but the three factors that sway me to San Antonio: (1) The Spurs are the only team in the top five in both offensive and defensive efficiency; (2) of course, LeBron has been amazing, but Tony Parker has also been quite good; and (3) a series is about in-game and game-to-game adjustments, and there is no greater tactician than Gregg Popovich.
Harper: Heat. It would be a great series, but I have to go with the best player in the world. The way to attack the Spurs is to get them moving side to side, and the Heat are pretty good at cross-court passing, especially off pick-and-rolls with LeBron. Can they defend the Spurs' shooting? It would be fun to see.
Highkin: Heat. The Spurs' defense was what did them in against the Thunder in last year's playoffs, and although their defensive numbers have been better this season, you can't bet against LeBron James. There isn't a single team in the league that I wouldn't pick Miami to beat in a seven-game series. James is in the midst of a historically dominant stretch, even by his standards.
Pina: Heat. It's so close between these two teams that deciding who'd win after sizing up their respective rosters is nearly impossible. When that happens, the pivotal question becomes "Who's the best player?" While Tony Parker is doing insane things on a nightly basis right now, he isn't LeBron James.


ESPN.com and the TrueHoop Network
J.A. Adande is a senior NBA writer for ESPN.com. Michael Pina, Andrew Han, Zach Harper and Sean Highkin contribute to the TrueHoop Network.
• Follow the NBA on ESPN on Twitter | On Facebook | On Google+
5-on-5: Five Questions on Five Hot NBA Topics
EDITORS' PICKS
A healthy LeBron and some new blood have turned around the Cavs, who won their sixth straight.
The Ten »

Hassan Whiteside's 12 blocks powered Miami in Chicago.
Michael Wallace »

Brandon Jennings is out for the season with a ruptured Achilles, the team announced.
Story »