Four winning streaks enter Friday's ESPN doubleheader (Grizzlies-Heat, 8 p.m. ET; Thunder-Nuggets, 10:30 p.m.). Which ones will make it out?
Our panelists look at the biggest hurdles left for the Miami Heat and the Oklahoma City Thunder and also weigh in on where the Memphis Grizzlies and Denver Nuggets stand in the West's hierarchy.
1. What's the Heat's biggest hurdle to another Finals appearance?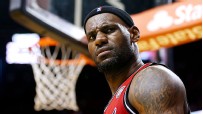 Steve Danziger, 3 Shades of Blue: Physicality. The way that it is looking, their road to the Finals is going to have to go through Indiana at some point. Miami is a veteran team, so a seven-game set of bumps and bruises doesn't factor in as too friendly in their favor. Just look at their series with the Pacers last year.
James Herbert, Hardwood Paroxysm: The biggest variable by far is health, specifically that of LeBron James. But given James' pristine injury history, I can't call it a hurdle. If healthy, the Heat should be able to beat any Eastern Conference team, though the Knicks' shooting and spacing pose the biggest threat if they can regain their early-season form.
Joel Rush, Roundball Mining Co.: Indiana. The Pacers lead the league in defensive efficiency, and the Heat are just 4-4 against top-five defensive teams. Indiana is also the second-best rebounding team, an area where Miami has struggled. The return of Danny Granger will add impetus to the Pacers' recent surge by giving them an additional offensive punch.
Brian Windhorst, ESPN.com: Health. Not just for the Big Three either. Shane Battier and Ray Allen play key roles in their small-ball scheme. Battier has been thrown around like a rag doll this season covering power forwards and centers. He may need three weeks of traction and a month of hot-rock therapy after this season is over. But it's working.
Royce Young, Daily Thunder: Complacency. There are decent roadblock teams in the East (specifically the Pacers), but if the Heat play to their level, which is to say LeBron plays to his level, there really shouldn't be anyone in the East that can touch them. But sometimes it's easy to get bored with the process and drop your guard a bit. Miami almost did it with Boston last postseason.
---
2. Fact or Fiction: The Grizzlies are better without Rudy Gay.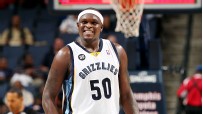 Danziger: Fact. Their talent level took a hit, but when you're at the stage of maturity that the Grizzlies are, it's more important that the personnel meshes. With the coaching staff now unable to lean on isolations, assist rates and field goal percentages are the highest they have been all season and should grow as chemistry develops.
Herbert: Fiction. The eight-game winning streak is great, but almost all of the wins have come against nonplayoff teams and the offense is still slow and stagnant. The Grizzlies' defense is as awesome as ever, but perhaps some tweaks on the other end with Gay in the fold could have given them a higher ceiling than they have now.
Rush: Fiction. The Grizzlies have been on a tear of late, winning nine of 11 games in February. But the schedule was easy, with seven games played at home and only three against current playoff teams. Since the trade, their point differential has dropped from plus-3.9 to plus-3.4, and they'll miss having a go-to scorer in Gay come playoff time.
Windhorst: Fiction. Saying they're better isn't accurate. They are perhaps just as competitive because of their size and the rugged way they play. Gay was not an efficient player, and they have been slightly more efficient since making the deal. They have more balanced scoring, which may or may not be a good thing come the playoffs when they get into situations where they need a great scorer to bail them out.
Young: Fact-ish. In a lot of ways, the Grizzlies are better, because they have refocused their offense through what they do best. Gay always felt a bit out of place with Memphis, as though he was playing his own game outside of the rest of the team. But sometimes you need a scorer like him. Come postseason time, the Grizzlies might miss him dearly.
---
3. What is the Thunder's biggest hurdle to another Finals appearance?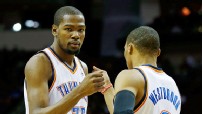 Danziger: James Harden … or the lack thereof. Harden's absence has been harped on and largely dismissed with Kevin Martin's excellent complementary play this season, but Martin is not nearly the playmaker that Harden was for this team. I look for this to put increased pressure on Russell Westbrook to play hero ball down the stretch, which might not be ideal.
Herbert: The Los Angeles Clippers. It's surely a bit simplistic to assume the Thunder will take care of the Spurs as they did last season. But even if it won't be easy, it does feel inevitable. A matchup with the much-improved Clippers with Chris Paul in control is a different, potentially dangerous scenario.
Rush: San Antonio. With the Thunder having matured through their experience reaching the Finals last year, it would seem that they should be able to overcome San Antonio's veteran savvy with their youthful talent and athleticism. But as always, the Spurs have defied expectations this season, and the Western road to the Finals goes through San Antonio.
Windhorst: The San Antonio Spurs. Same as it was last season. The matchups are mostly the same, but don't think Gregg Popovich hasn't spent a long time thinking about how he'll construct his strategy in a rematch.
Young: Chris Paul. The Spurs are an obvious answer, but the Thunder actually match up really well with their future selves. What could be scary for OKC is a seven-game series against the Clippers and, more specifically, CP3. The Thunder have been inconsistent this season in close games, and Paul is a crunch-time master. It's not hard to envision the Thunder faltering late as CP3 steals away a pivotal game.
---
4. Fact or Fiction: The Nuggets are one of the West's four best teams.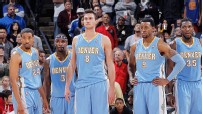 Danziger: Fiction. This essentially boils down to a question of Nuggets versus Grizzlies, so my answer is probably as biased as they come, but I think the Grizzlies with their tanks in the paint are better built for postseason battle. I will say that a playoff series between the two is likely to keep the NBA world on the edge of its collective seat.
Herbert: Fact. Slow starts from Ty Lawson and Danilo Gallinari and a brutal early-season schedule have the Nuggets looking worse than they should in the standings. Lawson has been putting up All-Star numbers since January, and if Gallinari can get healthy and Denver can make some strides on the defensive end, watch out.
Rush: Fiction. At least, they have yet to definitively demonstrate it. They have been chasing Memphis in the standings for months but have been unable to translate their home dominance to road success. The good news for Denver: It will likely get a chance to prove it's in the top four. The bad: If the Nuggets don't get the fourth seed and home court, they probably won't.
Windhorst: Fiction. I love that they have established an identity and stick to it every night, but I'm not a big believer that they can consistently play at their pace in a playoff series. I think a team like the Grizzlies is better built for a playoff run.
Young: Fiction. Very close, but the Nuggets' team-ball style hasn't been completely vetted. It's brilliant when it's working, but oftentimes they're inconsistent, especially away from home. The Nuggets don't have a guy who takes everyone else to a higher place, which is part of what works for them and also could be what brings them down.
---
5. Who has the best one-two punch among these four teams?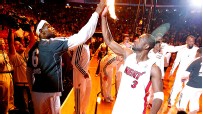 Danziger: Miami. No disrespect to the competition, but with the way that LeBron James has been playing, I would take a tandem of him and Brian Scalabrine over the field, and I am only half joking. James and Wade play off each other so well that a great performance from one seldom cannibalizes that of the other.
Herbert: The Heat. It's looking like the gap between LeBron James and every other basketball player on earth is larger than we thought. With the way Dwyane Wade is playing -- averaging 24.5 points, 6.2 rebounds, 5.5 assists, 2.5 steals, 1.3 blocks and 53.8 percent shooting during Miami's current 12-game winning streak -- it's hard to argue for any other pair.
Rush: Miami. As great as Kevin Durant is, there's just no getting around the fact that LeBron is the most dominant player in the league. And Westbrook's shooting inefficiency limits his effectiveness compared to Wade, who helps his cause by being a better decision-maker. Bottom line, James and Wade are the top one-two until proven otherwise.
Windhorst: The team that has LeBron.
Young: Miami. It's extremely tight with the Thunder, but LeBron separates things. We've seen them a lot in big spots lately, but we forget that Westbrook and Durant are still under 25 years old. Their time is coming, but until they prove it, it's hard to go against LeBron and whatever other guy you want to put with him.


ESPN.com and the TrueHoop Network
Brian Windhorst covers the NBA for ESPN.com. Steve Danziger, James Herbert, Joel Rush and Royce Young are part of the TrueHoop Network.
• Follow the NBA on ESPN on Twitter | On Facebook | On Google+