Strap in, folks. Things could get very interesting in summer 2014. Insider took a look at the free-agent market a year and a few months away. Now our team plays a little 5-on-5 to figure out which of those prized catches piques their interest the most.
1. Who's the most intriguing free agent of the 2014 offseason?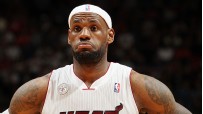 Matt Cianfrone, Roundball Mining Co.: LeBron James. Any time the best player in the world becomes a free agent, it is a big deal, but the subplots in the LeBron story make things more interesting. Will he stay in Miami with his friends or go home to the Cavs and team with Kyrie [Irving] or even to L.A.? His decision will shape the entire NBA landscape.
D.J. Foster, ClipperBlog: LeBron James. Will this decision attract the same amount of attention "The Decision" did? Doubtful, but it could provide the storyline of the hero's return home. It sounds crazy, but in 2014, how many sidekicks will be better than Kyrie Irving?
Beckley Mason, ESPN.com: LeBron James. Not only is LeBron "The King," he's also the NBA's resident kingmaker. When the offseason hits, he'll have the power to reform the Heat however he sees fit.
Aaron McGuire, Gothic Ginobili: LeBron James. He won't necessarily be a free agent in 2014, but chances are high he'll test the waters. And why not? With a 32-year-old Dwyane Wade beside him and a roster with scant flexibility, the best player on the planet will mull his options.
Tom Sunnergren, Hoop76: LeBron James. Whatever decision James makes this time around -- whether it be re-upping with Miami, heading out west to join a Lakers franchise that should be flush with cash, or, gasp, returning to Cleveland -- he completely alters the landscape of the league. To repurpose an old quote, every team in the NBA is one player away from winning. And that player is LeBron James.
---
2. Who's the second-most intriguing free agent of the 2014 offseason?
Cianfrone: Kobe Bryant. We know Kobe probably won't leave L.A., but what will his price be? Will he take less money and let the Lakers start to move on to a new era? Or will he take the most money he can and hamstring the franchise? Like LeBron, his decision can shape the league for the few years following.
Foster: Carmelo Anthony. Who's the next superstar to catch heat for his lack of playoff success? Chris Paul and Deron Williams are targets, but we tend to give point guards a pass, for some reason. That leaves Anthony, who is a real threat to start a new "superteam" somewhere.
Mason: Chris Bosh. Bosh will be 30, still in his prime, and has been repeatedly cited as the member of Miami's "Big 3" most likely to be pinched by the salary cap. In 2014, Bosh will be a better player than Dwyane Wade -- he's more valuable to the Heat already -- and teams like Houston will be falling over themselves to give him the full max.
McGuire: Chris Bosh. Although you can make a case for any number of players in this spot, I've got a particular interest in how Bosh plays his free agency. He's been an excellent tertiary player in Miami, but what's to say Bosh won't want to make more money and take a larger role once again? Could a thirst for max money break up the Heat?
Sunnergren: Carmelo Anthony. An Anthony free agency would add an extra wrinkle to your garden-variety "superstar on the market" intrigue. As basketball analytics continue their rapid development, come 2014, how will organizations value a (fairly) one-dimensional volume shooter like Melo? A tepid market for Anthony would signal a major shift in the way players are being appraised.
---
3. Who's the third-most intriguing free agent of the 2014 offseason?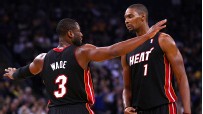 Cianfrone: Chris Bosh. If LeBron leaves Miami, what does Bosh do? He could return to Miami partnered with just Dwyane Wade, or he could branch out and go somewhere where he would again be the best player. For someone a lot of fans forget just how good he is, it can be a legacy-deciding decision.
Foster: Dwyane Wade. It's impossible to picture him in another jersey, isn't it? It seems highly unlikely that Miami's trio would all exercise early termination options, but if LeBron wanted to go home, maybe Wade would do the same and join Derrick Rose in Chicago to try and eke out a few more titles.
Mason: Kobe Bryant. Kobe has said he is likely to retire after 2014, but come on, do you really believe that? Whatever his decision, if he doesn't announce his retirement plans before the 2014 season, it will be one of the top NBA stories all season.
McGuire: Eric Bledsoe. While he's clearly an inferior player to many others available, Bledsoe is an incredibly young spark plug with starter potential and star-level production. L.A. would like to keep him, but as a restricted free agent, it's likely a team like Utah puts in a poison-pill offer to drag him away. Should be incredibly interesting to watch.
Sunnergren: Paul George. In summer 2014, Paul George will be an ascendant 24-year-old restricted free agent who, if present trends persist, could already be a top-15 player. Next to LeBron, he might be the consensus second-best player in a historically loaded market. While the Pacers will almost certainly pull out all the stops to keep him, anything can and does happen in free agency. Could be great theater.
---
4. Who's the fourth-most intriguing free agent of the 2014 offseason?
Cianfrone: DeMarcus Cousins. I can't see Cousins staying with Sacramento beyond next season, so his free agency will be interesting. Will a team risk giving him a big contract, or will his attitude cause teams to shy away and offer him short contracts? The talent seems to be there, but what is it worth with the baggage that comes with it?
Foster: DeMarcus Cousins. It's understandable if both parties have concerns about a long-term deal, which could lead to Cousins hitting restricted free agency. Cousins could be worthy of a max contract, or he could be viewed as locker-room poison. Unpredictability galore here.
Mason: Avery Bradley. The 2014 offseason will be a referendum on the Bradley and [Rajon] Rondo experiment. Bradley is such a strange player, or at least he is today, that just assigning a proper value to him will be a tough task. Figuring out that worth alongside Rondo, or perhaps choosing between the two, will offer fascinating decisions.
McGuire: Kobe Bryant. I can't imagine Kobe leaving the Lakers, but I couldn't really imagine Mike D'Antoni coaching the Lakers six months ago, either. Strange things can happen in the City of Angels. Will he take a pay cut? Can the Lakers afford to infuriate his fans? Too many questions to count.
Sunnergren: Kobe Bryant has two great loves: winning basketball games and Kobe Bryant. In 2014, he will have to choose. If he values the Ws, he'll return to the Lakers at a steep discount so they can reload and hang another banner or two at Staples before he rides off into the sunset. But if he prizes his immediate "top player" status and demands a commensurate paycheck, he'll handicap the franchise's title hopes.
---
5. Who's the fifth-most intriguing free agent of the 2014 offseason?
Cianfrone: Larry Sanders. Sanders is quickly developing into an elite defensive center and probably the player on the Bucks' roster they should make indispensable. But will a team that has no way to become a contender outside of tanking, which the front office refuses to do, pay Sanders what he can get from a contender in need of defense?
Foster: Andrew Bogut. Maybe in the year 2014 we'll have finally cloned Phoenix's training staff. In this hypothetical future, Bogut would get to shine as one of the best defending, rebounding and passing big men in basketball. He's simply too good to dismiss, despite the health concerns.
Mason: Andrew Bogut. This is speculative, I know. But if the Warriors' young perimeter core of Stephen Curry, Klay Thompson and Harrison Barnes continues to develop, they could set up permanent residence in the West's top 5. Retaining their 7-foot stopper could be the difference between a contender and just another fun team out west.
McGuire: Larry Sanders. Wade, [Dirk] Nowitzki, Melo, [Paul] Pierce -- many players are currently superior to Sanders, but none features the wonderful combo of the young man's defensive dominance and potential for improvement. Sanders could be a star-caliber centerpiece in four years. There will be a bidding war, and he'll get paid accordingly.
Sunnergren: Dwyane Wade. If LeBron stays, Wade obviously returns. And if LeBron leaves ... well, Wade probably still stays. But imagine if James walks, as he's wont to do, and Bosh chases a bigger paycheck out of South Beach: Would Wade hit the recruiting trail and try to rebuild the only organization he's ever known, or would he jump ship to a ready-made contender to snap up another title or two and (further) burnish his legacy?


ESPN.com and the TrueHoop Network
Beckley Mason is an NBA contributor for ESPN.com. Matt Cianfrone, D.J. Foster, Aaron McGuirre and Tom Sunnergren contribute to the TrueHoop Network.
• Follow the NBA on ESPN on Twitter | On Facebook | On Google+