The 2012-13 NBA season is nearing its end. Before it gives way to an exciting postseason, our panel makes its selections for First Team All-NBA at each position.
1. Who should be First Team All-NBA at guard spot No. 1?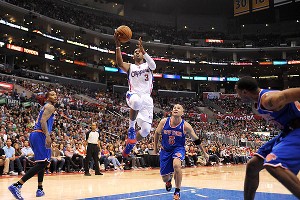 Danny Chau, Hardwood Paroxysm: Chris Paul. In two seasons, he has turned a laughingstock into a fringe contender. The Clippers' prospects looked a lot brighter earlier in the season, but they remain a threat precisely because of Paul and what he is capable of. In a league teeming with young and fresh talent at the point guard position, Paul remains the standard-bearer.
Israel Gutierrez, ESPN.com: Kobe Bryant. If you look closely, you can see the staples and duct tape holding the 17-year veteran together. And yet he's third in the league in scoring, averaging a career-high 6.1 assists and his best shooting percentage (46.2) since the 2008-09 season. And he's threatening to retire after next season? No chance.
James Herbert, HoopSpeak: Chris Paul. Other guards run faster and jump higher, but he's the best floor general on the planet, in complete command of one of the league's best offenses. The Clippers have had the best season in franchise history, and they don't do anything complicated. They get good shots because Paul creates them.
Darius Soriano, Forum Blue and Gold: Chris Paul. He's the game's best point guard and should finish in the top three of the MVP voting. He's also a crunch-time killer and a player who controls the terms by which the game is played as well as any other player in the league. Add in his team's accomplishments, and he's a no-brainer selection.
Jared Wade, 8 Points, 9 Seconds: Chris Paul. He is the superstar whose brilliance puts the 'b' in subtle as he decimates opponents in ways both obvious and unseen. There is no better floor general, and his mere presence handling the ball defines nearly every game in which he plays.
---
2. Who should be First Team All-NBA at guard spot No. 2?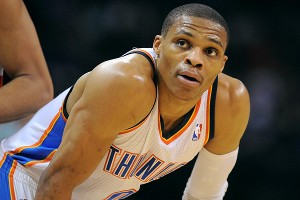 Chau: Russell Westbrook. He is, in a word, undeniable. Say what you will about his recklessness or his lack of polish as a facilitator, but his inhuman intensity is a modern marvel. More often than not, it's an overwhelming positive. His game is unnatural and, at times, incomprehensible. And it's why he's one of the league's very best.
Gutierrez: Russell Westbrook. You could easily make a case for Chris Paul, James Harden, Steph Curry or Dwyane Wade, but Westbrook is simply the more dynamic all-around player, averaging more assists and rebounds than his primary competition. The more difficult choice is picking two of those remaining players for the second team.
Herbert: Russell Westbrook. He's impossible to stop, an amazing athlete with a physical advantage over the opposing point guard every night and possesses an unblockable pull-up jumper. Some don't like his style, but no one can argue with the results.
Soriano: Kobe Bryant. Worthy candidates include Tony Parker, Russell Westbrook, Dwyane Wade and James Harden. But Kobe earns the nod not just for his fantastic production but also for his adaptation to different roles and excellence in all of them. Whether an off-ball worker or on-ball wizard, Kobe has carried a top-10 Lakers offense decimated by injuries, all while adjusting to new schemes.
Wade: Kobe Bryant. Picking this second guard slot is a Rorschach test: There are no wrong answers, and whoever you select -- Parker, Wade, Westbrook, Harden, Bryant -- says more about you than them. I dig the '90s, and Kobe spent 2012-13 impersonating Clint Eastwood in "Unforgiven," proving gunslingers can get colder with age.
---
3. Who should be First Team All-NBA at forward spot No. 1?
Chau: LeBron James. In a world with no restrictions, picking my ideal All-NBA team would be easy. It'd be LeBron's name repeated five times. Yet even that doesn't adequately reflect how good LeBron has been all season. James' greatness continues to evolve, almost inexplicably so. Soon, we might have to devote all of the first and second team to James alone.
Gutierrez: LeBron James. Anyone surprised? He's probably going to win his fourth MVP in five years, so putting him on the second team doesn't make a whole lot of sense. Still marvel at his efficiency. Being 10th in the league in field goal percentage at 56.3 is fairly absurd.
Herbert: LeBron James. His season has been so good we're all almost out of adjectives. He has been astonishing, phenomenal, mind-blowing, whatever. He's the MVP by a gargantuan margin, which is insane because the second-best player in the league averaged 28 points and joined the 50/40/90 Club.
Soriano: LeBron James. There aren't enough superlatives to describe the caliber of basketball James has played, so let's make it simple: He's the game's best player, a two-way terror and astounds with his ability to control the big and small moments of the game in every way imaginable. He's the standard that every other player is trying to reach.
Wade: LeBron James. The most overpowering since Shaq, the most era-defining since Jordan. LeBron has been both of those things for a while now, but his talent reached a new apex this season. He no longer has a peer.
---
4. Who should be First Team All-NBA at forward spot No. 2?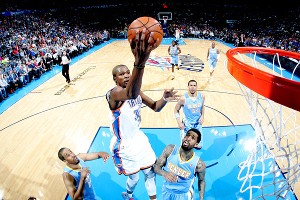 Chau: Kevin Durant. LeBron had a transformation this season, but he wasn't the only one. Durant is still effortlessly efficient, but he's meaner now. He also has become a fantastic ball handler. In essence, he has infused into himself the best qualities of Westbrook and James Harden. He's a chimera, and he isn't done adopting new abilities.
Gutierrez: Kevin Durant. It's not difficult to make a case for Durant. So I'll use this space to say that Carmelo Anthony not making the first team would be an outrage. Enough to call for an Erik Spoelstra-like position-less All-NBA team, in this, the golden age of "small" forwards.
Herbert: Kevin Durant. He's the 50/40/90 guy, and he likely will finish second in the league in scoring. Add the fact that he has grown as a playmaker, defender and leader and you have a deserving MVP in a LeBron-less parallel universe.
Wade: Kevin Durant. If not for LeBron, we would be using all the buckets of digital ink talking about KD's all-time great season instead. The NBA's best scorer is becoming less stoppable by the day, and his 50/40/90 shooting percentages at 28.3 points per game astound.
Soriano: Kevin Durant. No longer just the game's best scorer with his amazing jump shot, Durant has expanded his game to include fantastic off-the-dribble work, effective defense and very good rebounding. There might not be a more feared shooter with the clock winding down, and, when combined with his ability to create shots for others, his game is elite.
---
5. Who should be First Team All-NBA at center?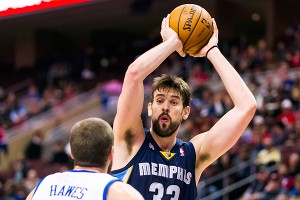 Chau: Marc Gasol. Perhaps it would be a different story if Dwight Howard were completely healthy, but at the same time, it feels a bit unfair to put an asterisk next to Gasol's name. He has legitimately been an awesome force on both ends of the floor, and should walk away with Defensive Player of the Year honors.
Gutierrez: Tim Duncan. The best case against Duncan is that he has played in only 66 games this season as of Wednesday night, but that's more than enough to earn him this spot. He's having his best season in five years, and that includes a 2.7 blocks average he hasn't put up since 2003-04. Marc Gasol and Brook Lopez have pretty good cases of their own.
Herbert: Marc Gasol. He's not the most ferocious Grizzly, but he's by far the most important and intelligent on the floor. With Dwight Howard injured and inconsistent, he's had the best season of any center. He sets up everything that Memphis tries to do on offense and is the biggest reason why it has the league's second-best defense.
Soriano: Marc Gasol. Tim Duncan and Dwight Howard would be fine choices as well, but Gasol has earned the honor through stellar play. Beyond the production, he has become the best big man at doing all the little things to help his team win. From the passing to the defense to everything in between, his contributions are too hard to ignore.
Wade: Tim Duncan. Sincere apologies to Marc Gasol, but the tie goes to old man river. (See answer No. 2.) Even with injuries to most of the Spurs' core contributors, Duncan has led his team to the best record in the West. Just a remarkable season from a remarkable player for a remarkable franchise.


ESPN.com and the TrueHoop Network
Israel Gutierrez covers the NBA for ESPN.com. Danny Chau, James Herbert, Darius Soriano and Jared Wade contribute to the TrueHoop Network.
• Follow the NBA on ESPN on Twitter | On Facebook | On Google+