MVP ballots: 2013 top five picks
Originally Published:
April 17, 2013
ESPN.com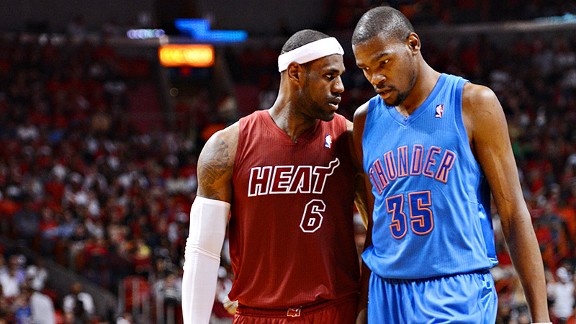 Ron Elkman/Getty ImagesWe won't have to wait 'til the Finals this time. All signs point to a two-horse race for the 2012-13 MVP.
There isn't much debate at the top of the MVP ballot this season. But the bottom half? That's another story. We asked our team to hand in its picks for the top five players in the league in 2012-13.
1. Who's first on your MVP ballot?
Henry Abbott, ESPN.com: LeBron James. The advanced numbers, the coaches, the win totals, the eyes -- they all agree on this one.
Mark Haubner, The Painted Area: LeBron James. This is the peak. At age 28, the arcs of physical and mental excellence intersected to produce one of the best regular seasons in NBA history. James has a near-record 31.7 PER, with the ability to guard every position on the floor, for a 65-win team. Should be the NBA's first unanimous MVP.
Mike Kurylo, KnickerBlogger: LeBron James. Of all the reasons I could give, James' 2013 season is the only one in the 3-point era that combines a PER greater than 30 and a true shooting percentage better than 61.5 (drop it to 61.0 and Michael Jordan enters the picture). LeBron might not have Jordan's scoring volume, but he's surpassed him in efficiency. Perhaps the only thing left separating the two in terms of legacy are the rings.
Aaron McGuirre, Gothic Ginobili: LeBron James. I was one of the few holdouts in the Durant-for-MVP campaign, but Miami's 27-win streak ended that notion. LeBron is the best player in the league on the best regular-season team in the league. He has handily dominated all but a handful of contests this season. Some years, the MVP race is close. This isn't one of them.
Tom Sunnergren, Hoop76: LeBron James. The logic of the pick is overwhelming, bordering on self-evident. LeBron is the best basketball player on the planet (the gap between he and Kevin Durant is more like a yawning chasm), leads one of the greatest teams ever assembled and absolutely destroys opponents on both ends of the floor with a mixture of physicality, precision and off-the-charts hoops IQ.
---
2. Who's second on your MVP ballot?
ESPN.com's NBA Awards Picks
Award season is upon us! See whom we picked to take home some trophies.
• ESPN Forecast: NBA award predictions
• Weekend Dime: Stein's award ballots
• Rookie Watch: Thorpe's All-Rookies
• Per Diem: 2013 HabersTrophies


• Per Diem: All-D

| Davis for ROY


• 5-on-5: All-NBA | Awards | Rookies
• MVP top five

| LeBron for DPOY

Abbott:
Kevin Durant. As David Thorpe points out, even the harmonious
Thunder had their selfish moments
this season. But in the big picture, Durant is one of the NBA's best teammates who sets the tone for a hardworking Finals favorite of a young roster. And he's one of the hardest workers and best scorers in NBA history.
Haubner: Kevin Durant. KD's exceptional season was MVP-caliber as well. The extraordinary 50-40-90 shooting at high volumes is the best shooting season in basketball history. And the dramatic improvement in passing -- from 2.7 assists per game in 2010-11 to 3.5 in 2011-12 to 4.6 this season -- is probably the most impressive development in Durant's continued ascendance, especially after OKC lost James Harden's playmaking.
Kurylo: Carmelo Anthony. Hometown pick? Maybe. But Durant has Westbrook, Paul has Griffin, and Duncan has Parkenobili. Carmelo has had to rely on Tyson Chandler (clearly not himself this season), Amar'e Stoudemire (will never be himself again) and J.R. Smith (no one wants him to be himself). He has made the New York media completely forget about this guy, which alone could win the MVP for Melo.
McGuirre: Kevin Durant. The superlatives one uses to describe LeBron are nearly as applicable to Durant. He has taken his efficiency to heights heretofore unseen by elite scorers in the NBA as he prepares to put a feather in the cap of the finest 50-40-90 scoring season ever. He stacks up well against many past MVPs, too. The 1998 Jazz of the MVP race, I say.
Sunnergren: Kevin Durant is the game's greatest scorer, will become the eighth member of the NBA's vaunted 50-40-90 club by season's end and might be the most improved player in basketball in 2012-13 -- an improvement that, mind you, came from a baseline of probably the sport's No. 2 position. Yet he'll still be no better than second on every honest MVP ballot.
---
3. Who's third on your MVP ballot?
Abbott: Chris Paul. In addition to being a de facto coach and general manager, he's also very effective with the ball. Remember, he has a habit of really turning things up for the playoffs. In other words, the show is about to begin.
Haubner: Chris Paul. Still the best point guard in basketball and the leader of one of the league's top six teams. CP3 is a clear No. 3 in PER (at 26.3) and on my mythical ballot. Beyond his playmaking, Paul was once again one of the NBA's best clutch scorers, and he leads the league in steals for the fifth time in six years.
Kurylo: Kevin Durant. Even though Durant has the numerical superiority, don't be surprised if Durant finishes behind Anthony. Carmelo and the Knicks have been hot down the stretch, and only a few days ago the Knicks beat the Thunder on national television. People tend to remember recent events more strongly, which could hurt Durant.
McGuirre: Chris Paul. While Paul hasn't played nearly the minutes LeBron and Durant have, he's been arguably just as important. Even at 90 percent speed, Paul is the best guard in the league. L.A.'s offense obliterates opponents when he's on the court -- by 11.6 points per 100 possessions -- and his command of the floor has lent value to Vinny Del Negro's laissez-faire coaching style. Brilliant.
Sunnergren: Chris Paul. The game's finest point man is again leading the sport in assist-to-turnover ratio, controlling the action in crunch time like a puppeteer and continuing the hard, noble work of remaking the culture of what was the sorriest franchise in sports. It's going well: The Clips won the most games in team history this season.
---
4. Who's fourth on your MVP ballot?
FOLLOW THE NBA ON ESPN

Stay up-to-date with the latest NBA news, stories and analysis. Follow the NBA on ESPN on Twitter, Facebook and Google+:

Twitter » Facebook » Google+ »
Abbott: Carmelo Anthony. He's still no MVP on defense, but the team offense is so much more fun to watch now that the ball moves like that. He's there with Durant among the most gifted scorers in the world.
Haubner: Russell Westbrook. It gets difficult from here, especially because so many guards -- including James Harden, Kobe Bryant, Dwyane Wade and Tony Parker -- had strong seasons that are difficult to separate. Westbrook had a better combination of defense and durability (he's still never missed a game) than the other contenders to earn my nod. Still underrated, if anything, as a driving force in Oklahoma City's excellence.
Kurylo: Tim Duncan. Somewhere, Duncan has a magical amulet that imbues him with the power to play basketball at an extremely high level regardless of age. Unfortunately, said amulet comes with a curse that makes him an undesirable candidate to award voters, no matter how many games his team wins.
McGuirre: Kobe Bryant has played atrocious defense this season, and the Lakers aren't good. But you can't take this season away from him. Bryant played almost 40 minutes per game. He's 34 years old. Bryant played virtually flawless offense within his team's flow. He was everything his critics wanted him to be, and the playoffs will be sorely empty without him.
Sunnergren: James Harden. Harden is the hirsute actualization of the precepts of NBA analytics. He attacks the rim like an assassin (first in free throw attempts), fires triples without compunction (fifth in 3-point attempts) and has as much interest in the midrange game as he does in playing defense (yes, the second thing is a problem). The Rockets are going to the playoffs a year ahead of schedule, and Harden is the reason why.
---
5. Who's fifth on your MVP ballot?
Abbott: Marc Gasol. The Grizzlies have won 55 games, and Gasol is not just a key to the offense but a major candidate for defensive player of the year on one of the league's best teams at that end. He dramatically improves the Grizzlies, as he would any NBA team.
Haubner: Carmelo Anthony. Efficiency at the power forward position drove Melo's career-best season, in which he has led the Knicks to a surprising 53-28 record. Anthony is shooting a career-best .379 behind the arc despite hoisting 6.2 3s per game, by far and away the most of his career. He also has a career-low turnover rate, even with a league- and career-high in usage.
Kurylo: Chris Paul. I wanted to throw a curveball with my last pick and take someone like Brook Lopez or Marc Gasol. But the Clippers guard had a fantastic season (third in the league in PER) and deserves to be in the conversation for the league's best player.
McGuirre: Tim Duncan's minutes are lower than many candidates; Melo, Harden, Curry and Westbrook all merit top-five MVP votes, and all will get them. But Duncan anchored the post defense of a top-three defensive team while experiencing a personal renaissance in efficiency. San Antonio's once-vaunted depth has been silently decaying all season, and Duncan's play kept the Spurs afloat through rough waters.
Sunnergren: Marc Gasol. After spending most of his career as the second-best NBA player to emerge from his childhood household, the Spaniard has grown into the most complete center in the game and maybe the most disruptive defensive player at any position. Take a glance at the West standings: If the Grizzlies replace Gasol with a league-average center, do they even make the playoffs?


ESPN.com and the TrueHoop Network
Henry Abbott is a senior NBA writer for ESPN.com. Mark Haubner, Mike Kurylo, Aaron McGuirre and Tom Sunnergren contribute to the TrueHoop Network.
• Follow the NBA on ESPN on Twitter | On Facebook | On Google+
5-on-5: Five Questions on Five Hot NBA Topics
EDITORS' PICKS
Paul Millsap and the Hawks earned an 18th straight win.
The Ten »

Kevin Love knows what a terrible homecoming is like.
McMenamin »

Adam Silver gets high marks for his first year as commish.
Marc Stein »