Forecast: East playoffs, first round
Originally Published:
April 19, 2013
ESPN.com
OUR NEW PREDICTION ENGINE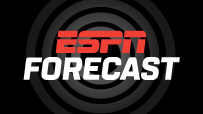 These Eastern Conference playoff predictions powered by ESPN Forecast.
We asked our ESPN Forecast panel who would prevail in Round 1 of the Eastern Conference playoffs, and the 105 voters came back with three of the names you'd expect: Miami, New York and Indiana, expected to eliminate Milwaukee, Boston and Atlanta.
But the panel also sees an upset brewing: In a very close vote, the panel picks Chicago over Brooklyn in 7. Our panel thinks the Bulls can bear down and beat the Nets in Game 7 on the road -- and that Chicago will have a few more days to keep Derrick Rose's status on the mind of NBA fans (and the minds of the Heat, Chicago's likeliest second-round opponent).
Check out the ESPN Forecast results below (and click here for our West forecast):


(1) Heat vs. (8) Bucks

ESPN FORECAST
Heat in 4


Voting breakdown -- Heat win series: 105 votes | Bucks win series: 0 votes


(2) Knicks vs. (7) Celtics

ESPN FORECAST
Knicks in 6


Voting breakdown -- Knicks win series: 91 votes | Celtics win series: 14 votes


(3) Pacers vs. (6) Hawks

ESPN FORECAST
Pacers in 6


Voting breakdown -- Pacers win series: 101 votes | Hawks win series: 4 votes


(4) Nets vs. (5) Bulls

ESPN FORECAST
Bulls in 7


Voting breakdown -- Nets win series: 46 votes | Bulls win series: 59 votes


EDITORS' PICKS
There's no denying Kobe's greatness. But his presence is crippling the Lakers.
Abbott »

Where does Derrick Rose rank now?
#NBArank »

Can Steve Kerr take the Warriors to new heights?
Forecast