ESPN.com editor Maurice Brooks (@MoBrooksESPN) continues his NBA MVP rankings countdown each week at Twitter and ESPN.com. To get your MVP comments on ESPN.com, respond to our NBA MVP Top 10 rankings using the hashtag #NBAMVP.
1. LEBRON JAMES, HEAT @KingJames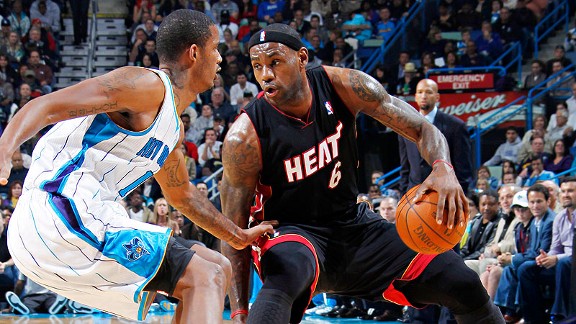 2011-12 STATS
@NBAonESPN I don't think I have ever seen anyone play better than @KingJames has in the first 20 games of the season #NBAMVPWed Feb 01 23:39:54 via webMatt Poulton
matt_poulton

#NBAMVP He may be the prince in the clutch, but he's a KING when it comes to the MVP. No one comes close to LeBron until crunch time.Wed Feb 01 23:42:17 via webJared Nothstein
JNothstein

@NBAonESPN LeBron James is playing exceptional basketball. Look at those stats. Those are insane! And yet he's still improving #NBAMVPWed Feb 01 23:44:53 via Twitter for iPhoneGerard Ambe
agentgerard

"@Suga_Shane: LeBron's putting up the greatest individual season we've seen since Jordan in 88-89. #NBAMVP http://t.co/l3qAKI24"Wed Feb 01 23:48:29 via Twitter for MacAnts Amor Agarpao
yourboyants
Photo credit: Layne Murdoch/Getty Images
2. KEVIN DURANT, THUNDER @KDTrey5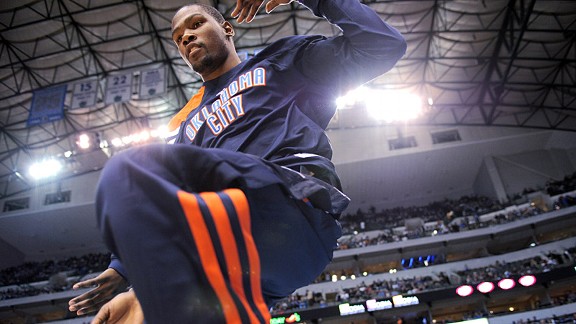 2011-12 STATS
#NBAMVP I'd still put Kobe over Durant, but Durant's team has the better record and he has a higher PER.Wed Feb 01 23:41:22 via webJared Nothstein
JNothstein
Photo credit: Albert Pena/Getty Images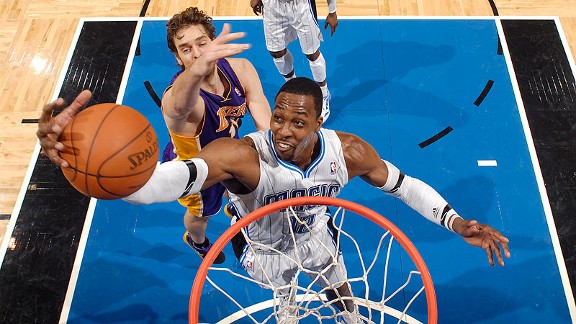 2011-12 STATS
@DwightHoward is carrying his team right now. Even when his team does horrendous he still produces boards and points #NBAMVP 3: great spot.Wed Feb 01 23:20:19 via Mobile WebEmilio Gonzalez
Emiliobased

@NBAonESPN Somehow at number 3 even with one foot out the door. Dwight's impressive. #NBAMVPWed Feb 01 23:23:34 via webAdam Mowery
ahmowery

Dwight Howard's MVP campaign will be decided after he's traded. We'll finally be able to see how valuable he is #NBAMVPWed Feb 01 23:23:15 via webRodrigo Vázquez
rod_vazquez
Photo credit: Fernando Medina/Getty Images
4. KOBE BRYANT, LAKERS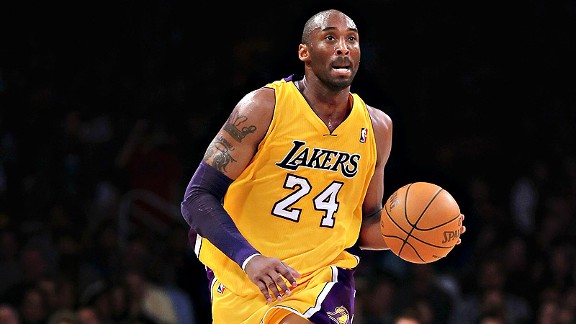 2011-12 STATS
@NBAonESPN man on a mission Kobe Bryant is placed perfectly #NBAMVPWed Feb 01 22:23:06 via webGavin Taylor
gavinsamuel

@NBAonESPN Kobe at 4!? I don't even like Kobe, but I gotta call disrespect on that one. #NBAMVPWed Feb 01 22:26:04 via Twitter for iPhoneTony Parsons
Tony_Parsons7

Knowing Kobe, He is going to drop 40 the next game and then call out the ESPN #NBAMVP rankings like he did with the NBA player rankings.Wed Feb 01 23:08:57 via webSanju Zacharias
DrivenByTheHate
Photo credit: Jeff Gross/Getty Images
5. KEVIN LOVE, TIMBERWOLVES @kevinlove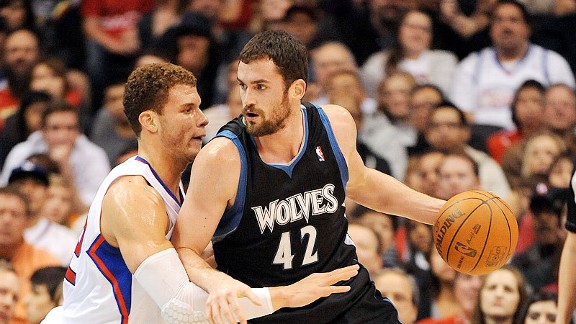 2011-12 STATS
Photo credit: Andrew Bernstein/Getty Images
6. DERRICK ROSE, BULLS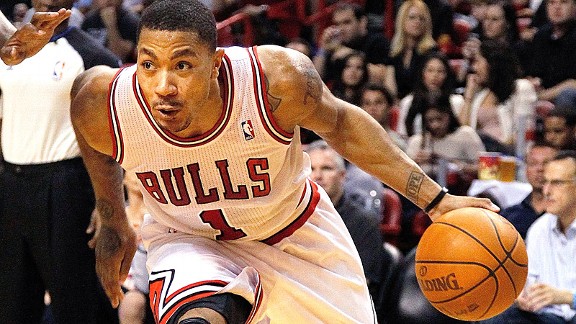 2011-12 STATS
Derrick Rose at #6? You can't name 4 players more deserving. RT @NBAonESPN: #NBAMVP 6: Derrick Rose. http://t.co/JKkiImruWed Feb 01 21:28:39 via SocialScopeWill Jackson/Chilly
jacksonWILL

Rose deserves to be 6th on the #NBAMVP rankings. His team is performing well but he isn't carrying as much of the load as last year.Wed Feb 01 21:37:14 via webZachary J. Loesl
mmm9731
Photo credit: Mike Ehrmann/Getty Images
7. CHRIS PAUL, CLIPPERS @CP3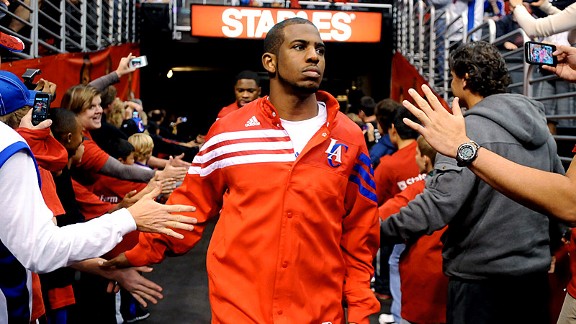 2011-12 STATS
Good position for CP3. #NBAMVPWed Feb 01 20:53:36 via webJeffrey Vilella
LeHova6

Wow, that's too low. #NBAMVP 7: Chris Paul. http://t.co/9E0CHDaIWed Feb 01 20:51:55 via UberSocial for BlackBerryA Realistic Dreamer
MomentofGenius
Photo credit: Jayne Kamin/Getty Images
8. RUSSELL WESTBROOK, THUNDER @russwest44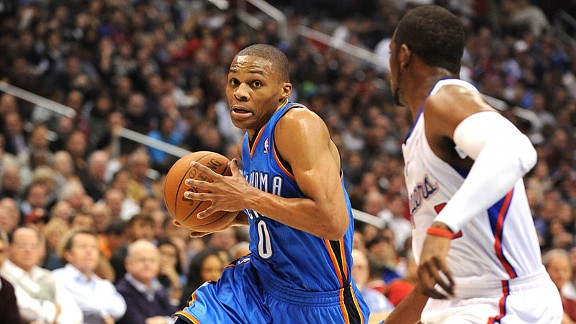 2011-12 STATS
#NBAMVP Westbrook does deserve some recognition despite the fact that, apparently, he is hurting his team by being too good.Wed Feb 01 20:32:10 via webDaniel Calderon
xxDcMxx
Photo credit: Noah Graham/Getty Images
9. PAUL MILLSAP, JAZZ
2011-12 STATS
"@NBAonESPN: #NBAMVP 9 Paul Millsap. http://t.co/T5hwzvKp"about time!Wed Feb 01 19:36:21 via Twitter for iPhoneZack Partridge
Ridge79

if Paul Millsap is a MVP candidate it's probably too early to start ranking RT @NBAonESPN #NBAMVP 9 Paul Millsap. http://t.co/SdCRxtLsWed Feb 01 19:46:46 via webDrew Jacobsen
DrewJacobsen

Paul Millsap is a beast!! He has been playing like a beast!! Well deserved. #9 is perfect. #NBAMVP #JazzNationWed Feb 01 19:45:47 via Twitter for iPhoneWes
WesGolfer23

"@NBAonESPN: #NBAMVP 9 Paul Millsap. http://t.co/5VapZhFq" obviously won't win MVP, but completely deserving of all-star selection #JazzWed Feb 01 19:44:35 via Twitter for iPhoneScott Stevens
slstevens3

Paul Millsap may not be #NBAMVP but does belong in this top ten. #undertheradarWed Feb 01 19:43:56 via Twitter for AndroidJess Patterson
Jesswpatterson
Photo credit: Glenn James/Getty Images
10. KYLE LOWRY, ROCKETS @Klow7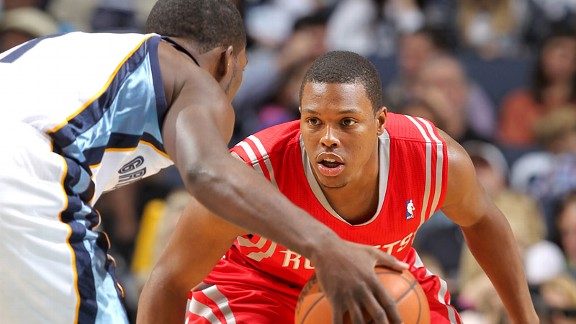 2011-12 STATS
"Kyle Lowry in contention for #NBAMVP. Yesssir. #RedNation!"Wed Feb 01 18:59:09 via Twitter for AndroidA Facts
hakunamaThato

Not mad at that at all. RT @NBAonESPN: #NBAMVP 10. Kyle Lowry. http://t.co/nzOJLQl7Wed Feb 01 18:53:06 via Twitter for AndroidMike
Six8thaGreat
Photo credit: Joe Murphy/Getty Images
---
What is #NBAMVP?
#NBAMVP is the Twitter hashtag to use if you want to get involved in the discussion or just follow along.
You can also follow along here: @NBAonESPN