Commentary
Throwback Fisher still doing the hustle
While Bynum's stellar return the headliner, Lakers point guard delivers floor show
Originally Published:
December 31, 2011
By
J.A. Adande
| ESPN.com
LOS ANGELES -- It's easy to get caught up in the return of the big man who finished the game with 29 points and 13 rebounds.
It's easy to overlook the little guy who didn't even finish.
So while the headlines will celebrate Andrew Bynum's first game back from a four-game suspension and his afternoon spent slamming balls through the hoop and grabbing rebounds above the rim, the storyline should reflect the moment Derek Fisher hit the floor.
That's been the essence of Fisher's career. Overshadowed and underappreciated. His own fan base constantly wails about him, and spends every season fretting about their weakness at point guard. In a town that's accustomed to getting everything, people need to realize that a disadvantage doesn't always equate to a fatal flaw.
[+] Enlarge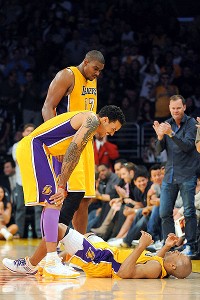 Andrew D. Bernstein/Getty ImagesDerek Fisher hit the deck again, which appears much appreciated by Matt Barnes and Andrew Bynum in the win over Denver.
You'd rarely give the edge to Fisher in most point guard matchups. But that hasn't prevented the Lakers from beating the likes of
Chris Paul
,
Steve Nash
,
Russell Westbrook
,
Rajon Rondo
and
Deron Williams
(three times) in the playoffs over the past four years.
"I don't try to be them, of course they're not trying to be me," Fisher said. "[TNT analyst] Kenny Smith was saying the other night, the mark of a great point guard does not necessarily statistically appear. It's his ability to lead his team, to control the tempo, to not turn the basketball over in key situations, to make plays that help your team win. It's the right pass at the right time, to see who's hot, how to get them the ball in the spots where he can score. I'm not trying to compete with those guys that do 20 and 10 every night. That's not what I get paid to do.
"That's his job," he said, gesturing toward Kobe Bryant's locker. "And Pau [Gasol] and Andrew. I just try to fit in where I can."
He fits in best on the floor. That's where he'd wind up on most of his most significant plays early in his career, the result of diving for a loose ball or taking a charge. It's where he was with 2 ½ minutes left in a close game between the Denver Nuggets and Los Angeles Lakers Saturday.
Fisher capped a bad Lakers possession with a rushed 3-point shot. It bounced off the rim and was headed to the sideline, with Nugget guards Ty Lawson and Andre Miller positioned to grab it. Lawson looked at Miller and thought he'd get it. Miller looked at Lawson and thought he'd get it. It turned out the answer was none of the above. Fisher split them -- a golden blur in the Laker home uniform -- hit the deck, grabbed the ball and called timeout.
With that bonus possession, the Lakers wound up with a pair of Bryant free throws that tied the score in a game the Lakers eventually won, 92-89.
Fisher fouled out with 1:13 remaining. His stat line showed a modest six points and five assists. But his hustle play drew an appreciative standing ovation from the Staples Center crowd, an energy the fans sustained to help boost the Lakers to the finish line.
"That's Derek," Bryant said. "That's how you win championships, by making plays like that."
That was Fisher's forte long before he got the chance to hit more glamorous game-winning and game-tying playoff shots.
"Just the desire to get to the ball, man," Fisher said. "The whole play was weird, because we had a bad possession, the ball bounced away and I had to shoot the ball just to beat the shot clock. So I probably had a little bit of an advantage. The ball almost looked like it was going to go in, and I saw that it was going to hit long. So I just took off for it."
It reminded Fisher of a similar play in the 1999 playoffs, when the Lakers faced the Houston Rockets, Scottie Pippen lost the ball in the final 10 seconds against Bryant, Fisher recovered it and the Lakers escaped with a one-point victory.
That was when the Lakers still called the Forum home. It's a reminder of how long Fisher has played in this league. Somehow, he still had enough in his legs to beat two opponents to a loose ball.
"That's what I've always been about," Fisher said. "That's how I grew up playing the game, that's the way my dad and coaches taught me to play the game, just to play hard, and leave everything on the floor.
"I've never been an All-Star, a superstar, a big-name player. But those are the type of plays that I enjoy in my career just as much as hitting big shots. They all add up to success and helping your team win."
No one has helped his team to more playoff wins over the past decade then Fisher. No one has made such a lengthy career of plays well below the rim, far from the basket.


ESPN senior writer J.A. Adande
• On Twitter @jadande | On ESPN.com | On TrueHoop | On e-mail
• Follow ESPN's NBA coverage on Twitter | On Facebook | On Google+
ESPN.com senior writer since 2007
Around The Horn panelist
Formerly at Los Angeles Times