Dr. James Naismith - The Inventor of Basketball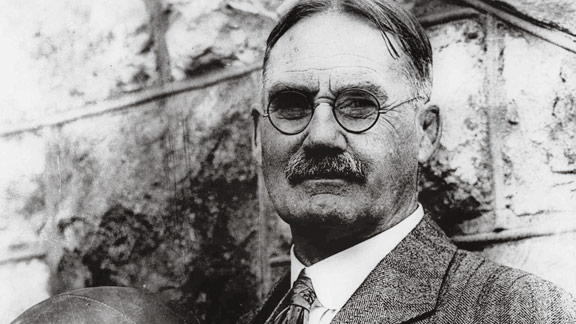 Dr. James Naismith (1861-1939) was a Canadian-born educator and coach who invented the game of basketball in 1891 while teaching physical education at the YMCA Training School in Springfield, Mass. Naismith did not finish high school until the age of 21, but went on to earn college degrees in three different fields. He served as the first basketball coach at the University of Kansas, and was an inaugural inductee into the Basketball Hall of Fame, which is named in his honor
James Naismith was born on November 6, 1861 in Almonte, Ontario in Canada. His parents, John and Margaret Naismith, both passed away during a typhoid epidemic when he was nine years old. After living with a grandmother and uncle, James left school to pursue work before returning home to finish high school (in 1883) at the age of 21.
Naismith then earned a degree in physical education from McGill University in Montreal, where he played football, rugby and lacrosse. After graduation, he enrolled at the theological school affiliated with McGill, the Presbyterian College, while accepting an appointment as instructor of physical education in the gymnasium at McGill.
After receiving a diploma from Presbyterian in 1890, Naismith left for America to begin a program at the YMCA Training School at Springfield College in Springfield, Mass.
Having spent many days at the Young Mens Christian Association (YMCA) in Montreal while at Mc Gill University and Presbyterian College, James Naismith was urged by directors there to pursue studies at the YMCA International Training School in Springfield, Mass.
In 1890, he left Canada to begin a program at the YMCA school (part of Springfield College). After taking and helping to teach classes during his first year in Springfield, Naismith agreed to stay on to assist with programs at the YMCA Training School.
By late 1891, he was working under director Luther Gulick, who asked Naismith to create an indoor activity that didn't involve much physical contact and could be played during the winter by the school's students. Using a soccer ball and two peach baskets fastened to the railings of the gallery surrounding a gym -- and incorporating strategies and objectives involved in a childhood game he played called "Duck on a Rock" -- Naismith devised thirteen rules for a new game he termed "Basket Ball."
Introduced the week before Christmas in 1891, the game soon caught on at the Training School. By the following year, the sport was being introduced successfully at other YMCA sites, while an article in the association's "Triangle" magazine (titled "A New Game") helped spread the news of its growing popularity.
By 1894, the same year he married Maude Sherman of Sringfield, Naismith joined with Gulick to publish the refined set of rules for the new game through the "American Sports Publishing Company" as basketball was becoming accepted as a legitimate sport.
Peach baskets as goals had been replaced by iron rims with hammock-styled netting by that time, as specific balls for the sport were being developed and the YMCA had begun introducing basketball internationally.
In the mid-1890s, Naismith (along with his family) moved to Colorado to become the physical education director at the YMCA in Denver. While there, he also took classes at the University of Colorado Medical School, graduating in 1898.
Later that year, Naismith accepted an offer from the University of Kansas to take on positions of physical education/gymnasium director and campus chaplain and also establish a basketball team at the school in Lawrence, Kan. As the first basketball coach at Kansas, he compiled a record of 55 wins and 60 losses (and is the only Kansas coach to have a losing record). One of his players was Forrest "Phog" Allen, who went on to win three national championships at the school and later became known as the "father of basketball coaches" -- as Adolph Rupp, Ralph Miller and Dean Smith all played under his direction at Kansas.
After nine seasons as basketball coach, Naismith moved on to other faculty duties at Kansas while also serving as athletic director and pursuing additional outside interests. He became a professor emeritus at the school and retired in 1937.
The home court for the basketball team at Kansas (at Allen Fieldhouse) was later named Naismith Court, in honor of the inventor of the game and the school's first basketball coach.
During his years as a faculty member at the University of Kansas, James Naismith also served roles outside the school, including time with the military when his regiment was stationed on the Mexican frontier in 1916. (He would later take American citizenship to meet government requirements after his service to the country.)
In 1918, Naismith published a book, "Essence Of A Healthy Life." The following year, he was nominated as a YMCA Secretary and traveled to France to work for more than a year in that capacity.
When basketball was accepted as an Olympic sport for the 1936 Berlin Games, Naismith travelled to Germany to toss up the first ball at the opening game.
After wide Maude died in 1937, Naismith married Florence Kincaid two years later. In November of 1939, he suffered a brain hemorrhage and died due to heart trouble days later at his home in Lawrence, Kan.
Recognized as the inventor of one of the most popular sports that is now played throughout the world, James Naismith has been honored by various organizations in both Canada and the United States.
In the year prior to his death, he received the Legum Doctorate degree from McGill University and an Honorary Doctor of Divinity at the Presbyterian College (both schools in Montreal).
He was posthumously voted Life Member of the Physical Education Instructors of America in 1941. That year, his masterwork, "Basketball -- Its Origins and Development" was published by Associated Press Basketball.
In 1959, Naismith was among the inaugural inductees into the Basketball Hall of Fame in Springfield, Mass., which is named in his honor. He is also a member of the Canadian Basketball Hall of Fame, the Canadian Olympic Hall of Fame, the Canadian Sports Hall of Fame, the Ontario Sports Legends Hall of Fame, the Ottawa Sports Hall of Fame, the McGill University Sports Hall of Fame and the Kansas State Sports Hall of Fame.
Streets and buildings have been named in tribute to Naismith in Almonte, Ottawa (his hometown), Springfield, Mass. and Lawrence, Kansas (on the campus of the University of Kansas).
The NCAA presents the Naismith Award (selected by the Atlanta Tipoff Club) to the "player of the year" in men's and women's college basketball each season.
In 2010, the original, typewritten document containing Naismith's 13 initial rules for basketball sold at auction for $4.3 million.
QUICK FACTS
Born: Nov. 6, 1861
Birthplace: Almonte, Ontario, Canada
College: McGill University
Career as coach: 1898-1907, University of Kansas
Coaching record: 55-60
Basketball Hall of Fame: Inducted in 1959 (Inaugural Class)
Died: Nov. 28, 1939
Place of Death: Lawrence, Kansas
COLLEGE COACHING RECORD
Season
Team
W-L
Win Pct
1898-99
Kansas
7-4
.636
1899-00
Kansas
3-4
.429
1900-01
Kansas
4-8
.333
1901-02
Kansas
5-7
.417
1902-03
Kansas
7-8
.476
1903-04
Kansas
5-8
.385
1904-05
Kansas
5-6
.455
1905-06
Kansas
12-7
.632
1906-07
Kansas
7-8
.467
OVERALL
55-60
.478
13 RULES OF BASKETBALL
| | |
| --- | --- |
| 1. | The ball may be thrown in any direction with one or both hands. |
| 2. | The ball may be batted in any direction with one or both hands, but never with the fist. |
| 3. | A player cannot run with the ball. The player must throw it from the spot on which he catches it, allowance to be made for a man running at good speed. |
| 4. | The ball must be held by the hands. The arms or body must not be used for holding it. |
| 5. | No shouldering, holding, pushing, striking or tripping in any way of an opponent. The first infringement of this rule by any person shall count as a foul; the second shall disqualify him until the next goal is made or, if there was evident intent to injure the person, for the whole of the game. No substitution shall be allowed. |
| 6. | A foul is striking at the ball with the fist, violations of Rules 3 and 4 and such as described in Rule 5. |
| 7. | If either side makes three consecutive fouls it shall count as a goal for the opponents (consecutive means without the opponents in the meantime making a foul). |
| 8. | A goal shall be made when the ball is thrown or batted from the grounds into the basket and stays there, providing those defending the goal do no touch or disturb the goal. If the ball rests on the edges, and the opponent moves the basket, it shall count as a goal. |
| 9. | When the ball goes out of bounds, it shall be thrown into the field and played by the first person touching it. In case of dispute the umpire shall throw it straight into the field. The thrower-in is allowed five seconds. If he holds it longer, it shall go to the opponent. If any side persists in delaying the game, the umpire shall call a foul on them. |
| 10. | The umpire shall be the judge of the men and shall note the fouls and notify the referee when three consecutive fouls have been made. He shall have power to disqualify men according to Rule 5. |
| 11. | The referee shall be judge of the ball and shall decide when the ball is in play, in bounds, to which side it belongs, and shall keep the time. He shall decide when a goal has been made and keep account of the goals, with any other duties that are usually performed by a referee. |
| 12. | The time shall be two fifteen-minute halves, with five minutes rest between. |
| 13. | The side making the most goals in that time shall be declared the winner. |