LeBron Empathizes With Melo, Knicks

By Michael Wallace
ESPN.com
Archive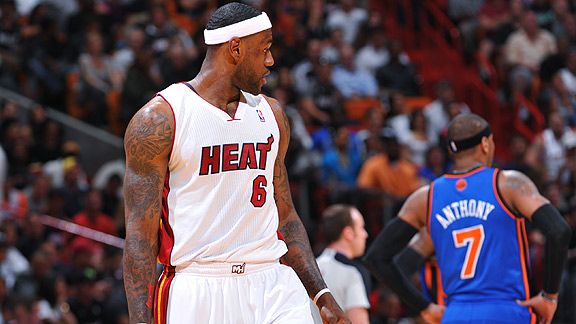 Jesse D. Garrabrant/NBAE/Getty ImagesMonths after his rough start in Miami, LeBron watches from afar as Melo adjusts to New York.
MIAMI -- For LeBron James, the signs are all familiar.
The initial discomfort in a new system. The frustrating losses. The growing pains. The private bickering, questioning and second-guessing. The attitude issues. Even the turbulence during particularly heated timeouts.
And yes, the breakdowns against the Boston Celtics.
James knows that script all too well. He's lived it during the honeymoon period with the Miami Heat, the one that sent the team into a brief stretch of disarray following a difficult 9-8 start.
The Heat have been there.
The New York Knicks are there now.
So as he watches his close friend and 2003 draft classmate, Carmelo Anthony, sputter through a similar rough patch in his transition with the Knicks, it's not difficult for James to shift away from his job as a competitor and step into the role of a confidant and counselor.
With James' Heat in third place in the East and Anthony's Knicks a game behind the Sixers for the No. 6 spot, the two could very well be on a collision course as potential opponents in the first round of the playoffs next month. But for now, they are charting a parallel path.
"I know exactly what he's going through right now," James said, of Anthony's more-difficult-than-expected indoctrination with the Knicks. "I understand exactly what he's been saying. Do the people, the fans and the media in New York want to hear that? I don't think so. But I know exactly what it means. And it's going to take time. Everybody knows we were 9-8. We had to figure things out. And we're still figuring things out. Once they figure it out, it'll be fine. It's not going to be a bed of roses."
For Anthony and the Knicks, the process has been about as comfortable as a bed of thorns. James has watched from afar as Anthony has had a difficult time adjusting with the Knicks. New York is 7-9 since it acquired Anthony and Chauncey Billups from Denver in a trade that sent starters Danilo Gallinari, Wilson Chandler and Raymond Felton, along with backup center Timofey Mozgov, to the Nuggets last month.
Like the Heat, the Knicks sacrificed a promising supporting cast to load up a top-heavy roster anchored by Anthony, Billups and Amare Stoudemire.
But unlike the Heat, the Knicks made a major transition on the fly and are now trying to work out the kinks over the season's stretch run. It has resulted in the Knicks taking a step back in the standings, in hopes that things eventually kick into gear and allow the team to spring forward into the postseason.
But it has been a trying time. The Knicks showed potential by beating James and the Heat in Miami the week after Anthony arrived in New York. But they've also displayed stretches of pathetic play, including being swept by the lowly Cleveland Cavaliers and watching the Celtics erase a nine-point deficit during a game-winning 23-4 run on Monday.
The Heat had those same kind of growing pains while trying to mesh James, Dwyane Wade and Chris Bosh, particularly early in the season. Anthony reportedly walked out of a timeout huddle in frustration during a game last week. James caused a stir when he bumped coach Erik Spoeltra as he walked toward a timeout huddle during a loss to Dallas in November.
Anthony is coming off a game in which he was held scoreless in the fourth quarter of a loss. James went through a stretch recently that, in four consecutive losses, he missed shots in the final seconds that could have tied the game or given the Heat the lead.
James said looking at the Knicks is almost like peeping into a time machine that takes him back to the start of the Heat's season.
"People think that just because you put great talent together that it's automatically going to work from the start," James told ESPN.com, about the similarities between the Heat and Knicks. "But it doesn't work like that. It takes time for chemistry. It takes time for cohesiveness. It takes time for people to understand where you like the ball, where you want the ball. And it starts with building those relationships off the court."
James acknowledged that his play and comfort level in Miami improved after the lines of communication opened up between the Heat's key players. James, Bosh and Wade repeatedly refer to moments on team plane rides, during individual film sessions and at late-night dinners that their relationship with one another improved.
That connection, ultimately, transferred to the court on game nights. Anthony and Billups already have some built-in chemistry. But the Knicks are trying to work those two into a rhythm with Stoudemire.
"Just as much as you have to be close on the court, you have to be even closer off the court sometimes," James said. "You have to know some exact things about the players you're with. You have to know, when you get into the fire and everything, who's going to be behind you and what to expect."
As far as that cohesion goes, Anthony sounds a lot like James did earlier in the season.
"It's a process," Anthony told reporters after practice in New York on Tuesday. "It's a long process. We have a little bit under a month to get this thing right to get ready for the playoffs. And right now, we're just figuring it out on the go. As long as we figure it out by the time the playoffs come, I'm not really too concerned about what's going on right now and how it's going on."
As Anthony and the Knicks try to get on the same page, James is relieved the Heat, who have won five of their past six, seem to be finally turning the page of some of those lengthy chapters on chemistry.
"I don't know their situation as far as being hands-on with their situation in New York," James said. "But I know what I see from the outside looking in. We all had to work through out setbacks. I know that's what [Anthony] and those guys are trying to do, just like we had to do."
Right now, Carmelo's Knicks are a work in "on-the-fly" progress.
LeBron knows the blueprint. His Heat team is just a bit further along in the process.


NBA Writer Michael Wallace
• On Twitter @WallaceNBA_ESPN | On ESPN.com
• Follow ESPN's NBA coverage on Twitter | On Facebook | On Google+
Top 5 Leading Award Candidates
With less than a month left in the regular season, the races for the league's top five awards remain up for grabs. The only one that's a no-brainer is rookie of the year, which Clippers forward Blake Griffin will win in a landslide. So let's examine how the other major award watches shape up down the stretch.

Rose
1. Most Valuable Player
Derrick Rose, Bulls: With their stats and impact fairly even, all Rose had to do to stay a nose ahead of James was keep his Bulls a slight step ahead of the Heat. Rose has done that, leading Chicago to the top spot in the East and a 3-0 season sweep of Miami.
Runner up: James, Heat
Gaining steam: Kobe Bryant, Lakers
2. Coach of the Year
Gregg Popovich, Spurs: The Lakers, Heat and Celtics got all the hype. But the Spurs set the pace from the start and are on course to finish with their best record in team history. Pop has been as creative and innovative as ever.
Runner-up: Tom Thibodeau, Bulls
Gaining steam: George Karl, Nuggets
3. Defensive Player of the Year

Howard
Dwight Howard, Magic: He'll get his third straight defensive POY trophy this season, putting him one shy of joining Dikembe Mutombo and Ben Wallace as the only four-time winners. No one rebounds, blocks and alters shots better.
Runner up: Andrew Bogut, Bucks
Gaining steam: Joakim Noah, Bulls
4. Sixth Man of the Year
Jason Terry, Mavericks: His scoring is slightly down, but his assists are up and his impact has been remarkably consistent in Dallas. This role -- and award -- seems tailor-made for Terry, but there is quality competition this year.
Runner up: Lamar Odom, Lakers
Gaining steam: Serge Ibaka, Thunder
5. Most Improved Player

Love
Kevin Love, Timberwolves: Losses don't diminish the record-setting streak of 53 straight double-doubles. At 20.3 points and an NBA-best 15.4 boards, he's posting more than six points and four rebounds per game than last season.
Runner-up: LaMarcus Aldridge, Blazers
Gaining steam: Dorell Wright, Warriors
Close Up: Juwan Howard

Howard
Because of Udonis Haslem's injury, Juwan Howard has found himself in a primary backup role to Chris Bosh at power forward. The 17-year veteran addresses a number of issues, including the Heat's sporadic bench production, the cabbage patch dance and the fallout from the "Fab Five" documentary.
Michael Wallace: The bench has been inconsistent at best. How vital is it to get going down the stretch?
Juwan Howard: We know that bench play is very critical in this league, especially in the playoffs. Coaches have tried to find ways to give our marquee guys some quality rest so we don't wear them down too much. But our team is very unique. We have role players who have done a great job of keeping themselves ready. You never know when you're name is going to be called. But you have to be ready to provide some type of productivity when you come off that bench.
Wallace: How justified is the criticism that Miami has one of the league's least productive benches?
Howard: Of course, we've heard the rumbles that there is not enough bench points from our team. But you can't get caught up in that. You can't allow that to be a distraction. You just have to stay ready. There are a lot of things that go on that people don't see, things that don't show up in the box score, that our bench players provide to help this team. It's a challenging task, but as competitors we welcome it.
Wallace: In the past few days, since the "Fab Five" documentary was released, you've seen Dwyane Wade and LeBron James, in recent games, try to rock your vintage cabbage patch dance from Michigan's NCAA tournament run. How do you rate their performance?
Howard: No comment. (laughs.) They can have the new-school cabbage patch because I've still got the old-school cabbage patch. I was doing it when it first came out. The old one is always better.
Wallace: What do you think of some of the backlash that has come from the documentary? There were some disparaging comments made about Duke and some of its players, particularly African-American players like Grant Hill. What did you make of reactions from Hill and Jalen Rose?
Howard: Honestly, I've been getting a lot of positive feedback. People see me in the street and they tell me they loved it. A lot of my colleagues, ex-teammates and even guys I haven't played with said they loved it. I've bumped into NFL players down here in Miami during their offseason and they gave me a thumbs-up. I understand that a lot of the comments have been made, with Jalen and of course Jimmy [King] and Ray [Jackson]. I include myself. I didn't say anything, use any derogatory language or comments, but that's not to say that I didn't think that during that time.
Wallace: Should you guys have made it more clear that what you may have felt 20 years ago as teenagers at Michigan might be different than you feel now?
Howard: You have to keep in mind that it was how people felt 20 years ago. And people are entitled to their opinion. I respect Grant, of course, taking the stand that he did. If it was me, would I have done it? No. But that's just me. I have a lot of respect for Grant as a person. And I have a lot of respect for Christian Laettner. If you really listen to the remarks, I think Jalen did an excellent job of not only telling how he felt at the time, but he also praised them.
Wallace: Might some of that credit and praise have gotten lost amid the general criticism?
Howard: Yeah. Because when you hear that words, "Uncle Tom" and you hear the word,"b----" and stuff like that, that's the only thing that sticks in your mind. But you have to keep in mind that Jalen did praise the man [Hill]. And Jalen did praise Christian Laettner and said he's a hell of a player, which I agree. I had to guard him. I know personally.
LeBron-o-Meter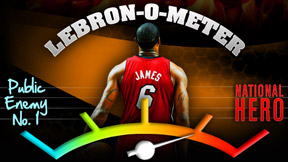 Launching a national education initiative to encourage high school students to stay in school, picking up a 31st conference player of the week honor and even seeing a slight improvement in his Q Scores popularity rating were simply all in a week's work for LeBron.
Simply put, James had one of his most productive weeks on and off the court as a member of the Heat, who have won five of their last six games to rebound from a season-long, five-game losing streak. James even sidestepped criticism for picking two different teams to win the NCAA tournament by saying, "I'm just like everybody else. I filled out two brackets." Well played.
Hot Air

Wade
"For us, our expectation is to be the best team we can be. If we're the third seed, then that's the best team we can be. No matter what seed we are -- one, two or three -- we feel that we can win anywhere. If you're not the No. 1 seed, then it doesn't really matter because you don't have that home-court advantage. You've got to figure it out. That was our goal -- be the best team we could be."
-- Heat guard Dwyane Wade, talking last week in Atlanta about the Heat's level of disappointed if they didn't overtake Boston and Chicago down the stretch to earn the East's No. 1 seed entering the playoffs.
Be Like Mike...

Thabeet
... And shake your head in bewilderment at what's gone incredibly wrong with the Hasheem Thabeet experiment. Despite that physically imposing big men are rare in this league, Thabeet, the No. 2 overall pick in the 2009 draft, has now been banished by his second team to a stint in the NBA Development League. The Houston Rockets sent down Thabeet less than a month after acquiring him in a trade with Memphis. Apparently, the center's lethargic work ethic and attitude loom as large as his 7-foot-3, 263-pound frame.
There's still time to salvage Thabeet, a Tanzania native and former UConn standout, who's only played a handful of seasons of organized basketball. But two teams essentially have given up on him already. It's a shame if that much size and potential have to go to waste.