Jackson: James still lacks MJ's titles
Phil Jackson believes LeBron James' physical strengths and ability to play four different positions could eventually give the Miami Heat star a leg up on Michael Jordan.
Speaking on the "Waddle and Silvy Show" on ESPN 1000 in Chicago last week, Jackson said James has the potential to join Jordan as one the greatest players in NBA history.
LeBron Wants to Be Like Mike

LeBron James has a lot of ground to make up, especially in terms of NBA championships and league scoring titles to equal Michael Jordan's impressive career résumé.
Jordan/James, NBA career
Category
Jordan
James
Points PG*
30.1
27.6
Scoring titles
10
1
MVP awards
5
3
NBA titles
6
1
*1st and 3rd in NBA history


-- ESPN Stats & Information
"He's got all the physical attributes," Jackson said. "He is a player that can play four positions. Except for perhaps the center spot, which he hasn't (been) given a shot at yet, he can play those other four positions quite well. This is unique; Michael could play three and was very good at all three of those, but as a power player that LeBron can become, I think he has an opportunity to explore and advance some of the status that he has already gained."
Jordan still has five more championships than James, which is the major factor in any such conversation. But James is 27, a year younger than Jordan was when he won his first title under Jackson in 1991. Jackson believes that if James can stay healthy, he could chase Jordan's standard.
"Winning six championships is an elusive thing out there, and they haven't won two yet," Jackson said. "But he's kinda got the smell of it, and even the Olympic experience this summer, he was the granted leader of that team and was the critical player when they needed something to happen in the final games. I think he's there, I think he's at that position. He's got good things ahead of him and a lot of it depends upon if he's gonna be healthy for the remainder of his career."
Waddle & Silvy
Former Bulls and Lakers coach Phil Jackson joins "Waddle & Silvy" to discuss the new Lakers, the Bulls without Derrick Rose, Jordan vs. LeBron and more.
The next threshold for James, Jackson said, is to improve his post moves and shooting ability to become more of a dynamic offensive player. As he aged, Jordan developed better footwork to diversify his offensive game, something Jackson believes James will need to do as well.
"I have a hard time judging the best player, but I do think that Michael had more moves in the post and he had more of a perhaps shooting touch with his back to the basket and all these kind of things that were part of his game," Jackson said.
"LeBron has this train out of control when he gets the ball in transition that he can go coast-to-coast without anyone getting in his way, and if they do, he's going to over run them. And he's got the power with the body and he's developed a left hand that's extremely good. There's a lot of things that you are seeing in the development of this player that leads towards that, but the ideal and the whole reason behind this is what kind of championships are you gonna get from a player like this? Can he match what Michael has done?"
Though the Heat have been installed as narrow favorites to repeat as champions, Jackson said he thinks they'll find winning again to be more challenging, especially with strong contenders like the Los Angeles Lakers and Oklahoma City Thunder.
"It's more difficult, it becomes more difficult, with each one you win," Jackson said. "There is never really an easier path. You know the direction, you know what it takes, you know the length of the season and how to pace yourselves."
ESPN.com
ESPN.com NBA writer since 2010
Covered Cleveland Cavs for seven years
Author of two books
SPONSORED HEADLINES
MORE NBA HEADLINES
MOST SENT STORIES ON ESPN.COM
The NBA On ESPN.com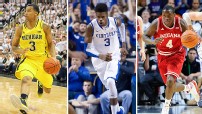 Follow the NBA on ESPN:
Twitter / Facebook / Google+
LATEST CONTENT
REGULAR FEATURES
truehooptv

TrueHoop TV


RT @therealgraydon: Back in action talking Spurs-Griz w/ @SherwoodStrauss and @TrueHoop on @TrueHoopTV. Check it: http://t.co/DFfJ1Mnwwy
7 minutes ago

truehooptv

TrueHoop TV


Teaser "@coachthorpe: @TrueHoop @therealgraydon @SherwoodStrauss
7 minutes ago

coachthorpe

david b. thorpe


@TrueHoop @TrueHoopTV @therealgraydon @SherwoodStrauss great episode. I have 1 issue though-I think the Griz did figure something out.
33 minutes ago

ESPNNBA

The NBA on ESPN


Before Game 1 (ESPN Radio, 8:30 ET), take a look back at the Heat's season-long journey to the conference finals: http://t.co/zuW7ANtJo1
36 minutes ago

kpelton

Kevin Pelton


RT @DraftExpress: D.J. Stephens has the highest max vert reach (12' 5.5") in the history of our database, edging out Shaq by a 1/2 inch htt…
41 minutes ago

TrueHoop

Henry Abbott


How many Plumlees is the right number of Plumlees to follow on Twitter?
44 minutes ago

WallaceNBA_ESPN

Michael Wallace


Wallace: Once again, Heat's Wade hopes to push past pain to have a playoff impact vs. Pacers http://t.co/rwCTSGLvTR
49 minutes ago

truehooptv

TrueHoop TV


RT @drew_48moh: .@therealgraydon and @sherwoodstrauss go on @truehooptv in the aftermatch of #Spurs-Grizzlies Game 2 http://t.co/4pWunBQ5um…
51 minutes ago

kevinarnovitz

Kevin Arnovitz


RT @kathleenhessert: #NBA is the only Sport in the Top 100 #YouTube channels - 3.5m subscribers and 1.4b views. #SocialSports #SportsPR #SSM
about an hour ago

WallaceNBA_ESPN

Michael Wallace


Thanks Miami's WR Thomas middle for having me on career day & @KupandCrowder for guest co-host spot. Next up: Heat-Pacers Game1. #fullday
about an hour ago

TrueHoop

Henry Abbott


The Spurs have taken control. http://t.co/8SKirK0LCk @TrueHoopTV with @therealgraydon and @SherwoodStrauss
about an hour ago

TrueHoop

Henry Abbott


RT @dmorey: Best draft interview answers ever part 1: player, can you pass a drug test? [grabs table] TODAY?!?
about an hour ago

HoopIdea

HoopIdea


RT @SXMBasketball: Both @TermineRadio and @SamMitchellNBA agree: Fining players $5k won't deter floppers. #HoopIdea
about an hour ago

truehooptv

TrueHoop TV


RT @8pts9secs: RT @TrueHoop: Who are the Pacers? Talking Indy with Jared @8pts9secs Wade on @TrueHoopTV. http://t.co/bPOt8AvfFc
about an hour ago

TrueHoop

Henry Abbott


There are times in the playoffs when I chew a ton of gum. This never happens in the regular season. #playofftruth
about 2 hours ago

RoyceWebb

Royce Webb, ESPN NBA


D-Wade's a born philosopher: RT @tomhaberstroh: When asked how his knees are doing today, Dwyane Wade said, "they're there." Good sign.
about 2 hours ago

tomhaberstroh

Tom Haberstroh


When asked how his knees are doing today, Dwyane Wade said, "they're there." Good sign.
about 2 hours ago

chadfordinsider

Chad Ford


Chat Wrap: Why Oladipo, not Noel, is the favorite of most GMs + Cavs draft/trade options with No. 1 pick, more … http://t.co/N4Ewe1utbU
about 2 hours ago

ESPNNBA

The NBA on ESPN


Does defense really win championships? @kpelton examines (Insider) -- http://t.co/cIUKGw9Ifx
about 2 hours ago

chadfordinsider

Chad Ford


I'm chatting LIVE over on http://t.co/mhs98in59s right now re NBA Draft. Come join the party http://t.co/N4Ewe1utbU
about 3 hours ago
MORE FROM ESPN CHICAGO

Check out the new ESPN Chicago, the place for your local Chicago sports coverage.
ESPN.COM PARTNER: NBA.COM