Commentary
Heat Reaction: Postgame grades
LeBron James   5-10 FG | 3-5 FT | 6 REB | 7 AST | 13 PTS | +23
It's telling that the Heat destroyed arguably their biggest East rival despite a lukewarm game from LeBron. They're just that dominant right now. Roy Hibbert tried to guard LeBron once and it led to a thunderous dunk that kick-started a decisive 24-7 run. Also good to see the LeBron chasedown block making a cameo in the third quarter. Been a while.




Dwyane Wade   9-16 FG | 5-6 FT | 2 REB | 3 AST | 23 PTS | +26
Wade was an absolute terror in the passing lanes on Sunday, which was essential to the Heat's transition game. Wade may not be putting up 40 points like Kobe Bryant (he'll never get enough touches), but he has been as important to the Heat's winning streak as any. It was stunning to watch the Heat get away with having Ray Allen guard Paul George, but it did wonders for Wade's energy.




Chris Bosh   11-15 FG | 1-2 FT | 3 REB | 4 AST | 24 PTS | +26
Tough to name a big man with a better jumper than Bosh. It was on fire in this one. Even though the Heat struggle against Roy Hibbert, Bosh and the Heat didn't try to get him into foul trouble with basket attacks. Instead, Bosh stuck to the perimeter and drained 20-footers all night. May not be a sustainable game plan long-term, but it didn't matter Sunday.




Mario Chalmers   7-9 FG | 7-7 FT | 7 REB | 2 AST | 26 PTS | +30
Big stage, big performance. Kansas Jayhawk fans aren't surprised. Considering the opponent, Chalmers delivered what might be his best outing of the season, hitting transition 3-pointers and squeezing layups past a contesting Hibbert. Chalmers' treyball with 2:34 left in the game closed the door on an exasperated Pacers squad.




Indiana Pacers    
Not what the Pacers had in mind. What happened to Paul George? After winning the first two meetings this season in convincing fashion, the Pacers had no answers for the scorching Heat as Indiana's All-Star was bottled up. In a complete reversal of the playoffs last season, the Heat dominated against Roy Hibbert as the Heat spaced the floor with shooters and asserted their brand of basketball. For a proud Pacers team, this one will sting for a while.



THERMOSTAT

The Heat extend their winning streak to 18 games, the longest in the NBA this season and the fourth-longest streak since the NBA-ABA merger.
Heat Reactions past: at Knicks (3/3) | at Wolves (3/4) | vs. Magic (3/6) | vs. Sixers (3/8)
ESPN.com NBA contributor since 2010
Started at ESPN in 2008
2008 graduate of Wake Forest University
SPONSORED HEADLINES
MORE NBA HEADLINES
MOST SENT STORIES ON ESPN.COM
The NBA On ESPN.com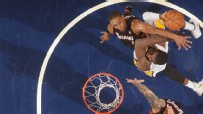 Follow the NBA on ESPN:
Twitter / Facebook / Google+
LATEST CONTENT
REGULAR FEATURES
adidas Men's Miami Heat Dwyane Wade Replica Revolution 30 Black Basketball Jersey Shop »