Aggies pile up runs in bunches
February, 22, 2010
02/22/10
12:50
PM ET
COLLEGE STATION, Texas -- As part of the festivities during home games at Texas A&M, fans are showered (all right, sprinkled) with free T-shirts every time Aggies pitchers strike someone out.
[+] Enlarge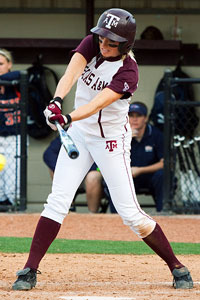 Glen JohnsonSenior shortstop Macie Morrow has found her place as Texas A&M's leadoff hitter.
The way junior Rhiannon Kliesing is pitching in the early going, that's going to be a pricey proposition. But a sponsorship opportunity is waiting -- patiently, of course -- for some local entrepreneur to fill a similar void when the Aggies come to the plate.
It's time to make the walk exciting, and College Station is the place to make it happen.
Texas A&M improved to 10-1 by sweeping all five games at home against Mississippi State (twice), Oregon State and Louisiana-Monroe (twice) in the Aggie Classic. Continuing a prolific offensive showing that began the previous weekend at the Kajikawa Classic, the Aggies scored at least six runs in every game and put up 13 in a run-rule win against Mississippi State, the second time this season they've scored more runs in a game than they did at any point last season.
"We've never had hitting like this in my four years of being here," senior shortstop Macie Morrow said.
One player can't shoulder as much of that load in the batter's box as one pitcher can affect a team's performance in the circle, but freshman catcher Meagan May could end up having almost as significant an impact as pitching peers such as Kenzie Fowler, Rachele Fico and others. Even after suffering through her first 0-for-4 day as a collegian in Sunday's finale, May is slugging 1.000 with a .484 on-base percentage and 18 RBIs. (Anecdotally, she's also a blast to watch wear a mask, given her penchant for making pickoff throws from her knees to all bases.)
But a recruit who could have gone just about anywhere but chose Texas A&M -- over Princeton, of all places -- because of family ties and the school's petroleum engineering program merits more space than is available here. What's noteworthy for now is how her presence changes the lineup around her. Nobody better illustrates that than Morrow.
A productive offensive player her first three seasons, Morrow didn't max out at 18 walks and a .344 on-base percentage as a sophomore (her junior season was interrupted by a frightening injury after she fouled a pitch off her face and missed 16 games). Now a full-time leadoff hitter for the first time, she's already drawn 11 walks and has a team-best .533 OBP ahead of May.
"It's just nice to see how mature she's become as a senior and the patience that she's shown at the plate," Texas A&M coach Jo Evans said. "And I think it makes her job easier right now because she has Meagan May hitting behind her. So Macie knows, 'I don't need to get a hit; I just have to figure out how to get on base.' And I think it's really relaxed her, let her take some pitches and I think she's seeing the ball well."
As a whole, the team is drawing better than five walks per game with a collective .434 on-base percentage (No. 2 hitter Kelsey Spittler is second on the team with eight walks). Correspondingly, the Aggies aren't bunting much at all and are running only selectively, particularly at the top of the order, where giving away outs to move Morrow over would only open up first base for teams to pitch around May.
It's an approach Billy Beane would love, and it's piling up runs in bunches.
As the cleanup hitter protecting May, Kliesing is a big part of the offense. And while her 3.28 ERA in the circle may not show it, she's part of the reason this team has legitimate potential to go a long way. Like Megan Gibson before her, Kliesing's strikeout rate and strikeout-to-walk ratio (51 strikeouts, seven walks in 32 IP this season) show steady progression over her career.

"I hate to use those two in the same sentence because it kind of snakebit Rhi [in the past]," Evans said of the Gibson comparison. "But I will say this: She's a completely different pitcher this year than she was the last two years. And she worked harder than she ever worked to get there. So her timing is on, and you can see that, and she's moving the ball well and she's throwing all her pitches."

With Rebecca Arbino and Arizona transfer Lindsey Sisk, once she returns in perhaps four weeks from an injury in which she damaged tendons in her non-throwing hand while trying to extricate the pit from an avocado, the Aggies have depth in the circle.

Graham Hays covers softball for ESPN.com. E-mail him at Graham.Hays@espn3.com.