Bedlam to take over Oklahoma City
May, 28, 2011
05/28/11
10:21
PM ET
For just the second time ever, and the first time in 25 years, the Women's College World Series will take place without either Arizona or UCLA, the two giants of the sport that have combined to win 19 NCAA championships.
It's a good thing the day that made such a development a reality also served up two replacements that could render their absence a footnote and leave Hall of Fame Stadium in Oklahoma City bursting at the seams.
[+] Enlarge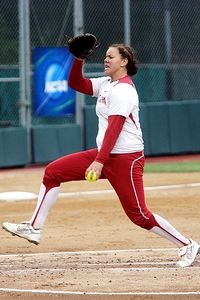 Jesse Beals / Icon SMIIKeilani Ricketts is making a strong case for player of the year honors.
Bedlam is coming to the Women's College World Series. Tickets will go quickly.
College softball's signature event will not have its two signature programs, but it will have in-state rivals Oklahoma and Oklahoma State together for the first time ever. Unseeded Oklahoma State advanced to the World Series for the seventh time by splitting Saturday games against Houston in the Stillwater super regional, rallying from a 1-0 loss in Game 2 to earn a 6-5 win in Game 3. Oklahoma had some mild drama of its own late in Game 2 against Arizona in the Tucson super regional but held on for a 5-2 win and a two-game sweep to advance to the World Series for the sixth time.
Oklahoma will open play against top-seeded Arizona State, while Oklahoma State awaits the winner of the super regional between No. 6 Georgia and No. 11 Baylor, set to be completed Sunday.
Imagine Indiana and Purdue making a Final Four in Indianapolis or Boston College and Boston University advancing to the Frozen Four in Beantown and you get some sense of what it means in the world of softball to have two local programs with such rich histories sharing the stage in a World Series.
Oklahoma State was one of the sport's most successful programs beyond the West Coast for much of softball's first two decades under the NCAA umbrella, qualifying for the World Series six times between 1982 and 1998 and collecting four third-place finishes. Down the road in Norman, Oklahoma's rise to prominence coincided with coach Patty Gasso's arrival in 1995 and culminated with a national championship in 2000, one of just five championships ever won by non-Pac-10 teams.
Now consider the surge in interest in the World Series in recent seasons -- the event drew 41,035 fans in 2004, when Oklahoma last appeared, but attendance had increased to 62,562 by 2010 -- and you understand why the scenes on television Thursday may look like nothing we've seen before in college softball. It's going to be crowded, loud and fun.
And if the past two days are any indication, this tournament may also have found a star worthy of the spotlight.
At least for the next week, Keilani Ricketts is the biggest star in the college game.
Injured Oklahoma catcher Jessica Shults (and it's all the more remarkable that the Sooners became the first team to win a super regional in Tucson, considering they were without the services of one of the best young hitters and leaders in the sport in Shults) had a rather decided rooting interest when she tweeted near the end of Game 2 in Tucson that Ricketts is the national player of the year. But it's more difficult to argue with her after this weekend.
Not only did Ricketts limit the Wildcats to two runs in 14 innings in the circle, striking out 20 batters and walking just four, but she hit a pair of home runs and drove in three runs as the lineup's cleanup hitter.
In six postseason games this season, she's hitting .529 with three home runs and nine RBIs. She also has a 1.37 ERA with 54 strikeouts in 35.2 innings pitched. It's only going to get more difficult in the days ahead, but a year after UCLA's Megan Langenfeld put on what seemed like a one-woman pitching and hitting show not soon to be repeated in Oklahoma City, Ricketts looks remarkably capable of doing something similar.
Oklahoma's trip to Tucson began inauspiciously, courtesy of a nerve-rattling takeoff on a windy day, but the smooth sailing that followed on the field may have had a lot to do with a trip Ricketts and the Sooners took to Seattle last year. Facing off against two-time USA Softball Player of the Year Danielle Lawrie in her farewell performance at home in a super regional, the Sooners upset the Huskies in the opener of the best-of-three series before losing a pair of close games on the second day of play.
One of the all-time great competitors, Lawrie eventually got the best of the freshman, but Ricketts held her own. She allowed just 13 hits and five earned runs while striking out 22 batters in 20 innings. There were times early in her freshman season when she looked unsure in the circle -- unsure of herself and of what the coaches wanted from her in making the transformation from being a raw thrower in high school to a polished pitcher in college. But by the end, even a round short of Oklahoma City, she looked different.
"I think the venue and the atmosphere at the University of Washington was a small but very similar feeling of what you would feel like at the College World Series -- packed house, very vocal, lots of excitement, TV cameras," Gasso said earlier this season. "It was a big event. And I was really counting on Lindsey Vandever, my catcher, to keep Keilani clam and poised, and Keilani handled everything like a veteran. I thought she was outstanding. Although we didn't get the outcome we wanted, I thought we walked away a little more grown-up, a lot more mature. She was in the closest thing you can be to the World Series, and I thought she did a great job."
Vandever graduated, and Shults -- the confident, talkative, supremely settling influence behind the plate -- sustained an undisclosed injury that has kept her out of action throughout the postseason. But in perhaps the toughest place to play on the road in the NCAA tournament, Ricketts never faltered against Arizona. She wasn't perfect, but her ability to work out of trouble and strand so many runners made the imperfections almost more impressive.
Ricketts is impossible to miss on the field. Seeing the 6-foot-2 Californian pitch in person for the first time, she looks even bigger than she does on television. But all eyes will be on her for a different reason next week.
"Our goal is always to get to that College World Series and play for a national championship," Gasso said on the eve of this season. "Once you've won one, that's what it is. That's what it is, and you can't change that. It's just what our expectations are for our program."
As for the upstarts from Stillwater, they got six of their seven hits and all six RBIs in the 6-5 clincher from the heart of the order: Julie Ward, Chelsea Garcia and Tamara Brown. After losing the first game 1-0 and falling behind 4-3 on a home run from Jennifer Klinkert in the third inning of the second game, the Cowgirls could have folded. After all, unlike Oklahoma's experience at Washington last season, Oklahoma State was in the first super regional any of the players had seen. But for a group that has helped rebuild the program under coach Rich Wieligman's watch, that wasn't in the cards.
"If you would have told me four years ago when I walked into this program that 'You're going to host a super regional your senior year,' I wouldn't have believed it," senior Mariah Gearhart said on the eve of the series against Houston. "I would have said it was a possibility because you don't know what can happen in four years, but to be in this position right now just proves how much hard work and dedication and love for this game can make anything happen and how amazing this sport is."
That much was evident Saturday for both teams from the state that sits at the center of the softball universe.
Gators ride ace back to Oklahoma City
The tough thing about making the World Series four years in a row is that it almost makes you easy to take for granted. And with the Bedlam-related developments later in the day, Florida won't get the attention here it probably deserves for becoming the first SEC team to reach Oklahoma City for a fourth consecutive time (although as far as Bedlam connections go, coach Tim Walton both played baseball at Oklahoma and was an assistant on Gasso's championship team in 2000). That success speaks volumes about what a senior class of Stephanie Brombacher, Kelsey Bruder, Megan Bush, Tiffany DeFelice and Aja Paculba continue to mean to the program, but a player about to make her first World Series appearance also merits attention after the Gators swept two games from Oregon.
Three players have held the unofficial role of primary pitcher during Florida's run the past four seasons, beginning with Stacey Nelson in 2008 and 2009, Brombacher in 2010 and now freshman Hannah Rogers (Brombacher got the start in Game 1 against Oregon, but after injuries slowed her throughout this season, Rogers has maintained her regular-season control of the majority of innings through both the regional and super regional).
In her first trip to a super regional in 2007, Nelson had a 2.10 ERA. In her first trip as the main pitcher in 2010, Brombacher had a 0.58 ERA. And Rogers? She didn't allow any earned runs in nine innings against Oregon. That's not to say the success was all her doing, but for a freshman filling a larger-than-anticipated role and who had to face defending national champion UCLA just to get to a super regional, it's pretty good.