Tech takes command of Atlanta Regional
June, 5, 2010
06/05/10
10:40
PM ET
ATLANTA -- A year ago, Georgia Tech lost its second game in the Atlanta Regional of the NCAA baseball tournament to Southern Miss, sending it into the loser's bracket on its home field.
[+] Enlarge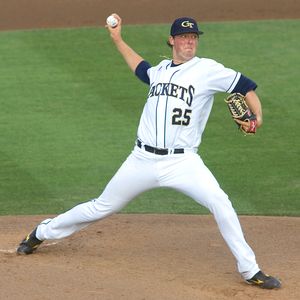 AP Photo/John AmisDeck McGuire pitched eight strong innings to send Georgia Tech into the winner's bracket in the Atlanta Regional.
The Yellow Jackets won their next two games to force a winner-take-all final game with a spot in the super regionals at stake. But the Golden Eagles won again, ending Georgia Tech's hopes of reaching Omaha for the first time since 2006.
On Saturday night, Georgia Tech ace Deck McGuire made sure his team wouldn't face that treacherous path again this season.
McGuire, who will probably be picked in the first round of next week's amateur baseball draft, pitched eight strong innings in a 5-2 victory over Alabama at Russ Chandler Stadium. McGuire allowed eight hits and two earned runs, striking out six and walking two.
"I told my guys after the game that it was probably the best game we've played all season from top to bottom -- hitting, pitching and defense," Georgia Tech coach Danny Hall said.
With two victories in as many days, Georgia Tech took command of the Atlanta Regional. The Crimson Tide will play Mercer in an elimination game at 3 p.m. ET Sunday. The winner plays the Yellow Jackets on Sunday night and will have to beat them twice to advance to next week's super regional.
The Yellow Jackets, the No. 8 national seed, have to win only once more to win the regional.
"Our goal is to win three and we haven't finished the job yet," Hall said. "We have to finish it. We know if you win this game, you have two chances to do it. The other way around, when you lose this game, you have to win some games just to survive."
What's the best news for the Yellow Jackets? Thanks to McGuire and sophomore Mark Pope -- who threw five-hit shutout in Friday night's 10-0 victory over Mercer -- they have plenty of pitching left.
Hall said right-handed junior Brandon Cumpton (9-2, 4.95 ERA) will start Sunday night's game. If the Yellow Jackets lose that game, they can come back with left-handed sophomore Jed Bradley (9-4, 4.17) in Monday night's final.
Alabama coach Mitch Gaspard said he's going to gamble that his team won't need regular starter Adam Morgan (6-4, 6.04) to beat Mercer on Sunday. Gaspard didn't name a starter for the Mercer game, but said it wouldn't be Morgan.
The Bears beat Elon 13-7 in an elimination game on Saturday.
"We didn't come here to go 2-2," Gaspard said. "We came here to win the tournament. We've got to try to get the ball in Morgan's hand tomorrow night to face Georgia Tech."
The Yellow Jackets were definitely in good hands with McGuire on the mound. After giving up shortstop Josh Rutledge's two-run homer, which tied the score at 2-2 in the fifth, McGuire retired 10 of the last 14 hitters he faced.
"They put the ball in play," McGuire said. "We played the best defense we've played all year. We made the easy plays look easy and made the tough plays look easy. My defense definitely picked me up."
Second baseman Jacob Esch, the Yellow Jackets' No. 9 hitter, picked his team up offensively, driving in three runs, including two on a two-out single in the sixth to make it 5-2.