Fullerton-LSU highlights weekend action
March, 9, 2011
03/09/11
10:29
PM ET
If you're in the area, check out these matchups. If you're not, buy a plane ticket and make your way to one of these locales.
1. No. 12 Cal State Fullerton at No. 8 LSU

[+] Enlarge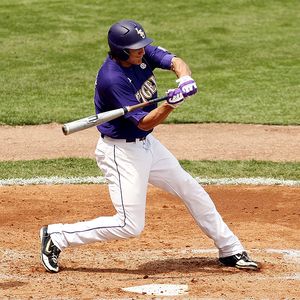 Derick E. Hingle/US PresswireMikie Mahtook and LSU will face one of toughest tests of the season when Cal State Fullerton comes to visit.
It might be easy to say that this is the most intriguing nonconference matchup of the weekend, if not the entire 2011 season. The homestanding Tigers have played mostly tin cans up to this point. But they've also raised two big red flags along the way, one being the fact Mikie Mahtook has already hit six home runs this season and the other being their 8-7 loss to Princeton on Sunday. Lack of focus? Maybe so. But one thing is for sure, the Bayou Bashers better not drop their guard against the uber-talented Titans, who have experience and -- as witnessed by their trip to TCU -- aren't afraid to go into hostile territory and win.
Key matchup:
Fullerton starters versus LSU hitters. It's pretty cut and dried: Titans starters Noe Ramirez, Tyler Pill and Colin O'Connell have ERAs of 1.71, 1.86 and 0.82 respectively. The Tigers hit .326 and are led by JaCoby Jones, who is hitting .447 and has three home runs himself. Side note: Also pay attention to the defenses, which Fullerton sweeps at a .984 fielding percentage and LSU is just .958.
2. No. 6 Virginia at No. 7 Clemson
I know this is just Week 4 here, but this is where things start to get serious. The ACC kicks off conference play and this behemoth matchup is as tasty as it gets. Both teams have an impressive win or two and a lot of easy scrimmages to their credit. There are some ominous hints that this could be a tough one for the Tigers, though, as their sophomore flinger Kevin Brady, who was 2-0/1.10 in three starts, will miss the series with a strained muscle. Also, the Cavaliers have committed just three errors and allowed just three stolen bases in their 13 games.
Key matchup: UVa pitching versus Clemson hitting. Just like the Fullerton-LSU matchup above, this one comes down to whichever team strength shows up better. The Wahoos lead the ACC with a ridiculous 1.62 team ERA, led by Danny Hultzen's Friday night performances, where he sports 3-0/0.89 numbers and a 36-1 K-to-walk ratio. The Tigers have the top two hitters in the ACC in Spencer Kieboom (.538) and Phil Pohl (.478). Also, Brad Miller (.370) leads the conference with 14 walks.
[+] Enlarge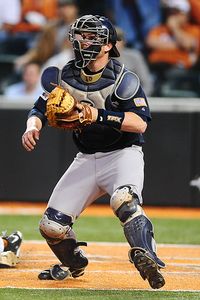 Mark J. Rebilas/US PresswireCraig Manuel is one of two players in Rice's lineup hitting above .300.
3. The AT&T Tournament, San Francisco
Teams involved: No. 20 Rice, Long Beach State, California, Louisiana, San Francisco, UC Santa Barbara.
It's pretty easy to say that the Owls are the favorites here at McCovey Cove. But keep in mind Wayne Graham's troops have had their struggles when they've ventured out west in recent seasons, going 4-11 in games on the left side of the Rockies in the past four years. Cal looks to rebound after losing to San Diego State and Oklahoma in a pair of frustrating nip-and-tuck games last weekend.
Key matchup: Long Beach State's Andrew Gagnon versus Rice's Anthony Rendon. Andrew Gagnon has been the exception to the Beach's struggles, holding opponents to a .194 average. Rendon is clipping along at .435, but will need his hitting to be more infective since only he and Craig Manuel are above .300 in the order.
4. The Dodgertown Classic, Los Angeles
Teams involved: No. 10 UCLA, USC, Saint Mary's, Georgia
This one lost some luster when the Bruins went 1-2 in back-to-back weekends, USC dropped eight in a row and Georgia got swept at Stetson to start the season. The only good news heading into the weekend for any of the teams would have to be Gaels ace Mark Anderson, who is 2-0/0.95 and has given up just 10 hits in his 19 innings of work, which includes wins over Oregon and UC Irvine. He should have his way with USC, who comes in hitting just .244 as a team. Watch for Sunday's USC-UCLA matchup, though. Last year, the two rivals drew 14,588 in Dodger Stadium.
Key matchup: UCLA's hitting versus themselves. With a team ERA of 1.55 and opposing batters hitting just .185, it's obviously not the pitching that is the Bruins' bugaboo. The UCLAns should easily sweep the field in this tournament, if not for their offense. The Bruins' bats are hitting a wispy .241 so far, with only Cody Keefer going better than .300 (at .333). Keep an eye on Jeff Gelalich and Beau Amaral, though, as both are perfect in stolen bases in nine combined attempts.
5. No. 9 Arizona State at No. 24 Auburn
Ahhhh, we really need more of these Pac 10 versus SEC showdowns. It's almost unfair to college baseball fans everywhere that there aren't more of them. Plus, it's not often that the Sun Devils leave the desert in nonconference play anymore, so that makes this one a really attractive matchup. Last year, the Devils pounded the Tiger arms, scoring 33 runs in the three-game sweep. Auburn should be much better equipped this time around and that, along with the home field, makes this series a toss-up.
Key matchup: ASU's speed versus Auburn's defense. The Sun Devils are up to their usual tricks, getting on base a lot (.412 on-base percentage) and putting a lot of pressure on the defense once they get there (30-of-40 in stolen bases). Conversely, the Tigers have allowed just six stolen bases so far, although they are fielding at just a .963 pace. So look for the number of Auburn errors to be reflected -- good or bad -- in the final scores of the series.
[+] Enlarge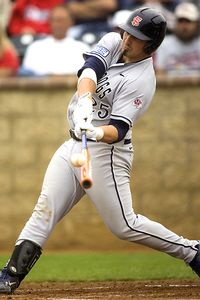 Darryl Dennis/Icon SMIWill the cool temperatures take the heat off Jordan Ribera's bat?
6. No. 22 Fresno State at Nebraska
The Bulldogs will not only have to take on a really improved Cornhuskers squad this weekend but, like UCLA last weekend, they'll also have to deal with the weather. The Bruins' bats went colder than the mid-20s conditions they were playing in. But at least this weekend's forecast calls for temps to reach the mid-40s. Still not suitable long-ball conditions for the powersticks of Jordan Ribera and Dusty Robinson.
7. No. 25 Wichita State at Tulane
The key to this one is painfully obvious, at least for the Green Wave. Tulane comes into this series with a Conference USA-worst .219 batting average. Two-nine-freaking-teen! And believe me, the Shockers have a bevy of big-time arms to keep the Wave struggles going, too. Charlie Lowell (2-1/1.20), Tim Kelley (1-0/1.69) and Josh Smith (3-0/1.88) comprise a formidable rotation for Tulane to navigate around.
8. BYU at Oregon
The Ducks are hurting. They can't fly right now. They've lost three straight games going into this one and have scored more than five runs in a game only twice this year, both of which they lost. Meanwhile BYU comes in with a head of steam, winners in eight of its past nine games, and one of their better pitching staffs in recent memory. Taylor Cole leads them with a 2-0 mark and 1.47 ERA. Also, the Coogs are in hyper mode, going 19-of-23 in stolen bases so far. If BYU is going to make an at-large run this year, a series win here will go a long way.
9. FIU at No. 15 Texas A&M
Now that the streak hype is over for Garrett Wittels, the Panthers have gone out and pitched like crazy. Kyle Fitzpatrick tossed a no-hitter versus Northeastern last week and then the weekend staff held Seton Hall to six runs and 17 hits in three games. But the Aggies are the masters of clampdown pitching, with frontline guys John Stilson (1-0/0.43), Michael Wacha (2-1/0.45) and Dylan Mendoza (2-0/0.69) all sporting ERAs below 1.00. Also, look for the rowdy A&M student section to give a lot of noise to Mr. Wittels, too. You know, out of love.
10. Connecticut at San Diego
Boy-howdee, do these teams ever need some redemption. The Huskies need it to make amends for a slow start. Although in the past week they've managed wins over San Diego State, Cal and USD (by a whopping 17-0 count) and went toe-to-toe with UC Irvine on Tuesday. The Toreros need to make amends for that awful performance Monday, where they gave up two TDs and a field goal and dipped to 3-7. This is a young squad, but I don't think they were expecting that weak of a performance.
Eric Sorenson, who runs College Baseball Today, and Walter Villa are regular contributors to ESPN's college baseball coverage. Follow Eric on Twitter: @stitch_head
Follow ESPN.com's college sports coverage on Twitter @ESPN_College and on Facebook.