SEC powers battle in weekend series
April, 14, 2011
04/14/11
10:19
AM ET
If you get your hands on the company Learjet, here are the places you want to put into the flight plan this weekend.
[+] Enlarge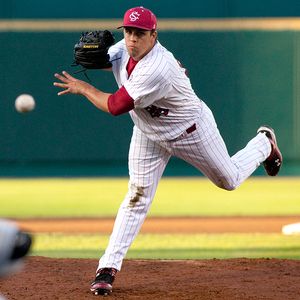 John S Peterson/Icon SMIMichael Roth and South Carolina will have home-field advantage when No. 1 Vanderbilt visits this weekend.
1. No. 1 Vanderbilt at No. 3 South Carolina
Watch: Saturday at 7 p.m. ET on ESPN3.com; Sunday at 1 p.m. ET on ESPN3.com
By the numbers:
Vandy: 31-3, 10-2 SEC, No. 7 RPI
S.C.: 26-6, 10-2 SEC, No. 4 RPI
Ho hum, another weekend in the SEC, another showdown of national title contenders in full-on gut-check mode. These two, along with Florida, are the triumvirate of powers dominating college baseball. After seeing the Commodores take two of three at LSU last May, I'm pretty confident that they won't have any problem performing in a big-time environment like Carolina Stadium. In fact, the 'Dores have gone 9-1 in road games this year. The pitching depth for Vandy is ridiculous, and the Commodores may have the better bullpen, especially since Carolina's Matt Price has looked human lately.
Key matchup: Sonny Gray vs. Michael Roth. How tasty is this? Two All-Americans toeing the rubber in a Friday night showdown. There are actually a whole host of great matchups all over the field, including whichever power hitter gets the best of the other (Aaron Westlake's .398, vs. Christian Walker's .352), whichever closer pitches better (Navery Moore -- 3-1, 0.48, 6 saves vs. Matt Price -- 3-2, 2.82, 10 saves) and whichever lockdown defense stays the course (VU's .971 vs. SC's .976). But the Gray vs. Roth matchup will be a tone-setter and both have been dead-on so far. Keep an eye out for Gray and his tendency to walk batters, since he has issued 24 free passes. Can't let that pattern continue here.
2. No. 15 Oregon State at No. 23 Stanford
OSU: 24-7, 5-1 Pac 10, RPI No. 18
Stanford: 16-9, 3-3 Pac 10, RPI No. 15
These two teams suddenly took off in opposite directions last weekend, with the Beavers ruffling some national feathers by sticking Arizona State with three losses in three games in Corvallis. The Cardinal had a rough road trip to the last place team in the Pac 10, USC, and lost two of three because they just weren't able to string together any key hits. For the Beavers, this is a chance to jump up even further in the RPI to national seed consideration and to put to rest all that talk that they couldn't beat anyone without their All American catcher Andrew Susac, who is out indefinitely after having surgery to repair a broken hamate bone.
Key matchup: Battle of the minds. These teams come into this weekend with totally different dispositions. Maybe a change of venue will do wonders for the youthful Cardinal, who are 9-1 at home this season. On the other end of the spectrum, the Beavers can't let their recent success go to their heads -- they jumped up nine spots in the RPI from last week. They have to bank on their propensity to come back from behind, like they did against Arizona State a couple of times last weekend.
[+] Enlarge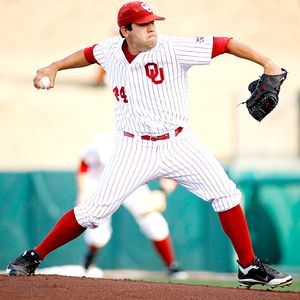 Courtesy of OU Athletics Communications Michael Rocha sports a 7-1 record and a 1.02 ERA.
3. No. 10 Oklahoma at No. 21 Oklahoma State
OU: 25-8, 6-5 Big 12, RPI No. 25
OSU: 25-8, 8-4 Big 12, RPI No. 35
Ahhhhh, the Bedlam Series. This is one of the true beauties in college sports. Doesn't matter if it's baseball, football or Pictionary, these two are going at it with cut-throat intensity. Since dropping a double-header at Kansas on March 20, the Pokes have gone 11-3, including a pair of wins over Texas, a pair of wins at Nebraska and a sweep of Missouri. Even with a lot of new faces, the Cowboys have seemed to put last year's last place hiccup behind them. The Sooners could use a series win here to improve their psyche, having lost two of three at K-State last weekend.
Key matchup: OSU's Dane Phillips vs. OU starters Bobby Shore and Burch Smith. Friday starter Michael Rocha has been total nails for the Sooners. But the Saturday and Sunday starters can't let the Big 12's best hitter get hot and set an early tone for the Cowboy offense. The key to the weekend will be whether Shore and Smith can go deep into the game and save the bullpen from being overtaxed.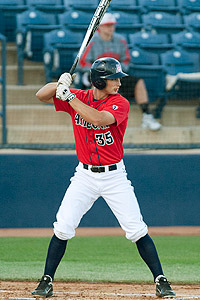 Courtesy of Arizona Athletics Arizona's Joey Rickard is one of the Wildcats doing damage at the plate.
4. No. 19 Arizona at No. 18 UCLA
UA: 2-11, 4-5 Pac 10, RPI No. 46
UCLA: 17-11, 7-2 Pac 10, RPI No. 86
It looks like the Bruins will just have to play this season knowing they can't count on their offense for anything. Gerrit Cole and Trevor Bauer continue to throw un-hittable pellets at their opponents, but the offense still offers little run support. The Bruins have scored more than five runs just seven times this season and still struggle with a .253 team average. The Wildcats have got to be spitting mad right about now though as this will be week four in their death walk Pac-10 slate which started with Arizona State, then home against Oregon State and last week's home series with Cal, where they won their first weekend in four weeks. As opposed to the Bruins, the Cats have two .400+ hitters in Joey Rickard (.428) and Cole Frenzel (.408).
Key matchup: The Achilles' heel of Arizona vs. the Achilles' heel of UCLA. As you probably know, Arizona can hit like nobody's business (.342 team average) and UCLA can pitch better than anyone (2.05 team ERA). But this weekend, it's the opposite crew that will decide things. Kurt Heyer (5-1, 1.38) has been lock-down good on Fridays, but the remainder of the staff needs to throw better. Likewise, and this is an old story by now, the Bruins' offense needs to ramp up as not a single player hits over .300.
5. College of Charleston at Elon
CofC: 22-11, 7-5 SoCon, RPI No. 58
Elon: 22-12, 12-3 SoCon, RPI No. 38
You know how a mid-majors' RPI is always a precarious thing; one bad weekend can cause a non-Big Six to freefall out of at-large consideration. As you can see by their RPI numbers, neither one can afford to kick the can here. The Cougars took a shot to the chops last weekend, losing two of three at The Citadel, and giving up 28 runs to the Bulldogs along the way. Elon has been shaky as well, going 7-6 since an impressive road sweep at Western Carolina in mid-March. The bats have gone south as well, with the Phoenix now hitting a SoCon-worst .253.
Key matchup: Elon's speed vs. CofC's catchers. With the Phoenix being the worst hitting team in the conference, they've relied on their mercurial feet, stealing a SoCon-best 66 bases. Unfortunately, that formula doesn't work well for the Cougars either, as they have caught only four base-stealers in 53 tries this year. The interchangeable catching crew of Rob Kral, Jimmy Holton and Robert Pritcher all must stop the steal parade, otherwise walks and singles will quickly turn into de facto doubles this weekend.
6. No. 4 Florida at Georgia
Watch: Friday at 7 p.m. ET on ESPN3.com; Saturday at 2 p.m. ET on ESPNU; Sunday at 2 p.m. ET on ESPN3.com
UF: 26-8, 9-3 SEC, RPI No. 1
UGA: 18-16, 8-4 SEC, RPI No. 17
That light you see at the end of the tunnel is the on-coming train known by as the Georgia Bulldogs. After limping to a 3-8 start, the Dogs are 8-4 in SEC play, sitting just a game behind the Mighty Gators. Oh and in case you're wondering, according to Boyd Nation, Florida would have to finish the rest of the regular season at 0-22 in order to fall out of No. 2 seed territory in the RPI.
7. Central Florida at East Carolina
UCF: 21-12, 3-6 CUSA, RPI No. 29
ECU: 22-11, 4-5 CUSA, RPI No. 26
Judging by the RPI numbers, this series takes on bigger importance as a top-30 matchup, although both are under the Mendoza Line in Conference USA play. The Knights won't be intimidated, having won a series at Rice already, but have gone cold since with a 1-5 record at home vs. Southern Miss and Tulane. But the pressure may be heavier on the Pirates, who will have a trip to Houston and at home vs. Southern Miss ahead. The loser here will find a much bigger mountain to climb toward the postseason.
8. Tulane at Rice
Tulane: 20-12, 3-6 CUSA, RPI No. 52
Rice: 24-13, 6-3 CUSA, RPI No. 19
Don't mean to sound overdramatic here, but it's getting near do-or-die time for the Green Wave. They got off the deck last week and won a series at UCF, but are still just 3-8 in their last three weeks. The arm injuries have stung this team hard, losing two weekend starters for the season. The Owls come in with a youthful team, led by frosh pitching ace Austin Kubitza and a number of first-year bats. But upperclassmen like Michael Fuda and Michael Ratterree both need to hit better than the .250ish mark they're mired at if the Owls are going to make a run later on in the season.
9. Louisville at St. John's
UL: 20-12, 6-3 Big East, RPI No. 51
SJU: 16-13, 5-4 Big East, RPI No. 66
Don't fall asleep on these guys yet, I'm tellin' ya'. Boyd Nation's RPI Needs Report says that the Cards need to go 19-6 to stay in the top 45 of the RPI and the Red Storm would need to go 24-1 to do the same (Really? Geez.). But as coach Dan McDonnell told me back in March, these Big East teams are good, but as soon as they lose some early games, people tend to forget about them. Something to keep in mind, both teams have bony-armed offenses (.254 and .267 respectively), but the Ville leads the Big East with a 2.58 team ERA and the Johnnies are 10th at 4.77.
10. Southeastern Louisiana at Texas State
SLU: 23-11, 9-6 Southland, RPI No. 49>
Texas State: 21-11, 11-4 Southland, RPI No. 32>
The Lions know exactly the type of pain that the Bobcats are feeling. Last season, SLU was in the upper-30s in the RPI, but got swept by Northwestern State in May and dropped like an anvil out of at-large consideration. Last week, Texas State was No. 18, but an inexplicable series loss to Central Arkansas last weekend caused a plummet of their own. The Bobcats still lead the Southland, but can't afford another series loss here.
Eric Sorenson, who runs College Baseball Today, and Walter Villa are regular contributors to ESPN's college baseball coverage. Follow Eric on Twitter: @stitch_head
Follow ESPN.com's college sports coverage on Twitter @ESPN_College and on Facebook.