Red River Rivalry highlights weekend
April, 28, 2011
04/28/11
11:03
AM ET
If you're able to get your hands on your rich uncle's Learjet, here are the destinations you want to include in your flight plan for this weekend.
[+] Enlarge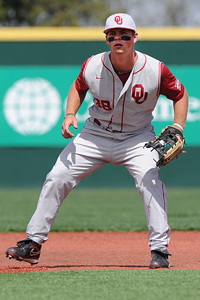 Peter G. Aiken/Kansas State/Getty ImagesGarrett Buechele and the Sooners are looking to leave Austin with a series win.
1. No. 13 Oklahoma at No. 5 Texas
By the numbers:
OU: 30-11, 9-7 Big 12, RPI No. 23
UT: 31-10, 13-5 Big 12, RPI No. 28
The Red River Rivalry never needs any excessive hype -- not in baseball, football, basketball or Scrabble. No love lost here, and no quarter given. Right now, OU could use a good bounce-back weekend. Not that sweeping two games from Nebraska was small potatoes, but the Sooners had lost their previous two Big 12 weekends. Oddly, both teams sit outside the national-seed territory (which I don't quite get), so a series win here would help exponentially.
Key matchup: Sooners bats versus Longhorn arms. This one's pretty obvious: The Big Red leads the loop (and by a large margin) with a .335 team batting average, and they have four of the top eight sluggers in the circuit. If Garrett Buechele (.395) & Co. can get a few early base knocks versus Taylor Jungmann and Cole Green, it'll be a trend-setter and the Sooners will be in their heads. Then again, how often do teams do that against an Augie Garrido-coached outfit?
2. No. 8 Florida State at No. 19 Miami
FSU: 31-10, 14-7 ACC, RPI No. 7
UM: 27-13, 15-5 ACC, RPI No. 14
The good news is that the two head coaches have finally taken to shaking hands again, alleviating years when they wouldn't even look each other's direction. But the mere mention of these two teams still increases the bile level in each program. The Canes are still in recovery mode from their early-season struggles, though that series win at North Carolina was a big red flag to their opponents. Sean Gilmartin has become the dominant pitcher everyone thought he could be this year, and the Noles are still sitting smack-dab in the national-seed discussion.
Key matchup:The late innings. The Seminoles have been door-slammers, outscoring their opponents 78-20 in the seventh and eighth innings, thanks in large part to their two-headed bullpen monster of Daniel Bennett (six saves) and Mike McGee (five saves). In those same two important innings, the Canes have only outscored their opponents 39-34. If FSU jumps on The U early, it's over.
3. No. 9 Oregon State at No. 20 UCLA
OSU: 30-8, 10-2 Pac 10, RPI No. 11
UCLA: 22-14, 10-5 Pac 10, RPI No. 54
I think it goes without saying that when Sam Gaviglio and Trevor Bauer are on the mound for these two respective teams, they are both far better than their rankings currently indicate. The Bruins need a strong showing here, not just to improve that bizarre RPI, but to get the bad taste of that Stanford series ending out of their minds. The Pac-10-leading Beavers will find their schedule easing up down the stretch (Washington, USC and Oregon close things out), so getting high-quality wins here could pay dividends in the end.
Key matchup: The UCLA bullpen versus their own psyche. Obviously, seeing that youthful Bruins bullpen implode at Stanford firsthand makes me wonder where their heads are at. Mitchell Beacom (0-2, 2.35) did well in his stint, but the remainder of the youthful Bruins arms had numerous issues at Sunken Diamond last week. The Beavers aren't an intimidating bunch at the dish (.274 team average), so UCLA's arms corps beyond Gerrit Cole and Trevor Bauer must throw strikes.
[+] Enlarge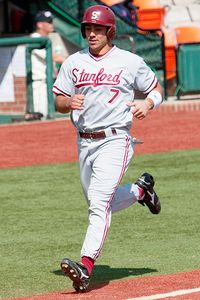 Larry Lawson/Icon SMITyler Gaffney and Stanford are rolling after stealing a series from UCLA.
4. No. 25 Stanford at No. 7 Arizona State
Stanford: 20-14, 5-7 Pac 10, RPI No. 15
ASU: 29-9, 11-4 Pac 10, RPI No. 3
Not only is Stanford's overall record ugly -- thanks to a rigorous slate, of course -- but its style of winning is ugly, too. Workmanlike, and with appreciable amounts of dirt under the nails, the Cardinal aren't into excuses or giving up. Arizona State squashed a good-hitting Cal team last week. After Friday's 17-inning marathon, the Devils held the Bears to no runs, 10 hits, two walks and committed just one error in what was probably their best baseball of the season.
Key matchup: The Stanford offense versus ASU's Saturday/Sunday pitching. Speaking of last week's Games 2 and 3, the Devils are notoriously tougher as the weekend goes on. Other than the implosion at Oregon State, where they got swept, the Devils' pitching and defense have given up just nine runs in their past eight Games 2 and 3. The Cardinal are just 1-5 in their past six second and third games in Pac-10 series.
5. No. 11 Georgia Tech at No. 22 Clemson
GT: 30-12, 17-4 ACC, RPI No. 8
CU: 26-14, 11-10 ACC, RPI No. 16
Keep an eye on the Tigers here, as their confidence level has been raised the last few weeks. After a rough start in ACC play, they've gone 7-2 in the past three weekends. But rest assured, this isn't Wake Forest, Boston College or Maryland they'll be facing here. The Jackets come in leading the conference in hitting (.317) and are second in pitching (2.76). Clemson's stats are comparable, but the Tigers have also gone just 1-8 in games versus ranked teams.
Key matchup: The zone discipline of CU versus Tech's strikeout kings. Clemson has a lot of experienced hitters that have a "been there, done that" mentality, so don't expect Brad Miller, John Hinson & Co. to be freaked out by the strikeout artists they'll face in Mark Pope, Jed Bradley and Buck Farmer. The deeper these guys can get them into pitch counts, the better their chances for pulling the upset.
6. Hawaii at No. 15 Fresno State
UH: 22-17, 7-1 WAC, RPI No. 138
FSU: 28-7, 8-3 WAC, RPI No. 20
As witnessed by the RPI, the Bulldogs are the favorites here, despite trailing the highly underrated Warriors in the WAC standings by a game. Both teams have some good arms to toss out, but nobody is as hot as Greg Gonzalez, who won his fourth WAC pitcher of the week award last week and has been dominant (7-0, 1.31, 77 K's). Last year, Gonzalez threw a no-hitter at the Rainbows. Hawaii hits just .256 as a team, so Kolten Wong and his .400 average will have to be as infectious to the offense as possible.
7. No. 17 Southern Miss at East Carolina
USM: 30-10, 9-3 CUSA, RPI No. 13
ECU: 27-13, 8-7 CUSA, RPI No. 19
One of the biggest keys to this weekend series of Conference USA rivals is whether Pirates ace Seth Maness can get back on the mound after missing his first start ever in his college career with arm soreness. It should be an electric atmosphere aboard the pirate ship this weekend, as the league-leading Eagles hope to keep perennial bully Rice off their back in the standings. If Maness is back, I like ECU's pitching depth a little bit better and, of course, that home schooner advantage.
8. Troy at Florida Atlantic
Troy: 30-11, 14-4 SBC, RPI No. 32
FAU: 24-16, 11-7 SBC, RPI No. 51
The rest of the Sun Belt has to hope for an FAU series win here, since it may be their last chance. You see, Troy already sits three games ahead of the second-place Owls and has three others -- Florida International, Western Kentucky and Louisiana -- all sitting four games back. Troy could put a sizable lead on the rest of the conference with a series win here. Oh, and while we're at it, this looks like a good chance for the Owls to gain some major RPI points too. Lots on the line here.
9. Ole Miss at No. 4 Florida
UM: 24-17, 9-9 SEC, RPI No. 41
UF: 31-10, 14-4 SEC, RPI No. 2
Though there is a sizable chasm between the leaders of the East Division and the leaders of the West Division, these teams are both locked in first-place ties with two other teams in their respective divisions. Florida has been consistently good, and -- beyond a matchup with Ole Miss ace Matt Crouse (6-2, 2.81) -- shouldn't have problems disposing of the Rebels. But beware of the Rebs' motives here, as they sit dangerously close to falling out of at-large consideration.
10. No. 18 UC Irvine at Cal State Bakersfield
UCI: 26-11, 8-4 Big West, RPI No. 62
CSUB: 24-13, RPI No. 52
After last week's tank job versus UC Riverside when they inexplicably dropped all three games -- not that the Highlanders are chopped liver, mind you -- this suddenly turned into a much bigger weekend for the Roadrunners. But don't let it get past you that this isn't a huge series for the Anteaters too, since their résumé is clouded by a terribly underrated RPI. This one comes down to whoever feels the urgency more. In those cases, it's good to go with the more disciplined pitching staff and defense. UCI by a nose.
Eric Sorenson, who runs College Baseball Today, and Walter Villa are regular contributors to ESPN's college baseball coverage. Follow Eric on Twitter: @stitch_head
Follow ESPN.com's college sports coverage on Twitter @ESPN_College and on Facebook.