Texas A&M enjoys the moment
June, 13, 2011
06/13/11
11:23
PM ET
TALLAHASSEE, Fla. -- The Texas A&M players were itching to rush the field and smother each other with a celebratory dog pile before the first inning finished.
Peering into the dugout from time to time as the Aggies built a six-run lead in the bottom of the first Monday, you could see the body language of a team ready to claim Mike Martin Field for itself.
[+] Enlarge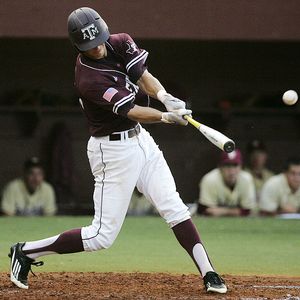 AP Photo/Steve CannonAdam Smith and the Aggies are Omaha-bound.
Just a day earlier, the Aggies had been completely shelled and embarrassed 23-9 by a desperate Florida State team.
On Monday, the Aggies were the enforcers. They were the team with the pop -- and the pitching.
The Aggies plated eight runs in the first two innings on their way to an 11-2 win to clinch a berth in the College World Series for the first time since 1999. The Aggies had zero hits and one baserunner through the first two innings Sunday, but cranked out five hits, including a two-run home run by Adam Smith in the second, in the first two innings Monday.
"The feeling right now is so surreal," Smith said of A&M advancing. "I can't explain it. I'm still trying to figure out how I feel."
He must have felt great facing FSU's pitching. It helped the Aggies by dishing out five walks and a wild pitch that plated a run in the first two innings.
Seminoles starter Hunter Scantling was so off, he lasted just 13 pitches, giving up four earned and throwing just three strikes in the process.
When the Aggies weren't entertaining at the plate, they found other ways -- by getting the crowd involved.
There was a standoff between Smith and Seminoles pitcher Brian Busch after Busch plunked him in the fourth. That triggered a boofest from the FSU fans and almost incited a bench-clearing brawl.
Moments later, Aggies catcher Kevin Gonzalez took time to jaw with a fan before his at-bat. He promptly struck out, but tipped his helmet to the fan as he walked back to the dugout.
This team was having a lot of fun Monday.
Defensively, the Aggies got a stellar performance from sophomore right-hander Michael Wacha, who went 7 1/3 innings, striking out eight and allowing two runs on three hits.
He sat during Sunday's slugfest and admitted he was nervous about facing a lineup that had just scored three touchdowns and PATs and a safety against his team.
"I guess I did have pregame jitters. I wouldn't be human if I didn't," Wacha said.
Wacha's plan of keeping the ball low and working in his changeup here and there was the correct formula for Monday's rebound.
With each inning that passed, the Aggies' excitement grew. There were even two premature celebration attempts during the final at-bat of the game as two balls thrown by Nick Fleece looked like game enders inside A&M's dugout.
"We had to wait until the very end, the very last pitch, the very last out," Gonzalez said.
"It was great [to finally rush the field]. I was just hoping no one got hurt because we need them right now."
Aggies coach Rob Childress was just as animated as his players as they finally formed that dog pile just left of the mound. He'd said all season that he wanted his team to finally do something, meaning he wanted a trip to Omaha for a chance at a national title.
Childress' cold, sticky Gatorade bath Monday inched him closer to that reality. Even with the humidity from a midgame shower still suffocating the air, his sugary shower was heavenly.
"That's the sweetest one I have ever had," he said.
"I sure enjoyed that one tonight."
Edward Aschoff talks with Texas A&M pitcher Michael Wacha after the Aggies' 11-2 win over Florida State.